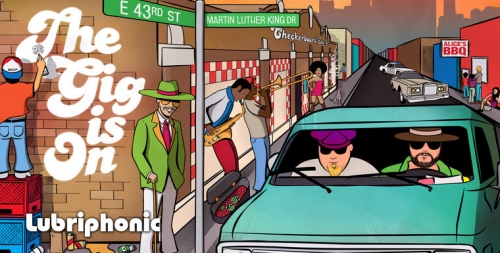 By Tom Marker



What a night it was this past Saturday (9-25-10) at Double Door.  Trombone Shorty calls his music, "Supafunkrock."  While you wouldn't confuse Chicago's Lubriphonic to New Orleans' Shorty, the same term could describes the music, and that of Saturday night's opener, Your Mama's Big Fat Booty Band.

Lubriphonic is a Chicago band made up of many of this city's finest sideman brought together by guitarist Giles Corey and drummer Rick King.  This is hard driving funk with pounding rhythm, driving guitars, a super tight horn section and soulful, bluesy vocals. While a long way from being a blues act these guys won a bunch of new fans at an appearance at this past summer's Chicago Blues Fest.  They had another date in town in July, then back home again this past Saturday at Wicker Park's premier rock club.  They are on the road a lot so when they do come back to Chicago it's an event for their fans and for the band as well.  Visit their website here and see the great press they're getting around the country and download their new album for free for a limited time.

Opening for Lubriphonic was Your Mama's Big Fat Booty Band.  Another hard playing band that could be described by Trombone Shorty's "Supafunkrock" phrase, yet this young band of musicians from Ashville, NC have a sound of their own.  Check out their website here.