Posted by: Robie | October 17th, 2013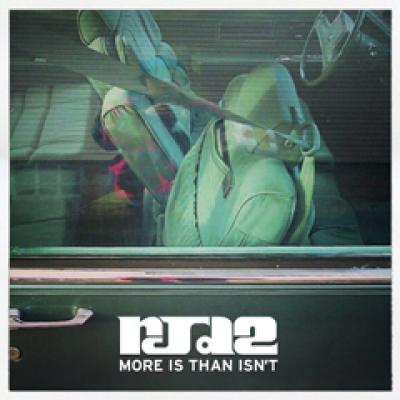 More Is Than Isn't begins with the first of three instrumental suites that spilt up the album and "Suite 1" bleeds nicely into the neo-soul of "Temperamental" which features a stirring vocal turn from Phonte Coleman and a beat that would make Questlove proud.  The record then shifts gears into the sudden outburst of funk that is "Behold, Numbers!" which then breaks down to stop on a dime for "Her Majesty's Socialist Request", the album's first single and a wild ride of samples, delicate piano flourishes and guitar riffs.  "A Lot Of Night Ahead Of You" continues the spacey, ass-shaking mood with a thunderous beat and layer upon layer of ominous synths… before another abrupt stop and change in mood.  The fierce "Bathwater" announces its arrival next with rapper P Blackk wasting absolutely zero time before he starts firing off intense, twang-filled verses over a wild guitar-heavy beat.
One would think that all this genre-jumping would be distracting, and to be honest at times it is, but RJ has so much experience redefining himself he handles the jumps deftly.  The initial moments of surprise when you realize the record has shifted gears (again) are quickly nullified by the fact that the next sonic story RJ has to tell has already grabbed ahold of you.
By the time the ethereal "Suite 2" allows the listener a breather and announces the arrival of the second half of the record, "Winter Isn't Coming" ruptures the temporary peace with an explosion of furious bongos and biting synths.  This maniac attack breaks down into yet another sea change in mood brought forth via the slinky soul of "See You Leave", which features singer Khari Marteen and Roots-affliated rapper STS.  STS drops some delectable lines on the track which wouldn't sound that out of place on a demo from Aquemini.       
RJD2 clearly feels confident in his ability to keep the listener engaged despite the variations in mood as many of the tracks on the second half of the album shift gears mid-song.  RJ  veers in single songs from smooth jazz breakdowns to space-funk ("Got There, Sugar?"), to exultant horns intermingled with jungle beats ("Descended from Myth"), to an entirely beat-less and very delicate song featuring a string section and RJ's own hushed vocals ("Dirty Hands").
A definite highlight of the second half of the album and the record in general is the wobbly soul-funk of "Love and Go" which features Philadelphia singer Aaron Livingston providing a wonderfully aching vocal.   Livingston and RJD2 have previously collaborated as Icebird, and "Love and Go" is another addition to their already solid output together (check out 2011's The Abandoned Lullaby).
More Is Than Isn't comes to a close with RJ returning all the way back to his Columbus, OH days on a collaboration with rapper Blueprint on the vintage funk of "It All Came To Me In A Dream".  As with Aaron Livingston, Blueprint is also a previous RJD2 collaborator,  having formed the Soul Position project with the producer back in the early 2000's, reinforcing the feeling that this record is a true menage of RJ's capabilities and experiences.  
For all the genre jumping and abrupt stop-on-a-dime changes, More Is Than Isn't is certainly a successful album and one that shows just how adept RJ is at the art of the breakdown, and that all his melding of styles and influences also contains quite a bit of substance.  Perhaps this record will usher in a new era where RJ feels comfortable settling stylistically into this gumbo of techniques, but I wouldn't put my money on him staying in stasis anywhere for very long.       
- Donovan Farley