Posted by: Robie | May 21st, 2012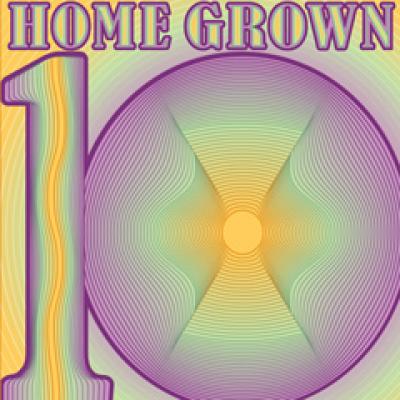 From rock, folk, dub, funk, country and electronic dance, Home Grown 10 serves up a dish that will fill you up with organic goodness. Produced by Chris Robie, this compilation of sixteen tracks continues to bridge the gap between genres, fusing them with class and style. Vol 10 puts together an array of veteran and up and coming bands, proving once again that HGMN transcends categories.
The CD opens with the Lizzy Ross Band and the playful tune "Not Yet", engrained with catchy hooks and a little hint of country pop.  Zach Deputy's "Island-Infused, drum-n-bass, Gospel - Ninja - Soul" grabs you with its funky guitars, witty hooks and bluesy keyboards on "Remember" , while Ultraviolet Hippopotamus "Giants" piano and guitar based blues/rock will have you captivated from the first lick. The track "Members Only" by New York's Turbine offers a funky musical explosion reminiscent of the 70's disco era.
Moksha's "Here to Go" share a very unique sound mixing Pink Floyd like textures, abstract melodies and odd time signatures. Strange Arrangement's "Bed Bugs" follow with their own brand of Phish influenced jams and demonstrating their musical versatility .Reggae and dub are re-envisioned by The Heavy Pets with "No More Time" and Dub is a Weapon's "Persistence". Venice Gas House Trolley do what they do best on "Sugar Kane". Their fun dirty blues/funk will make you want to hit the dance floor and shake those bad vibes away.
The Andy Shaw Band demonstrates superb song writing and guitar chops with "Talking to You" while The Manhattan Project gives us a taste of some electronic experimentation and cool dance synths on "New World Anthem". Silo Effect's "Treehouse" and Big Something's "Undertow (Live)" showcase excellent musicianship and beautiful musical landscapes. "Undertow" was actually recorded live just for this compilation and is a song from their upcoming album due out sometime later this year. Dangermuffin's "Moonscapes", Big Daddy Love's "Down from the Mountain" and Dark Water Rising's "Home Town Hero" bring everything to a close with their own brand of Americana, filled with crisp acoustic guitars, gorgeous harmonies and smooth hooks. "Home Town Hero", a song about the casualties of war, is another exclusive, recorded just for Home Grown 10.
This is a well-crafted and well delivered collection of songs that will appeal to any taste. From start to finish the music will challenge your ear and open new realms of sound and imagination. Home Grown 10 will not disappoint and surely represents what Lee Crumpton has set out to do, distribute "The kind of music he enjoyed but couldn't easily find on the radio or in stores."
- Pedro Lavezzar