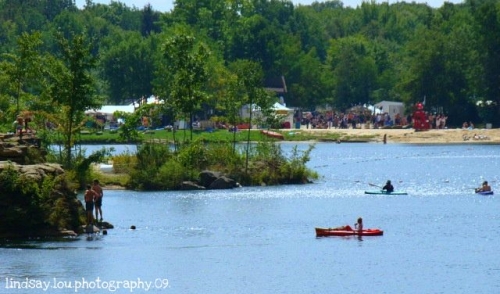 Featuring Two Nights with Ekoostik Hookah
APRIL 30, MAY 1, 2, 2010 
The scenic Nelson Ledges Quarry Park presents Blossom Blast, the Eleventh Annual Spring Hookah Weekend, featuring two nights with Ohio's homegrown jamband superstars,
Ekoostik Hookah
. 
Nelson Ledges Quarry Park is a privately-owned, 250-acre campground and concert facility located about 45 minutes east of Cleveland, Ohio.  Between April and October, the Park hosts very reasonably priced weekend concert festivals.  Camping, swimming, hiking, basketball, and kids' playgrounds are only some of the enjoyable options available at the family-owned and -operated Nelson Ledges Quarry Park. 
Proprietor Evan Kelley is proud to bring back heavyweight headliners Ekoostik Hookah for their eleventh annual springtime love-in at the Ledges.  The Blossom Blast will also feature top national acts The Macpods (Ann Arbor, MI) supporting Hookah both Friday evening and Saturday evening.  
Quarry friends and favorites rounding out the Blossom Blast lineup include red-hot regional acts from the Midwest and beyond, including
Mo'Mojo
;
The Boogie Hustlers
;
Moser Woods
;
Mothership Landing
;
Boogie Matrix Mechanism
;
Shotgun Jubilee
;
H-Beam
; T
he League of Proper Musicians
;
The Kynde Sirs
; and
The Flying Jays
. 
Admission is $50 for Friday through Sunday, or $40 for Saturday through Sunday.  No glass bottles or fireworks.  No dogs.  There is no extra charge for camping. 
HGMN 2009 VENUE OF THE YEAR