By Keaton Rodland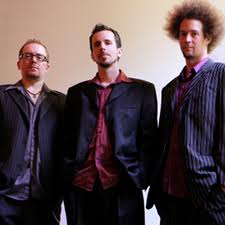 Sometimes when a band plays next-to-last, the time allotted to them seems but a blink of an eye. This was not the case for Telepath and their fulfilling set of tunes. How much bass and synth can a crowd handle? The crowd in Asheville at the Orange Peel on October 14th couldn't get enough of the deep vibrations emanating throughout the building.

Standing on the outside porch of the venue the boom of Telepath's first tune excited all the concert-goers in an instant. Finishing up conversations and cigarettes, people filed inside to hear the music Telepath had in store for the next hour. They were the second band to play after Lynx warmed up the crowd. Because Telepath is a notable band to the Asheville music scene the eager crowd seemed prepared for a fun and relaxing set. Even though their trancy, middle-eastern mix sound was familiar, the focus of Telepath was on their new material. Their most recent CD, The Remixes (2010), was intermingled with songs from their soon to be released CD "Crush." The new album features other musicians from Asheville and their contributions were pre-recorded for the show. It would have been more enjoyable to have the actual singers present, but the songs were soothing and entertaining none the less. The songs were friendly to the tantalizing moves of the dozen or so belly dancers scattered throughout the crowd. With a nice blend of their original material Telepath had the crowd with their hands in the air and gettin' down to the ground.

Following Telepath and headlining the event was Beats Antique, a trio from Oakland. David Satori mentioned that the last time they came to Asheville was when they opened up for Bassnectar. This time they were the headliner. Having Telepath play before them was a good call by Beats Antique. The sounds of both bands blended well and all the homegrown Telepath fans, including myself, enjoyed the carnival-esque performance. Although they hold it down impressively when they're headlining a show or going late at a festival, Telepath really owned their position and stimulated the musical gathering well. The belly dancers showed up for Beats Antique, but obviously showed support and cheers for Telepath.

Their first two CD's, Contact(2008) and Fire One (2006) are attainable through the Home Grown Music Networks store or on iTunes. I encourage a purchase of their CD's or a visit to a performance. Their new CD will be released January 25, 2011, but Telepath is already giving out downloads of a few tracks on their website.