Thursday
Coming in a day early we wasted no time checking out this amazing backyard / venue. There was one stage which was an old barn that gave you that front porch intimate feeling. To the right of the stage were tree swings and a nicely put together children's area, behind the children's area was a very colorful hippy bus which was reminiscent of the Merry Pranksters Further Bus. Behind the stage was one of the coolest tree houses I have ever seen, two stories high and overlooking a pond this tree house is every kid's dream growing up.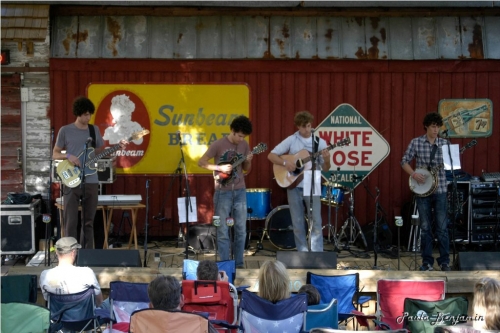 Tonight after setting up we did get a taste of what was in store for us this weekend with a local band from Greenville by the name of The Bent Strings.  This young, up and coming band was on the money with a fresh and energetic perspective to some tunes that left you mouth wide open in awe. To think that such young kids could play such complex arrangements to a tee was just inspiring to say the least. Their set went something like this (Sittin' /Skunkin' on top of the World > Stomping Ground > Original > Old Home Place > Sinister Minister > Original > Wagon Wheel > A Stokes Song > Blackberry Blossom > Skunkin' on Top of the World.) The covers that were chosen by the group were tremendous, "Stomping Ground" and "Sinister Minister" by Bela Fleck are two of my favorites, as well as "Wagon Wheel", a Dylan favorite made famous by the likes of Old Crow Medicine Show, and the little twist to "Sittin'(Skunkin') on top of the World" was very clever. The band consists of (Mike Rose - Guitar, William Rose - Banjo, Harrison Rose - Mandolin, David Rivas - Bass) Being brothers I'm sure helps when it comes to dedicated practicing, they probably started playing at the age of 2 to be as good as they are now. The youngest being only 19, these guys have lots of time to grow and blossom in to stars and by the look of it they might take the scene by storm very soon.
Friday
Waking up I thought ice shingles were on the tip of my nose; it was so damn cold, the low got down to freakin' 38F. It warmed up quickly and the day started off around 3pm with a very chill set by O Mello Cello Tree.  This duo (Darby Wilcox - Guitar, Sarah Clanton - Cello), from Greenville was as the name states mellow. Their vocals were pleasant with a soft harmonious sound; the low pitch cello was unique, distinctive and added a nice ambient tone.

After a relaxed set, The Bent Strings graced the stage again with another good set.  They had some of the same songs as last night but did add a couple of really great song like "Ode to a Butterfly" by Nickel Creek, Acoustic Syndicate's "Sweetest Breeze", and a "Genre Bending" rap with a beat box to boot.

Narrow Gauge Bluegrass Band from Asheville was up next. Narrow Gauge is (Ashleigh Caudill - Standup Bass, Matt Purinton - Mandolin, Billy Gilmore - Banjo/Guitar.) This band flowed seamlessly through some terrific traditional originals with Ashleigh's gratifying arrangement of vocals that rang in some sweet melodies.  Billy and Matt seemed to blend into her world perfectly.  I've known Billy for quite some time and I can tell you that he is a virtuoso of anything with strings, no matter what he plays or who he might be playing with, he is going to add so much depth and push the other members to excel with his superior level of expertise that far surpasses most musician that I have seen. The band pulled out some nice old traditional classics like Grandpa Jones "Been All Around This World", and a really fun murder mystery waltz original about the last outlaw. 

Soon afterward it was time for The Red Hot Poker Dots hailing all the way from Australia; this band is full of humor and crazy antics. They classify themselves as "Swampy Tonk" which is a kind of a down under Aussie Cajun feel. The Poker Dots are (Odette Montana - Standup Bass, Khris Krull - Drums, Ray Anonymous - Guitar, Jericho - Lead Guitar).  Their songs are not your run of the mill songs that you might think to hear. First off they started singing about cutting the nuts off your dog, into a song about cowboy sweethearts spelling out k-i-s-s-i-n-g / a-s-s, followed by a fine yodel by Odette. Other songs included "Addicted to Chicken", "Beast Feast" where Odette pulled off an amazing stunt by standing on her upright Bass while playing it. Wow! The shock factor continued with a tune about gay cowboys and a "12 Inch Pianist" but they were pronouncing it in a way that was very prolific. The lyrics went something like this, "Show me the one foot man playing piano and I'll show you a 12 inch penist", freakin' hilarious!  They ended their set with a funny song about a man that had no more room for a new tattoo because he was already covered from head to toe with ink, so he had to carry a picture of his new tattoo in his pocket. The encore came too soon but did have a special guest, Will from The Bent Strings on Banjo playing, "We better leave, if we're ever gonna make it home."

The early evening brought to the stage Donna Ulisse who we happened to miss for the fact that we had to eat at some point.  Later that night Audrey Auld took the stage.  Another from Australia (Tasmania) Audrey is a hoot.  Throughout the show she kept calling one of her band members (Jack Laurens - Guitar) "stinky pinky", lol, and her lyrics were downright humorous like "I've got a drinking problem, and it's you."  Another hilarious moment was when she sang a song about Faith Hill being old and washed up. Her music can be classified as a hint of Americana/Folk/Country.  It did seem the set was a rollercoaster of emotions; some songs were bright and perky while other songs sunk down into a morbid and dark feeling. You could tell she sings from the heart, with so much meaning and soul I can see why she is so popular.  Also accompanying her was (Glen Alexander - Fiddle).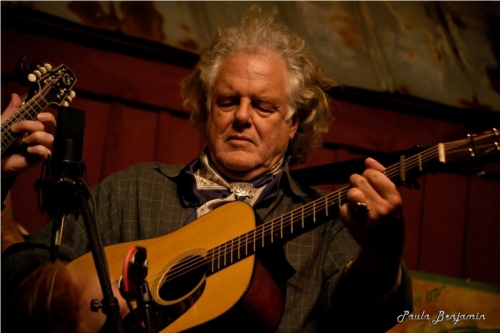 Next up was the legend, Grammy award winner Peter Rowan. He started off with one of my favorites and one of the best songs from his huge repertoire "Panama Red," Peter and his band continued to awe the crowd with a great new song "Jailer Jailer" off of their new album "Legacy" which was released a couple of month ago. Peters Bluegrass band with over 100 years of experience is (Paul Knight - Upright Bass, Keith Little - Banjo, Jody Stecher - Mandolin.) Next Peter & the band played a Bill Monroe song "Bluegrass Breakdown" then continued to talk about when they met and wrote the song "Walls of Time" back in the psychedelic era. Peter then gave the reigns to his band in the next song "Lord Let Me Walk by Your Side," which was felt in the heart and soul.  To end the set Peter pulled out his all time classics "Land of the Navajo," "Midnite Moonlite," and "The Free Mexican Air Force" during Midnite Moonlite he threw in a really nice surprise tease of Buddy Holly's "Not Fade Away."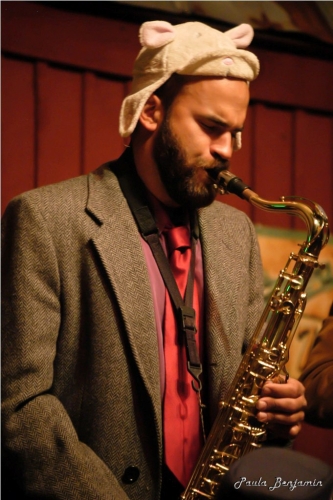 After Peter Rowan it was time for some upbeat tunes by Sol Driven Train.  Right off the bat Sol Driven delivered a set to remember.  They definitely had some shoes to fill playing after a legend such as Peter Rowan and they did just that.  Sol Driven Train is (Ward Buckeister - Guitar/Trombone, Rusty Cole - Bass, Wes Powers - Drums, Russell Clarke - Saxophone, Joel Timmons - Guitar.)  This set was on fire, with an enjoyable rocking Caribbean soulful sound.  The surging guitar arpeggios and the efficient high energy drumming flowed with the rolling bass accents and the beautiful sounds of the sax and trombone which gave the set an all-out happy go-lucky feeling. One of my favorite parts of the set was the end when Rusty and Ward started playing beer bottles while the other band members left the stage and started using drum sticks to beat on everything around them giving you a sense of a surround sound tuneful.  What was really funny was when a member of the audience gave Rusty a jug of moonshine to play and he couldn't quite get it so Ward took the reins and made that thing hum like a bull horn all while chugging the turpentine tasting liquor.
Saturday
The music today started out early with Trent Wagler & The Steel Wheels from Harrisburg, VA.  A true Americana band these guys have a knack from tight pickin', with both style and character they stunned the audience with their appealing songs. The great harmonies took center stage as the band played some songs off their new CD "Red Wing" as well as a nice upbeat "Shady Grove." It was a bummer that they only played for an hour but today all the bands were playing 2 sets throughout the day so I was eager to see them again.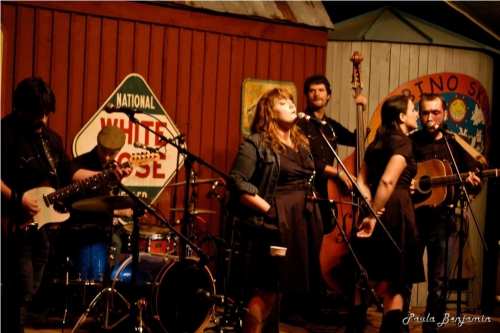 The next band we wanted to catch were Packway Handle but for some reason they couldn't make it time for their set so the promoter said the band would be playing a longer set when it was time for their 2nd set. It was on to The Sweetback Sisters.  These sisters eat and breathe a rocking county/Honky Tonk feel.  The Band is made up of (Zara Bode -Vocals/Guitar, Emily Miller - Vocals/Fiddle, Jesse Milnes - Fiddle, Stefan, Amidon - Drums, Ross Bellenoit - Electric Guitar, Peter Bitenc -upright bass.) They have a way of making what would be old time classics current with a nice harmony between the two girls. Having a signature sound is one of the keys to success and these guys sure do have it.

Up next on the agenda was Elizabeth Cook. Cook and her band were out to please and get some laughs with songs like "It Takes Balls to be a Woman" off her new album "Welder," with a nice country twang she belted out her songs with conviction and belief. Making her debut on the Grand Ole Opry in 2000 she has since made a name for herself in the country scene with 5 albums and hosting Sirus XM Radio's Outlaw Country. The last band on the 1st part of the schedule was 18 South.  18 South has a bit of everything from Gospel, Bluegrass, Jazz and Blues.   With all that how can you go wrong, throughout the set they set a new level of high energy on the stage that nobody else had done that day. The lead singer went out on a limb and started playing a bunch of different melodies like Stairway to Heaven, and a Fleetwood Mac tune but put the words to "Sittin' on Top of the World" into them, very clever indeed. The rest of the day and night were the second set of all the bands mentioned, they all seemed to play almost exactly the same songs as they did the first set for a few exceptions. 

The festival ended with The Red Hot Poker Dots who you already know put on one hell of a show their set was just about the same as before but they did add a couple of really funny songs like "Liquor, Beer, Wine" and a really absurd "He's Got 2 Dick's and She's Got Three Tits" the lyrics to that were funny as hell, "When they do the 69 it's really 138, triple titty Fu*k her" I was rolling on the ground with that one.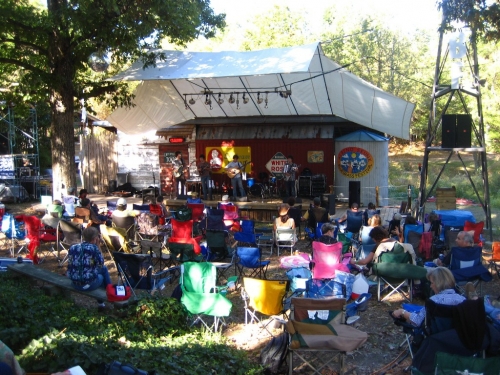 From my perspective The Albino Skunk Bluegrass festival was a huge success with great music and a small family oriented feel. One really nice addition to the festival that I must mention is that it was the only festival I have ever been to that is dog friendly, that's right DOG friendly.  That makes a lot of people very happy to know that your beloved pet can come and enjoy the festival life for once.  The music and the atmosphere were absolutely perfect and I really look forward to the 2nd annual Spring Skunk held next spring and the next Albino Skunk Bluegrass Festival next fall.
Can I get a "FES-TA-VUUUUUL!"
- Brad Winecoff
- Photos by Paula Benjamin