Posted by: Anonymous | September 4th, 2008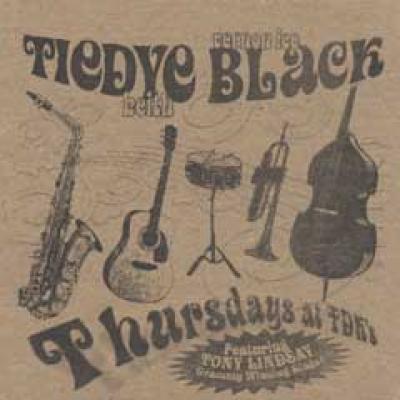 His albums are like colorful transmissions from the San Francisco Peninsula, capturing the vibe of the Bay Area perfectly while utilizing many of its musicians. If the name doesn't make it obvious, Keith is all about good old roots rock with a trippy, jazzy west coast flavor. After many forays into the realm of California rock music and just as many surreal album covers, he's given us the opposite with
Thursday's at TDK's
- the album's understated cover matches the acoustic-guitar driven jazz found within.
Featuring a list of veteran players who have performed with the likes of Santana, Herbie Hancock, Ray Charles, and Phish,
Thursday's at TDK's
captures some of the best moments from a series of Thursday gatherings at "TDKs" (aka Tie Dye Keith's). This baker's dozen of musicians, as you would expect, found comfort zones and open jam space in the communal melodies and rhythms of jazz. Of the albums 6 tracks, 3 are standards from the master class of American songwriting.
Irving Berlin's "Russian Lullaby" leads the proceedings and serves as an extended showcase for the world-class vocals of Tony Lindsay and the nimble guitar of Vernon Ice Black, who is the most prevalent player on this album, hence the mashed-up moniker of "TieDye Black." Miles Davis' "So What" also gets a lengthy treatment, because there's so many ideas among these solid performers - a happy, hefty bass solo is followed by swandiving drum breaks that trade spots in line with shiny piano runs and flights of acoustic guitar fancy. The structure of "So What" blends into the wittily titled "Royalty Free," three minutes of sparkling improvisation that bleeds out of the tune. This brief space flight exhibits some of the Bay-Area rock influence that dominates Keith's previous work, which leans toward the psychedelic R&B of the Grateful Dead.
Rounding out the holy trio of cover songs is an upbeat, modern take on John Coltrane's "Impressions." Black's breezy acoustic work gives this reading of the tune a worldly flair, and when Bill Ortiz (one of many Santana vets in the band) bears down and blows the trumpet like Miles and the drums start a running shuffle in time with the bass, it's a celebration of modern fusion that doesn't want to end. "Impressions" becomes something very, very different after 8 minutes under the pressure that these players exert. The album's sole original composition (if you don't count the "Royalty Free" jam), "Kerlazzo," is named for and driven by the percussion of Karl Perazzo. You've heard his work before, even though you may not be aware of it - after Phish and Santana toured Europe in 1996, Phish found themselves utilizing Perazzo multiple times that year, most notably during their performance of Talking Heads'
Remain in Light
on Halloween in Atlanta.
This 6-minute percussion excursion that ends Thursdays at TDKs is a symphony of natural rhythm that sends the listener out on a thoughtful, interpretive note. It's no wonder Keith puts out albums faster than the fog rolls in over the Bay - when there's so much talent to be utilized, there's little time to waste.

--Bryan Rodgers