Posted by: leeway | June 26th, 2009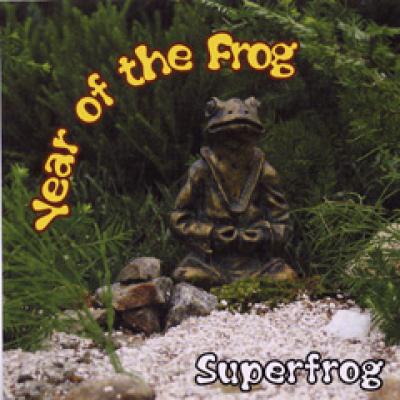 Superfrog released a collection of 10 songs for their 2008 release, "Year of the Frog."  The songs on this album employ excellent guitar and bass to create a likable, energetic collection.  The album begins on the strength of "Single Handed (But Double Jointed)" and employs rollicking bass lines, soulful guitar, and expressive vocals.  This song is airy and likable, and starts the album off in optimistic waters.  "Traveler" lopes along with loose horn play before drums ratchet up the intensity, ultimately landing in a harbor laced with Andrew Mendola's likable blues guitar.  The title track picks up the intensity, as the light-hearted melody of the previous song shifts into tinges of progressive rock and metal, with strong guitar and excellent work on bass from Nate Proper.  This song changes gears frequently, shifting from energetic bass lines that sound like notes in some sort of "spy movie," into the realm of hair metal and extroverted guitar.  The variety is pleasing and garners my attention. 
"Wally Show" begins with playful guitar and vocals, and culminates with a Mendola guitar solo that could quite possibly "peel paint."  This clever little number sounds like a tongue-in-cheek "garage rock" classic, but the guitar and Wendy Crosier's vocals are amazingly well delivered, making for a fun diversion on the album.  "So Much Pain" further demonstrates Mendola's guitar skills, as he shifts from stratospheric, yearning notes to blistering shows of fret board firepower.  Lingering horns and guitar color the perimeter of "Honeywell Nation" as this song employs a subtle, methodical pace and soulful vocals.  "Jalopy" displays bluesy guitar and upbeat contributions from the rhythm section.  "Get Back," like several tracks on the album, features incredibly funky, tight bass lines from Nate Proper.  This song is accentuated by fun vocals, Mendola's screaming guitar and energetic percussion as it slides towards its carefree, bouncy conclusion.  The album concludes with "When It All Goes Down," which displays airy work on guitar and a fun drum interlude that would be really fun to witness in a live environment.
Superfrog's recording seems warm and well-produced, and the band can be praised for their level of musicianship in crafting fun, danceable songs.  Songs like "Single Handled (But Double Jointed)," "Year of the Frog," "Get Back," and "Wally Show" display excellent contributions from the band, as they deftly maneuver between funk, jam, and progressive rock.  The combinations seem especially sweet on these songs.  Andrew Mendola's guitar skills really add a nice punch to the album, as he blends his excellent blues guitar tones with other styles to create a varied and sonically interesting palate.  The contributions of Nate Proper are also especially evident, as his bass lines have a real vitality, bounce, and "pop" that drive these songs forward.  In viewing the album as a whole, it can be noted that these songs are all varied in tempo, style and delivery.  Songs like "Year of the Frog" shift in about five different directions and blend different musical styles.  The overall tone and presentation of "The Year of the Frog" result in a likable, energetic package with lots of fun attractions.   

- By J. Evan Wade