Posted by: leeway | April 13th, 2013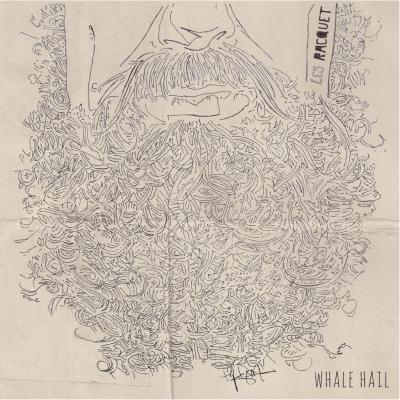 Les Racquet is a soulful trio from Brooklyn, NY that features the talents of Patrick Carroll on guitar and lead vocals, Kenny Murphy on bass and vocals, and Daniel Malone and drums and vocals as well. The band employs a dazzling array of styles in this recording, effortlessly gliding from jazz to blues, pop, jam, and rock idioms with deftness and facility. "Whale Hail" proves to be a meaty 14-song collection, and the band credits the album to the "gypsy life style and living out of a suitcase" that they have done over the last year.
"Whale Hail" begins with the wistful strains of "Palm Tree Night," exhibiting charismatic, engaging lyrics and dynamic composition. This song features excellent harmonies and proves to be an excellent introduction to the album. "Old Man Reefer" invokes the spirit of tumbleweeds and old Westerns in its light, opening measures, sauntering forward and gaining momentum on the back of Carroll's strident guitar. Featuring smoky, brooding lyrics, and a sense of flamboyant showmanship, "Queen" seems to meander and amble methodically at first, only to change directions frantically. The song is symphonic in nature, and proves very theatrical and satisfying. The ethereal, haunted measures at the beginning of "Lone Relative" are juxtaposed against confident guitar as it gallops to its finish.
"Lady Luck," a Kenny Loggins cover, displays a confident, sexy groove, yet flexes muscles with its squealing guitar. "Potluck Wedding" displays the band's chameleon nature, pulling from jazz traditions in early moments, then sauntering forward with feverish blues riffs before coalescing in a muscular jam. "Wasting Time" showcases the excellent vocals and harmonies that differentiate Les Raquet, and this album in particular, from the fray. "Devil Girl" seduces and swaggers with its croons and funky groove, offering flashes of Cuban rhythm. The album closes with the sterling, impeccable sensibilities of "High Fidelity," which proves to be another vehicle for the vocals and harmonies that are so nicely framed throughout the album.
The 14 songs of "Whale Hail" prove to be very satisfying and interesting, with songs that are punctuated and spiced with lilting vocals and blustery guitar. Les Racquet blends such influences into a very nice package here, deftly switching from pleasant harmonies to exploratory jams without a sense of pretense or artifice. The results prove to be remarkable.
- J. Evan Wade