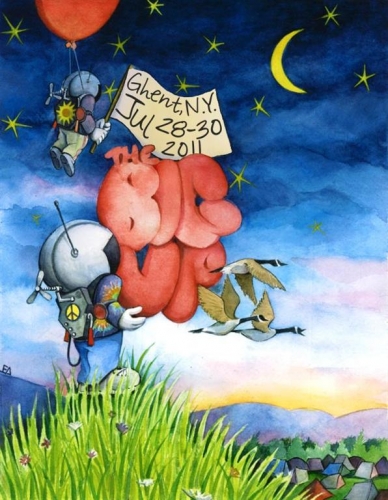 THE BIG UP MUSIC & ARTS FESTIVAL
 
ANNOUNCES 2011 FINAL MUSIC LINEUP

JULY 28, 29, 30, 2011, SUNNYVIEW FARMS, GHENT, NY
 
 
Ghent, New York, May 15, 2011-The Big Up Music & Arts Festival to be held on July 28, 29 and 30, 2011, at Sunnyview Farm in Ghent, New York, announced today their 2011 final music lineup.
 
Just added to the Big Up Music & Arts Festival lineup are: Zoogma, The Werks, Consider the Source, Cosmic Dust Bunnies, Moses & the Electric Company, Normal Instruments, Otis Grove, Insignya, LeSpecial, SplitPhase, Wobblesauce, Auto Orbit, Dirty Paris, Rogue Chimp, Outlet, The Edd, DJ Codiac, The Cyborg Trio, The Chronicles, Space Jesus, VIP, Mentally Ill & Leila, Ian Stewart, DJ Brad Lee, DJ Foges, One.Man.And, and Blue Boy Productions.

 

Over 60 acts have been selected by festival organizers Shireworks Productions for this year's The Big Up Music & Arts Festival. See below for complete lineup list:

 
The Big Up Music & Arts Festival 2011 Lineup:
EOTO
Tipper
Big Gigantic
RAQ
Digital Tape Machine
Ott
Marco Benevento
Abakus
Higher Organix
Papadosio
Orchard Lounge
The Polish Ambassador
Zoogma
The Breakfast
The Werks
The Indobox
Kung Fu
Dopapod
The Malah
Twiddle
Strange Arrangement
Jeff Bujak
Jimkata
ElectronicAnonymous
Consider the Source
Perileyes
Dr. Jah & the Love Prophets
Funktion
Timbre Coup
D.V.S*
Segway
Supersillyus
Cosmic Dust Bunnies
Blacklight Rukus
Speakerbot
Moses & the Electric Company
The Pulse Prophets
Jamantics
Normal Instruments
Technicolor Lenses
Otis Grove
Steady Knock
Insigniya
Lespecial
Slit Phase
Wobblesauce
Auto Orbit
Dirty Paris
Outlet
The Edd
Rogue Chimp
The Cyborg Trio
The Chronicles
Space Jesus
VIP
Mentally Ill & Leila
Ian Stewart
DJ. Brad Lee
DJ Foges
One.man.And
Blue Boy Productions
 

The Big Up Music & Arts Festival features three days of camping, 50-plus hours of live music on five stages, collaborative art and activities, all positioned at the scenic 1500 acre Sunnyview Farm in Ghent, New York.

 

The Big Up Music & Arts Festival general admission tickets are available at $90.00 for a three-day music and camping pass. The at gate ticket price will be $120.00. VIP tickets are available for a $200 upgrade and includes VIP designated camping, half price beer, premium parking, RV camping, VIP porta-potty service, The Big Up VIP laminate, VIP lounge in the late night barn, breakfast and dinner, Thursday night welcome BBQ and VIP party, The Big Up poster, The Big Up VIP edition T-shirt and daily concierge service.
 

Gates will open at 12:00 p.m. on Thursday, July 28 and the festival grounds will close on Sunday, July 31 at noon.

 

For lineup details, ticket information, collaborative art, contests and giveaways and others details are available at: www.thebigup.com.

Organized and presented by Shireworks Productions, The Big Up Music and Arts Festival is a three-day music, arts, and culture festival in Ghent, New York. The Big Up leverages premier live music entertainment to create an environment that also showcases visionary arts and artists who emphasize innovation, collaboration, participatory education, and sustainable practices. Hosted at the legendary festival grounds Sunnyview Farm in Ghent, New York, The Big Up presents a new paradigm for East Coast festival culture due to its unique synthesis of musical entertainment, interactive art, sustainable initiatives and the venue's intimate natural setting. Sunnyview Farm's 1500 acres of breathtaking views provide a one-of-a-kind festival destination including space for wooded camping, five unique performance stages, an on site farmer's market and local vending, large-scale multimedia installations, and workshops dedicated to hands-on sustainable skills and collaborative art.

 
FESTIVAL LOCATION:
Sunnyview Farm festival grounds is conveniently located just 40 minutes from downtown Albany, New York, and less than three hours driving distance from New York City, Boston, Massachusetts, Providence, Rhode Island, Hartford, Connecticut, Burlington, Vermont, and Newark, New Jersey, making its location a central gathering point for major metro areas in the Northeast.
 
The 1500 acre Sunnyview Farm, with its remarkable views of the Upper Hudson Valley hills and water ways, is the perfect backdrop for this eclectic, innovative and distinct summer music festival which places a strong emphasis on culture and the arts.