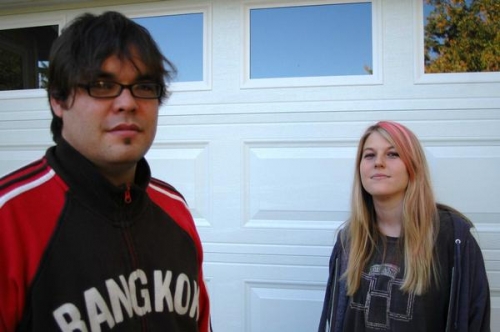 SeepeopleS front man Will Bradford, and SeepeopleS front of house engineer Brooke Binion are unveiling their new project, Freepeoples Frequency (www.freepeoplesfrequency.com, myspace.com/freepeoplesfrequency),
in the coming months and are announcing the release of their debut album, "Small Pills to Swallow," which is tentatively scheduled for release in the Spring of 2009 on Bradford's own imprint label, Rascalz Recordz.  The project, a true live PA in the spirit of early 90's big beat electro akin to Crystal Method, the Chemical Brothers and the Orb, made their live debut at the Root Down Family Festival in North Carolina this summer.  Currently the duo will be opening two shows for Lotus on their Hammerstrike Tour, November 2 in Richmond, VA at the National and November 3 at the Shaftman Performing Arts Center in Roanoke, before SeepeopleS joins the tour from November 5th through November 15th.
Freepeoples Frequency will also team up with
Matt McDonald's
new electronica project,
My Subversive Media
(
www.mysubversivemedia.com
), for two shows, December 5th at the Emerald Lounge in Asheville, NC and January 31st at the Blind Tiger in Greensboro, NC.  McDonald, the former keyboardist for
Perpetual Groove
will also be joining SeepeopleS when they open for
Lotus
at the Orange Peel in Asheville, NC on November 7th.
Bradford and Binion have also enlisted the help of long time SeepeopleS' producer,
Will Holland
(Pixies, Fall Out Boy, Dead Can Dance), and are recording "Small Pills to Swallow" at Chillhouse Studios in Boston, where the last two SeepeopleS albums
were recorded.  Aside from working on their own debut, the three of them have been co-producing a new project by
ex-
Green Lemon
front man,
Wayne Allen
entitled the Skyes  and are be producing a track for
Laura Reed
(Laura Reed and Deep Pocket), due for release next year.  Also, be on the lookout for some Freepeoples Frequency remixes of Lotus and other acts in the coming months.
www.freepeoplesfrequency.com
www.myspace.com/freepeoplesfrequency
www.seepeoples.com
www.myspace.com/seepeoples
FFQ TOUR DATES
Nov. 2   The National                                     Richmond, VA  opening for Lotus
Nov. 3   Shaftman Performing Arts Center       Roanoke, VA  opening for Lotus
Dec. 5   Emerald Lounge                                Asheville, NC  w/ My Subversive Media
Jan. 31  Blind Tiger                                        Greensboro, NC  w/My Subversive Media
SeepeopleS TOUR DATES
Nov. 5   Neighborhood Theatre                         Charlotte, NC opening for Lotus
Nov. 6   Cat's Cradle                                       Carborro, NC opening for Lotus
Nov. 7   Orange Peel                                       Asheville, NC  w/ special guest Matt McDonald
Nov. 8   Georgia Theatre                                  Athens, GA opening for Lotus    
Nov. 9   Music Farm                                        Charleston, SC opening for Lotus
Nov. 11 Freebird Live                                      Jacksonville Beach, FL  opening for Lotus
Nov. 12 Beta Bar                                            Tallahassee, FL opening for Lotus
Nov. 13 Proud Larry's                                      Oxford, MS  opening for Lotus
Nov. 14 Tipitina's Uptown                                 New Orleans, LA  opening for Lotus
Nov. 15 Antone's                                             Austin, TX opening for Lotus