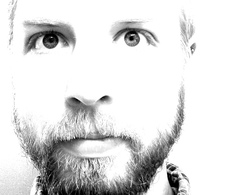 This Autumn will feature many new features at your feature-friendly, local live BUJ-performance spots. Let's start by talking about having the option to listen on wireless headphones at my live-shows and block out the room chatter to just get down to the experience. Well... it's finally here! Coined "SilentBUJ," I'm offering a limited amount of special wireless headphones broadcasting a stereo signal directly to your ears at every show, during every show. Rent yourself a pair of headphones for the evening and close out the world. The added option of plugging in your headphones for ultimate sound quality will be available very soon as well. House parties (as well as apartment, warehouse and open field parties) are also an option for up to 100-sets of ears with this headphone setup. Say goodbye to noise disturbances. Say goodbye to your regular show experience... it's just time to offer more. Check out jeffbujak.com/silentbu j for details.
In order to be able to offer this headphone option, I've had to update much of my gear, so you may notice some new toys on stage. You may also notice TeamBUJ in full effect at shows now. I have a great team of people working with me on the road so come by the merch table at a show to say hello to the team (and reply to this email if you love to help and if you want in on TeamBUJ!). While you're at the table, check out all the live recordings, t-shirts and your standard BUJgear that's available.
The long awaited 4th BUJ album (but technically considered my 3.5th album) is in the works and will be available on 12-31-10 for free download. I will recommend blasting this in your car on the way to the NYE show of your choice that evening. A remix album (as some would call it) will feature 10-tracks of live remixes that I perform at my shows... but with a twist. I will take a live-recorded remix, throw it in the studio, cut it up and remix the live-remix. Half-live, half-studio... all BUJ. It is entitled "A Coordinate Time."
I happen to be typing this letter on the road in Asheville, NC where the leaves are currently in full changing mode; as it was a couple weeks ago back in the northeast. I guess it's official that Autumn is here and I have much to accomplish. I will be trekking back to the northeast next week and landing in my hot-spots around the area for two-weeks of post-leaf-changing, BUJ-madness! Ithaca > Albany > New Paltz > Narragansett > Burlington > Hartford > Syracuse. Venues and such are listen below along with connects to their respective Facebook event pages. Feel free to "attend" the shows you're attending. Let your friends know how cool you are. :-) OK... it's 3am... I'm out.
WED OCT 20 - Castaways in Ithaca, NY
THU OCT 21 - Red Square in Albany, NY
FRI OCT 22 - Cabaloosa in New Paltz, NY (w/ Deem and Beam, HoriZonwireLess and Inkline)
SAT OCT 23 - The Wheelhouse in Narragansett, RI
WED OCT 27 - Nectar's in Burlington, VT (w/ Papadosio)
FRI OCT 29 - The Warehouse in Hartford, CT
SUN OCT 31 - Al's Wine and Whiskey Lounge in Syracuse, NY

More show listed at jeffbujak.com/live like these:
FRI NOV 05 - "SilentBUJ" House Party in Amherst, MA
SAT NOV 06 - Tammany Hall in Worcester, MA (w/ Indobox)
THU NOV 11 - Westcott Theater in Syracuse, NY (w/ EOTO)
SAT NOV 13 - Mojo's in Jamestown, NY
SUN NOV 21 - Pearl Street Nightclub in Northampton, MA (w/ Lotus and Mux Mool)
WED NOV 24 - Mill Street Brews in Southbridge, MA (Wormtown Anniversary w/ Goosepimp Orchestra)
SAT NOV 27 - Waterhole in Saranac Lake, NY
SAT DEC 05 - DBGB's in Buffalo, NY