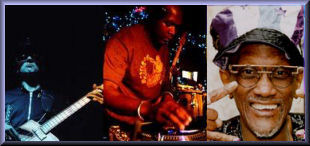 Headtronics, the funktronica trio of DJ Logic, Freekbass, and Steve Molitz (keyboardist with Particle, Phil and Friends) will be on tour this August. This tour will be extra special because funk legend Bernie Worrell (original P-Funk, Talking Heads, Colonel Claypool's Bucket Of Bernie Brains, SociaLybrium, etc.) will be sitting in for Steve Molitz on keyboards for selected dates. Steve will be playing some dates with Eve in Japan during part of the Headtronics run.

http://www.jambase.com/Articles/23298/Bernie-Worrell-Subs-For-Molitz-in-...
HEADTRONICS DATES:
Headtronics feat. DJ Logic, Freekbass, Bernie Worrell:
-8/5: Shammy Bash, Nelson Ledges, OH
-8/6: Triumph Brew Co, New Hope, PA
-8/7: Big Up, Ghent, NY
-8/8: River Street Jazz Cafe, New Hope, PA
Headtronics feat. Steve Molitz, Freekbass, Scott Metzger, Brandon Draper:
-8/13: Muddy River Jam Fest, Woodstown, NJ
Headtronics feat. Steve Molitz, DJ Logic, Freekbass: 
-9/9 : Red Square , Albany,NY
-9/10: Catskill Chill Music Fest, Hancock, NY 
***Wednesday, August 4
- Freekbass, Skerik, Mike Dillon, and I are playing as a trio (sax, drums, bass) at Cosmic Charlie's in Lexington, KY.