Venice Gas House Trolley is a band out of Madison, Wisconsin. They have a very unique sound. Their style sort of reminds me of the
Rollins Band
, the song "
Liar
" but not as angry and intense. It's jazzy, funky, and tribal with spoken word poetry and heavy psychedelic grooves. I suppose
the Doors
would be another band to compare them to, although they sound nothing like them...
Jim Morrison
meets
Frank Zappa
would be even better. With all the inconsequential comparisons aside, this is a band with their own trademark sound, paving the way for a whole new genre of music.
Today when people hear the term "spoken word poetry with music" they think of rap music. Is rap music even considered spoken word poetry? Many spoken word poets would disagree, arguing that rap is more musical and like a song. Spoken word is more like poetry. This issue of defining and classifying spoken word, and how much of spoken word can actually be termed as poetry, is a problem even for the artists themselves. VGHT is the real deal and something more. It's not too often when I hear music I think of art. Their music reminds me of the great surrealist Salvador Dali, highly imaginative, striking and bizarre. So if you're in the mood for something original and unlike anything you've ever heard before VGHT is the band for you.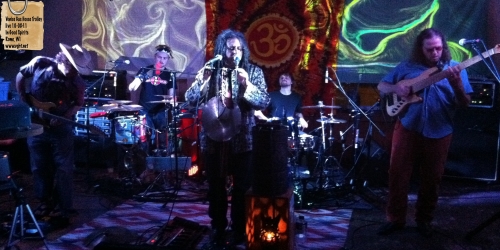 Adam Gregory Pergament (Flowpoetry)-voice and vocal fx
Tim Peeters-bass guitar
Kevin "Artie" Knapp-piccolo bass
Josh Pultorak-drums
Nikk Cramer-guitar
Dr. Beats-percussion
Interview with Flowpoetry by: Chris Robie
Photo's Courtesy of Venice Gas House Trolley
HGMN: You have a very unique sound. Can you tell me a little about the band, the music and what you're all about?
FP: We started with spoken word poetry so we're all about celebrating different kinds of self expression, celebrating individuality. We're about celebrating the idea of openness and having a good time. We're different and unique and have taken an approach that leads to forms of expression that maybe aren't out there right now.
HGMN: How did the spoken word poetry first start to evolve with music?
FP: The way it started really, I started with my poetry around town, open mic, things of that nature. I had always been a huge music fan. I was a fan of the Grateful Dead, Robert Hunter's lyrics, Bob Dylan, John Barlow's lyrics and a lot of that kind of stuff. As my poetry kind of morphed into songs musicians were attracted to it and I started working with musicians and started putting music behind the poetry. It just kind of grew from there.
HGMN: Do you usually write poetry first and then the band will come in and add music?
FP: Actually, it works both ways. I've been working with the same bass player for about six or seven years now, Tim Peeters. He was the one who originally approached me and said that he had seen some of my stuff and was interested in putting some music behind it. So we originally started where I would come in and read poetry and he would doodle around on the bass and come up with grooves. He had stuff also. He would come in with grooves and either an existing piece of poetry would kind of present itself or I might take the groove and write something based off of that. So it's a real collaborative process. More musicians have joined so it's kind of grown in that way as well. There's no one way that it works (laughs).
HGMN: You mention being with the same bass player for the past six years. How long have you been a band with your current instrumentation?
FP: We have gone through a bunch of changes. Tim and I started and we originally started as voice, upright bass, and bongos. We were asked to do a beat poetry thing at one of the local clubs and that kind of sparked our first couple of shows. And since that time we've had different drummers come through. Right now we're running with drums, percussion, guitar, bass and vocals. I kind of view it as a family to be quite honest. It's real hard to make a go at it these days in music. Folks will come in to the band and work with us for a while and then they move on to other things but then some of them will come back. We're open to people who want to work with us and we move forward that way.
HGMN: You've mentioned the Grateful Dead as being one of your influences. What other bands have influenced you and is there anything else besides music that inspires your poetry?
FP: The mid sixties psychedelic rock is a huge influence, Frank Zappa; Captain Beefheart...Tim is a big fan of Jefferson Airplane. Our drummer is a huge Phish fan so that has kind of influenced us a little bit. Les Claypool is a big influence, obviously. And beat poets who were always a part of the scene way back when, folks like Allen Ginsberg, Gary Snyder, writers such as Jack Kerouac...and I studied a lot about Asia, Chinese and Japanese poetry , Zen and things like that. That kind of sparked me. There are guys that go back to Li Bai, Du Fu, these old Tang Dynasty poets that were kind of ecstatic poets and it goes on from there.
HGMN: Is the Madison music scene similar to your style of music or do you guys stand out?
FP: No, we stand out. What we do, it's so different...we don't really have a scene but at the same time we are accepted in all the scenes. When we do a show we'll get a ton of kids who are in to jam music (hippies) and we'll get people who are kind of like the Burning Man community crossover folks. We'll get rock fans. We've even had punk rockers come out to our show and have a great time. They haven't seen anything like that. They'll come up and say, "You guys sound like the Minutemen" or "Sacren Trust" or something like that. I guess we're lucky that we can kind of be a wild card on any bill that we're on.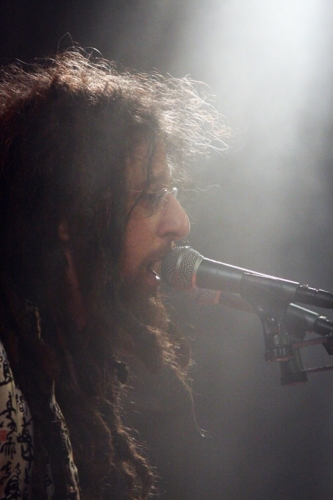 HGMN: How would you describe a live VGHT show?
FP: Well, I can tell you what some people who have seen us have said. Folks have said that we are a mad cap phantasm.
HGMN: What does that mean?
FP: (Laughter) I think it means something that they haven't seen before. We're slightly aggressive, in your face. We're going to look at you and we're going to talk to you but at the same time we're going to have a great time. Folks dance, they jump around. We started to stretch some of our songs and become a lot more groovin' than we used to be as a three piece. It's a celebration. It's a lot of fun.
HGMN: What do you mean by "We're going to talk to you"?
FP: Well, I guess because of the poetry aspect. I'm not singing. I'm up there saying words that I've written that have meaning to me. It means something to me; it means something to the band. If you've ever seen a spoken word poet perform, you've got somebody literally standing there talking on the mic. They are talking to the audience. So when you go to see a band and they're up there playing, their eyes are closed and there's this separation between band and audience, we don't have that as much. You're going to hear my words and hopefully I'll get to hear your words at some point. We don't have that separation that a lot of bands do. When you get there it's an immersive experience. You're going to be transformed in some way.
HGMN: Let's talk about your latest album, "Burst Open". I remember your first submission to HGMN with the album "Synapse Lapse and Reblast! ". When I first heard it I was very impressed with the uniqueness of it but at the same time I just didn't feel that you had reached your true potential. About a year later you submitted "Burst Open". Not only did you maintain your signature sound but you also managed to evolve into something more than what I was hearing from the previous album. How would you explain the difference between the two?
FP: I think it's just basically seasoning (laughs). It was a lot of growing in to what we're doing and getting better at it, working longer with the musicians who had a greater sense of commitment to the poetry and also to the song writing itself. And also a greater sense of doing something that was unique that maintained our voice but was still accessible. We really and truly wanted to put something out there that people could enjoy listening to intensely through headphones or putting on as background music, or putting on and jumping around and dancing. We really tried to do something that hit all of that.
HGMN: I was always a fan, even in the beginning when I thought you needed more time to develop. When I didn't accept your first submission; I didn't want to discourage you in any way because I really believed in your sound. There was nothing else like it. I'm so glad that you guys stuck with it and tried again a year later.
FP: The one thing that you wrote in that email, "Don't change nothing for no body." I remember, I went back to the band and I said I think that we're almost there. I think that we've got someone whose ears are open and whose heart is open to what we're doing, but we're not quite there but at the same time he's not saying, change this and do that. Stick to your guns and just keep working it. (Laughs) We put that up on the white board in our rehearsal room. It's still there. We worked it, man, and it was inspirational.
HGMN: Nice! Do you consider your music to be an acquired taste?
FP: I guess so to a certain point. People have to come to grips that they're not going to see somebody who's going to be singing. I'm going to be speaking my poetry over the music. I work in vocal effects. We're jamming more as I said and stretching it out. But yeah, I guess to a certain point it is an acquired taste. The listener will have to take a little time to let it sink in. It might take some effort and concentration. Not as much as it used to. We find at festivals, a lot of the festival promoters, folks who are there, will come up to us and say "hey man, thank you so much for what you did. It was refreshing; it was a breath of fresh air. We've been here for two days and we've heard a lot of bands that sound fairly similar. You guys brought something really unique to the festival". That makes me really happy.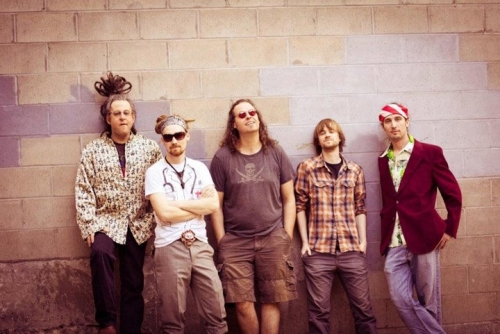 HGMN: Are you currently working on any new material?
FP: We are working on new songs. We have five or six new songs in the hopper. I've got tons of poetry and tons of ideas. No timeline on a new album or anything, just gigging like crazy. We're working as hard as we can to spread it out and build our presence around the mid west region. That's really where we've put our focus on lately.
HGMN: VGHT has a track on the new "Home Grown 10" album, "Sugar Kane". Is there any special meaning behind that song?
FP: Basically, it's a blues form. I love the blues. I'm a huge fan of Robert Johnson, Son House and some of those guys who were doing that way back when. And I followed up through the modern blues, Alvin Youngblood Hart, Corey Harris and that kind of Delta Blues revival. I remember going to see some of that stuff when I was seeing a lot of shows and wanting to work in that vein. It's just basically a dirty blues song, a guy singing the blues about his girl.
HGMN: Is music full time with you guys right now?
FP: Not at the moment, no.
HGMN: Are you the one with the PhD?
FP: Well, actually I didn't make it all the way through with my PhD to be quite honest with you. I got in to it and the program I was in kind of crumbled around me. I'm the last unfinished Buddhist study student from the first ever Buddhist study program in North America (laughs). I'll always be the one whose unfinished I guess. But that's alright. I'm ok with that.
HGMN: So does that play any role in your poetry?
FP: I lived in Asia for six years. I kind of backpacked around when I got done with my undergrad stuff. I lived on the streets, lived in the mountains. I've had some good times and some not so good times. I saw a lot of the world, being exposed to cultures of India, China...it definitely seeps in to who I am.

Live Video 08/02/2012 at The Majestic Theater, Madison, WI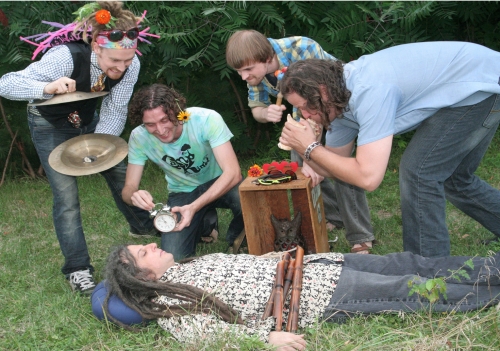 Upcoming Tour Dates
Sat Sep 08 - Logjam Festival - Kenosha, WI
Sun Sep 09 - The Bandshell at Pennoyer Park - Kenosha, WI
Sun Sep 09 - The Crooked Barn - Prairie Du Chein, WI
Sat Sep 15 - The Main Entrance - Prairie Du Chein, WI
Mon Sep 17 - Logan's Madtown - Madison, WI
Sat Sep 22 - Center Stage - Muncie, IN
Thu Sep 27 - Camp NCN - Black River Falls, WI
Fri Sep 28 - The Frequency - Madison, WI
Sat Sep 29 - WIJam Weekend NCN Campground - Black River Falls, WI
Sat Oct 07 - Midwest Harvest Fest Univ of WI - Liberty Hall - Madison, WI
Fri Oct 12 - Whiskey Bone's Roadhouse - Rochester, MN
Sun Oct 14 - Crisp Pizza Bar & Lounge - Milwaukee, WI
Sat Oct 20 - Mackey's Hideout Music - McHenry, IL
Fri Oct 26 - Kalamazoo College - Kalamazoo Township, MI
Fri Oct 26 - Kalamazoo Valley Museum - Kalamazoo, MI
Sat Oct 27 - Minocqua Brewing Company - Minocqua, WI
Fri Nov 16 - Lorado's - Mason City, IA
Fri Dec 21 - The Frequency - Madison, WI
Discography
Venice Gas House Trolley (2007)
You Don't Sound Like We Do EP (2009)
Synapse Lapse And Reblast! (2010)
Burst Open (2011)  (HGMN CD REVIEW)
When in Rome Live 10-08-2011 (2012)