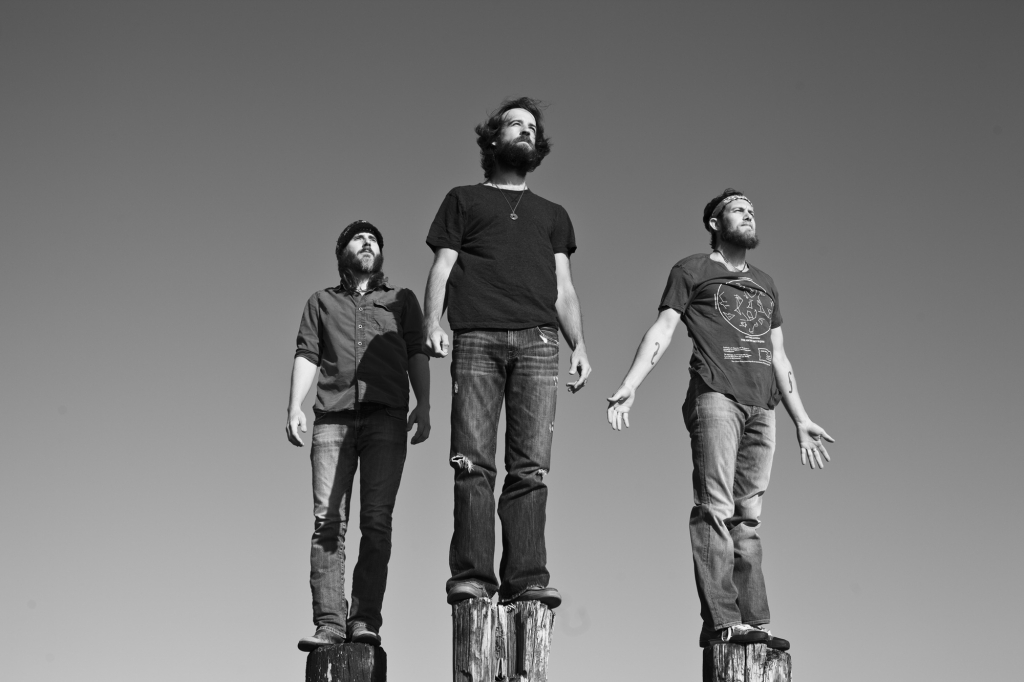 FOLLY BEACH, SC - Award-winning trio Dangermuffin has been very busy lately. In August, the band signed with new management, Mountain Entertainment, Inc and in October, launched a vibrant new website (www.dangermuffinmusic.com) – with a kicker.  The band's entire four album catalog is available for free download (www.dangermuffinmusi.com/music) in preparation for the band's new album due out in 2014.
The Band:
"Music should be free and available to people, plain and simple.  If folks decide to spend their time giving us a listen, we want to give them an opportunity to do so.  It is our belief that true music transcends the money and the desire for recognition; it's true purpose is to connect and unite under a common vibration." – Dan Lotti, lead singer/guitarist Dangermuffin
The Management:
"Dangermuffin isn't a band as much as they are a movement, a culture, a statement about the way the relationship between art and human beings should be. We NEVER looked at making the band's music being available for "free" as much as we looked at it as a way to give back to the fans for allowing the band access to their most prized possession, their time. – Marty Winsch, President/CEO Mountain Entertainment, Inc.
The Designer:
"It's so wonderful when you discover something that speaks to you deeply, that connects with your soul, and that moves you to action!  A couple years ago I discovered Dangermuffin and their music and I knew immediately I wanted to be a part of this band, their family, and their evolution." – Mark Skoultchi, Catchword Branding, www.catchwordbranding.com
The band is confirmed to play at Best Fest in Costa Rica in February 2014 and is planning a full slate of tour dates in support of the much-anticipated upcoming album.
Dangermuffin is much more than plainly an Americana or roots-rock band. Most strikingly, the band's musical execution remains refreshingly simple, belying a staggering lyrical and thematic depth behind each individual song. Behind the virtuosic rhythms of drummer Steven Sandifer, the group seamlessly segues from calypso to world beat to a down-home shuffle, often within the same song. When guitarist Mikie Sivilli steps in with a powerful slide-driven lead, one might even venture to call it southern rock. But by the time songwriter Dan Lotti sings the first words of another verse with his unmistakable, light rasp, the listener is undeniably back on the beach, pondering both the world's pleasures and ills through sandy toes.
The follow-up to 2010's Moonscapes, which produced tracks that received generous airplay on both SiriusXM's JamOn and Outlaw Country stations, Olly Oxen Free has found the band at their peak. Olly Oxen Free spent a total of 18 weeks at #1 on the HGMN Radio Chart above Grammy Award winners Mumford & Sons, Little Feat, and Avett Brothers. Not surprisingly, Olly Oxen Free was voted as #1 album of 2012 by both HGMN and by the city of Charleston, tying for the first place spot with Shovels & Rope's 'O Be Joyful. The album demonstrates heightened ambitions and a refined, road-polished assembly ready to take on the world. The funky groove 'Homestead' has become one of the most requested songs on SiriusXM's JamOn.
Throughout the album, Lotti's songwriting encourages us to be free, revel in the simple beauty of our complicated lives, and always seek out healing answers. Like the cry bellowed during a children's game of hide-and-seek, Olly Oxen Free signals that it's safe to come out from our hiding spots, gather together, and celebrate late into the evening. Dangermuffin is more ready than ever to provide the soundtrack.
"Dangermuffin make endlessly listenable music, with ambitious chording and instrumentation and few boundaries in their musical exploration. They bring to mind the more disciplined moments of bands like Phish and the Grateful Dead, with tight arrangements, interesting rhythms, hooks for days and compelling themes. With influences from such various sources as blues, prog rock, improv, country, jam, bluegrass and jazz, they're tough to categorize but easy to hear. They just make me feel good." ~ Ray Waddell (Touring Writer for Billboard)
Dangermuffin is:
Dan Lotti – vocals, guitar
Mikie Sivilli – guitar, vocals
Steven Sandifer- drums/percussion, vocals
Studio Recordings:
2012 Olly Oxen Free
2010 Moonscapes
2008 Emancee
2007 Beermuda
Upcoming Tour Dates:
11/8/2013 - Fri - Neighborhood Theatre - Charlotte, NC
11/9/2013 - Sat - Georgia Theatre - Athens, GA
11/16/2013 - Sat - Pirate's Cove - Myrtle Beach, SC
11/19/2013 - Tue - Woodlands Tavern - Columbus, OH
11/20/2013 - Wed - Beachland Ballroom & Tavern - Cleveland, OH
11/21/2013 - Thu - Founders Brewing Company - Grand Rapids, MI
11/22/2013 - Fri - Cubby Bear - Chicago, IL
11/23/2013 - Sat - Mousetrap Bar & Grill - Indianapolis, IN
02/07/14-02/09/14 - Best Fest - Uvita de Osa, Costa Rica