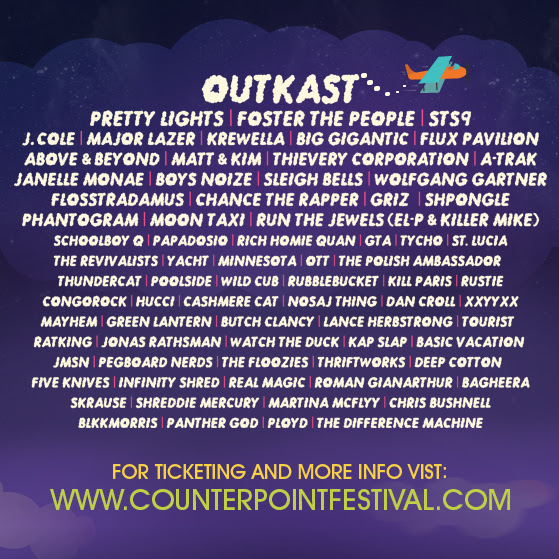 The word is out! We're unleashing our 2014 lineup this morning and are so excited to hear what you think of the group we've assembled for the second CounterPoint Music & Arts Festival! Headlining CounterPoint this spring is none other than Outkast, who is returning home for their first show in Georgia in over 10 years!
It wouldn't be a party without friends though, and we've got lots of them this year at Kingston Downs! Joining the festivities will be Pretty Lights, Foster the People, STS9, J. Cole, Major Lazer, Krewella, Big Gigantic, Flux Pavilion, Above & Beyond, Matt and Kim, Thievery Corporation, Janelle Monae, A-Trak, Sleigh Bells, Wolfgang Gartner, Flosstradamus, Chance the Rapper, Boys Noize, Griz, Shpongle, Phantogram, and so many more if you can believe it...
 
We're blown away by your support of this special event! Tickets have been selling at unprecedented rates and we don't expect them to slow down. We tell you this as a warning, as there are only a limited amount of Advance Tickets available and they won't last long!
Advance Tickets start at $180 or $205 for 3-Days with Camping. Once this allotment is gone, they will automatically roll over to our Regular Ticket price of $199 without camping and $225 with camping. So, act now for the most affordable way to secure your spot at CounterPoint in April!
If you're light on cash, remember you can always secure an Advance Ticket by selecting our Payment Plan during the purchase process. Click here