That was the feel at the Inaugural Atlanta Holiday Hootenanny at The Variety Playhouse, Dec. 18. Wildman Steve sat in using his talents on the washboard and called for the unique combinations of artists, giving the evening just enough structure to keep it packed with nonstop musical variety and unharnessed spontaneity.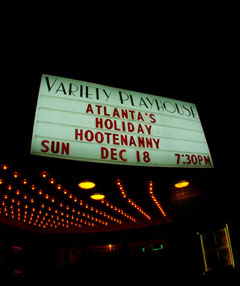 I got to the Variety Playhouse, a venue I'd never been to before, about an hour before doors opened and was thrilled to see the street of eclectic stores, vegetables being sold out of the back of pick-up trucks, neighborhood people buying, selling, trading home-grown and home-made goods. I ventured into the Rag-o-Rama, one of the largest, most well-organized buy, sell, trade clothing stores I'd ever seen. I bought 2 bags of consignment shop clothing and headed to find a restroom. I entered Elymr's cool, dark-wood bar and restaurant finding a wonderful variety of all-friendly, very helpful people, from the pretty and colorful female bartender who took my order and pointed me toward the restroom to the deep-voiced, low-spoken gentleman named Daryl who admired my holiday necklace and identified himself as the artist and proprietor of the Elegance Boutique next door, a place I had admired for its colorful variety in ethnical tastes and arts.
The Variety Playhouse turned out to be a combination theater and nightclub with theater-style seats, tables and chairs and a dance floor right in front of the neck-high stage with room for standing as well. I loved that they were taking up canned food donations for the community food bank and selling popcorn, sodas and beer in the lobby.
Time drew near and the audience pushed forward to the stage as the waves of musical delight took off with the Mosier Brothers, Jeff and Johnny, with David Blackmon, legendary fiddle player with Widespread Panic, Jeff Sipe on drums, and Ted Pecchio of Tedeschi Trucks on electric bass opened up with southern rock guitarist and songwriter Tommy Talton doing two of his own, "I'm on Your Side" and "Everything Here."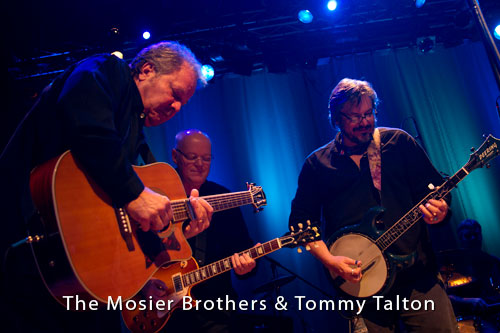 The audience then got a chance to enjoy participating, in true Hootenanny fashion, by following Donna Hopkins in some seasonal tunes while Ralph Roddenbery tuned up his guitar and good-humoredly joked with the gang on stage. Then "Morning Bliss" brought some late evening joy. Ralph Roddenbery, Donna Hopkns, David Blackmon, Gaurav Mulhotra , Jeff Sipe and Ted Pecchio on stage, followed smoothly by Donna's vocals and lead guitar on "Keep Talkin' Love" joined by Caroline Aiken, Diane Durrett, Count M'Butu and Gaurav Mulhotra both on percussion. Next, Diane Durrett and Ralph lifted the audience through the roof with "Rudolph Shines" from Diane's new release Georgia Christmas, joined by Caroline Aiken, Donna Hopkins, and Ike Stubblefield shimmering straight and tall on keys. Somewhere embedded in that melody of soulful, joyous tunes the audience gleefully joined in on what was the best rendition of "This Little Light of Mine" I've ever heard. It's still making me smile and my head sway side to side.
No breaks, no lulls. I remembered to open my eyes from my own bliss, lost in the sounds and the unconscious movement of my body and soul with the rhythms, and look around for everyone else's reaction to the music, the artists, the event. I saw a community of smiling faces, loving hugs, grooving, swaying hips, wagging heads and nods of acknowledgement. I saw complete rapture flood the sea of upturned faces when Caroline, Diane, Donna, Ike , Count M'Butu and Gaurav Mulhotra, Jeff and Ted brought a rocking, spirit-raising, out-of-body experience to the house with their rendition of Mother's Finest "Love Ain't Goin' Nowhere." The ladies were looking as hot as their laid down sultry, sexy tunes in black leather.
Second set, Donna was joined by her daughter India Hopkins doing lead vocals on "Everything That Money Can't Buy," backed by Benji Shanks (Capt. Soularcat) and his high-energy finger-picking, Jeff Sipe and Ted Pecchio. I'm afraid I missed a little bit here as I hung out downstairs with Col. Bruce, entranced by his stories and that he could tell me my zodiac sign, my date of birth and almost the hour of my birth, not to mention describe my nature ....it was a little eerie, but delightful!
Charlie Starr from Blackberry Smoke took the stage with Benji Shanks to mix some Southern rock up with Spencer Pope's bluesy tunes and Gaurav Mulhotra and Count M'Butu's African-Latin influences along with Jeff Sipe and Ted Pechhio.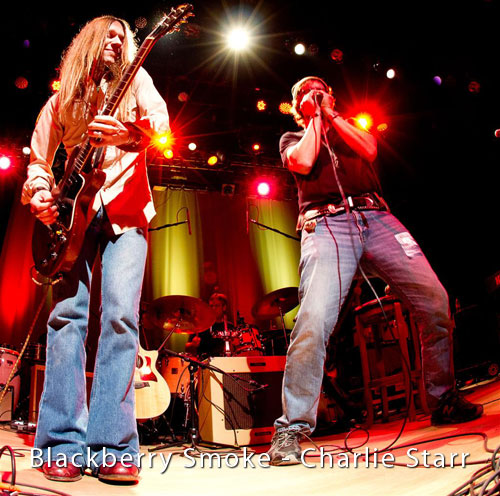 Grant Green, Jr. jazzed the air with Jeff Sipe, Ted Pecchio, Ike Stubblefield, Count and Gaurav. Then, Caroline Aiken stepped up for a haunting version of Traffic's "40,000 Headmen."
Then like a tent revival of souls lost in the spirit, the spirit of the moment and the music, Jimmy Hall, Tommy Talton, Charlie Starr, Ike Stubblefield, Benji Shanks, Jeff Sipe, Ted Pecchio, Count, Gaurav, Diane Durrett, Spencer Pope, David Blackmon highlighted the evening with the incredibly soulfully rocking version of "Silent Night, Holy Night."
Jeff Mosier joked that he hoped the crowd would enjoy some bluegrass as he introduced The Mosier Brothers and David Blackmon set. With their magnetic and unique combination of traditional tunes and bluegrass instruments, Jeff leading on electric banjo and sincere, direct vocals, brother Johnny creating mighty tunes on guitar and David on flight with the fiddle, these guys enthralled, motivated and moved the audience with their energetic rock and roll-infused versions of "Old Dangerfield" and "White Dove."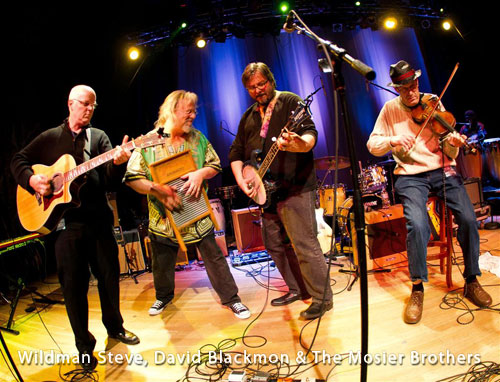 Col. Bruce Hampton rocked the stage with a 4-song set with Ted Pecchio, Grant Green, Jr., Jeff Sipe, Count M'Butu, Gaurav Mulhotra and brought out the amazing Rhinehart Brothers, becoming known as "Frets on Fire," on electric guitar and electric bass, electrifying very young talent! Their version of "I'm So Glad" wowed the crowd.
The grand finale was exhilarating with everyone on stage for Jimmy Hall's Wet Willie classic "Keep on Smilin' " followed by Rev. Jeff Mosier stepping up to lead a raw, soul-filled, rocking celebration of emotional resilience in "Will the Circle be Unbroken." A perfect high velocity, high energy close to a nearly 4-hour up-close and personal holiday musical, heart-lifting extravaganza.
And it's to be a annual tradition! So, watch for TDawg Presents announcements and mark your calendars.
- Janice Wilson Boyles
- photos by Shea Jarman