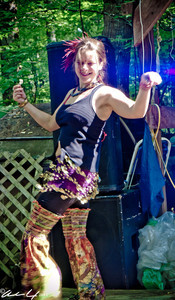 I have attended 5 such Flings in different Mays over the years, and have always left the event with a strong sense of camaraderie, a feeling of excitement, and sometimes, the lingering vestiges of a hangover. The Fling has always prided itself on being a somewhat underground event, and has featured an excellent cadre of "headliners" over the years. Bands like Barefoot Manner, Yo Mama's Big Fat Booty Band, and The Mantras have often held the headlining spot over the years, with other North Carolina bands picked to fill out the body of the event. These events have mostly been held in "The Majickal Forest," a particularly dense body of woods located between Greensboro and Raleigh, North Carolina. Last year's Fling was held on a new property in Tennessee, and although the event was gorgeous (dubbed "The Majickal Mountains"), I missed the familiarity of the old property. As plans for this Fling came to light, I didn't think I could attend, but a change in plans found me in the Majickal Forest just as music started on May 14th.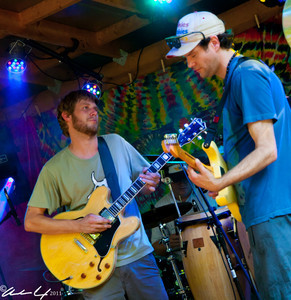 Greensboro locals, Electric Soul Pandemic, began the festivities with a nice set of groove-inspired rock. In past interactions with Bird, who plays keys and sings for ESP, he has mentioned the desire to cater each set to the mood of the crowd, and the time of day that they are playing. ESP plays a nice collection of jams, some laced with jazzy overtures, others more straightforward and rocking… The crowd responds warmly, and I know that my 6th Spring Fling is off to a good start. The hard working fellows in Yesterday's Gravy play next, and they seem enthused with this earlier set. At last year's Fling, they were given a "graveyard shift" in the early, early morning, and then had to have their set delayed so that the sound board operator could rest. No such delay came to light today, and the Gravy boys delivered an excellent set. Yesterday's Gravy offers a mixture of rock-n-roll, jam and good natured hilarity, with a choice blend of fun covers and original "Gravy" standards. Their set is well-received, and I am enjoying the bright light of the sun immensely. We are expecting storms to blow through at any point, but I'm basking in sunlight throughout the Gravy set, feeling tremendous and excited.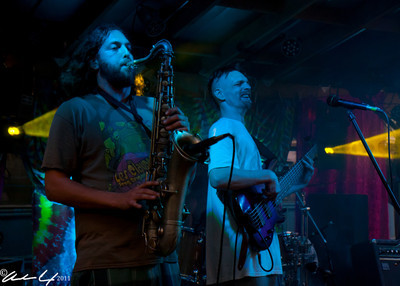 Homegrown recording artist, Discordian Society, offers a choice collection of experimental, horn-driven funk. As the afternoon transitions to evening, people are mingling throughout the crowd, sharing cheers and good tidings, lending an upbeat mood to the festivities. Old friends from past Flings reunite, while others meet friends for the first time. Discordian Society delivers an excellent set, and leaves the crowd wanting more. The Native Sway (who has become a real favorite) delivers power chords that peel the dome, and I find myself momentarily disappointed when their set concludes. That's a real compliment to the fellows from Boone, as the Mantras are playing next, and figure to be one of the two headliners for this year's Fling. I know the Mantras will certainly deliver, but I still wanted about 5 more Native Sway songs. They have really struck my fancy lately.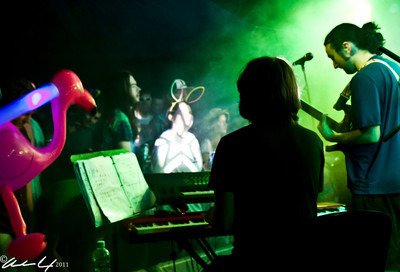 The Mantras open with a cover of Prince's "Let's Go Crazy" and this seems fitting, since the evening populated with bonkers, wide-eyed festivarians. The Mantras have provided some legendary performances at the Fling over the years, including a 4 to 5 hour rager in 2008 that ended in the light of dawn. They have always stepped their game up for Spring Fling, knowing that a Forest full of Rowdies would be receptive to whatever shenanigans they wanted to lay down. As a long-time fan of the Mantras, I really enjoyed their set at Spring Fling. The body of the set is filled with some rarer selections, and songs like "The Interlude," "The Prelude" and "The Sun" make for an interesting, unique set list. The Authorities show up at some point, and music is diverted for like 9 or so minutes. They break right back into song, at the precise moment where they departed, once the authorities have left the premises. The Mantras close with "The Street Beater" (Sanford and Son theme song) and brief reprise of "Magillicuddy" before departing to join the hubbub and hullaballoo in the Majickal Forest.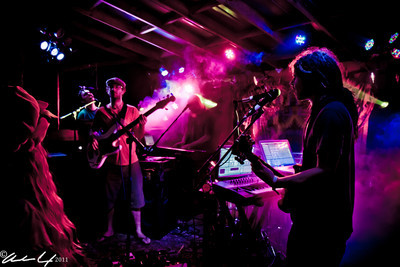 Papadosio has seen its "buzz" increase dramatically over the last couple of years, and receiving gigs at events like Allgood can only cement this standing. I've seen Papadosio twice now, and I really enjoy their groove-laden, hook-driven passages. They explore some of the similar aural arenas that a band like Lotus explores, yet are not as "clean" and organic sounding. There is a great deal of fuzz, buzz, squonk and holler in Papadosio, and the Late Night Minions absorbed this set with hunger and approval. Ambient, electronic dance wizards, The Malah, took the stage next, and delivered a bouncy, invigorated set that kept the crowd moving. I've seen The Malah one time previously, at a private affair for a Homegrown staff member, so I looked forward to seeing what they would dish out in the Majickal Forest. I don't know the Malah's songs well at all, so reciting a play list wouldn't be fair to the band, their fans, or to the reader(s), but they delivered an excellent set to bridge the gap from "late night" to "early morning." I've been a pretty faithful minion to the music throughout the Fling so far, so I use some down time here to explore my friends' campsites. Play High, Play Low and GalaxC Girl provide DJ sets to bring in the light of day. The addition of these two particular acts added a fun layer of zaniness to an already insane night.
 
After a short break to recompose and gather lost brain cells, music returns to the Majickal Forest with a spirited, funky set from Duk Tan. I have seen mention of Duk Tan in lots of different circles, but I had never had the opportunity to see them. Considering how late/early it has gotten, one could expect a "low wattage" affair, but that never was the case with Duk Tan. They played with energy and hilarity and even got into a playful "smack talking" session with the Mantras. I, unfortunately, had business in Greensboro that had to be attended to, so we had to leave by 11 in the morning. I pack up my chair, my belongings, and find the lovely Caitlin, who was my Festival Bud and ride to the Fling. We giggle and laugh like maniacs all the way back to Greensboro, having enjoyed another mythical Spring Fling.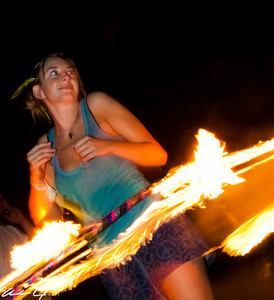 In ranking the 6 Flings I have attended, this one rises to the top. I have had some excellent, wonderful experiences at past Flings, but this one registered on a level that previous flings had not. The crowd was wonderful, generous and kind, while the music was excellently produced and well delivered. The sound board operator worked tirelessly throughout the night, and there never seemed to be a lapse in professionalism. That's saying a lot, because I'm sure dealing with musicians and feedback at 4 in the morning can be a tiresome affair. However, the night went off without a hitch, and all of our friends in the woods seemed to have similarly "majickal" nights. I have to offer props to Flow and Captain Momeyer, who organize the yearly Flings. The event was a grand success, and it has raised the bar very high for future Flings. Will those memories be surpassed? I'm not sure about that, but I know that I will be back in the Majickal Forest / Mountains next May, looking to form an opinion. I hope to see you there.
- J Evan Wade
- Photos by Andy Cox (view more photos at his website)