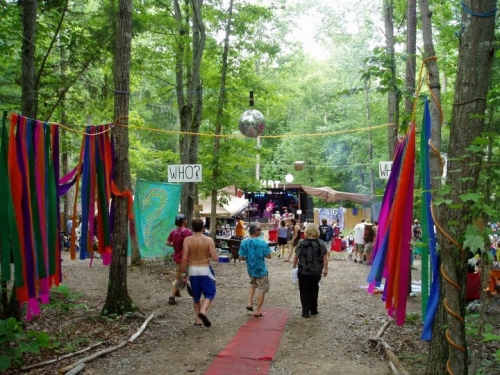 Possum Holler has been the staging ground for many of my favorite weekends over the last couple of years, with events like the BIG Something Costume Ball and Groove in the Holler proving to be remarkable landmarks when I look back through the calendar of my memories. Located about an hour east of Greensboro, cut away in a swath of trees in the rural heart of North Carolina, the venue proves to be a intimate, scenic, rustic, wonderful place to spend a weekend with 800 like-minded individuals. When the opportunity came to light to attend the Big What? in early August, I was thrilled for the opportunity.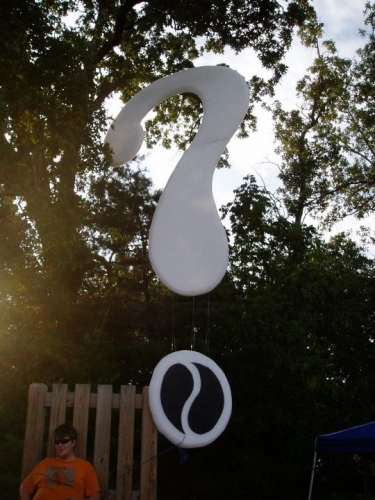 We arrive on the property right at high noon. The opening hours were fun, and we watched the assembly of freaks gather, stake out their spots, and gear up for the excitement. Jeremy Bell, who manages Possum Holler, leads us to a fat spot in the car camping area. This proves to be a blessing all weekend, negating long walks to the campsite, which always prove deleterious to my aching, old bones. We spend the afternoon setting up camp and fraternizing with all the Crazies who had come out to the woods.
The evening's musical entertainment starts with spirited sets from JujuGuru and Matter of Fact. Electric Soul Pandemic is next. A temporary lineup change had been executed the previous weekend and local drum aficionado, Waylon Bayard (who plays drums with Duk Tan) sits in. He meshes well and adds renewed fervor and excitement to ESP's set of spirited originals; well-delivered and well-received by all the Freaks out in the wilderness. After ESP's set, I get a brief moment with J-Bird (keys & vocals), and I congratulate him heartily on his set.
My favorite "new discovery" of the weekend happened with the next set, as Consider the Source (from New York) proceeded to shred Possum Holler with a cacophonous blend of funk, world, progressive rock, and metal. Consider the Source has been getting lots of praise in my extended circle of friends, but I had not yet seen them or heard their music. Their set proves to be a discovery, and one of my favorite sets of the weekend. As a "power trio" of infinite dimension, their compositions were dense, spirited, chameleon arrangements that blend stratospheric guitar with confident, aggressive bass. We sat in our seats, jaws agape, almost wide-eyed at the imaginative turns that Consider the Source provided. Their set is over sooner than I want, and for the rest of the weekend, people remark on the power of that particular set.
Arpetrio offers up a nice blend of "livetronic" jam, which is well-received by a thoroughly enthused late-night crowd. Unfortunately, in what would prove to a harbinger for several hours throughout the weekend, a swirling storm rips through Possum Holler, and music has to be ended for the night. Matter of Fact misses their "late night" set, and I hate that for them. However, the first day has been eventful and fun, and I can tell that I will sleep like a baby.
I wake up Friday feeling well-rested. There is plenty of time to kill in the morning and afternoon, as music won't commence until late afternoon. We had heard from the Possum Holler staff that there would be lots of arrivals for Friday, so we watch the new arrivals from the quiet of our camp site. The Family begins the day's festivities with the first of their two scheduled sets for the day. The Family is a Greensboro band that offers a nice collection of soulful originals and covers, and their jams are well-received. I have become a big fan of Cindercat in the last few months, and find their exploratory, rocking jams to be exciting and fresh. They offer up an excellent set, and this sets the stage for another colorful night in the Holler. Alien Sex Machine, featuring Casey Cranford and Josh Kagel from BIG Something, take the Campfire Stage over in a Predator and Yoda mask, respectively, and offer up an interesting blend of ethereal jam and exploratory weirdness in a 30-minute set just before dark. Guitarist Jesse Hensley even joins in for a bit, sporting a StormTrooper mask.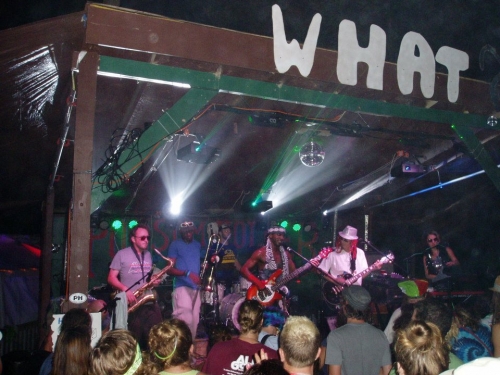 I enjoyed the Turbine and Pseudo Blue sets, as this was my first opportunity to see them play. Turbine, a quartet from New York City, excites me with their first track, a noisy Hendrix cover from the "Band of Gypsies" album, which is probably my favorite Hendrix album of all time. The rest of their set is delivered with confident, rock and blues swagger, and this sets the stage for a rocking night in Possum Holler. Pseudo Blue delivers an excellent set in front of a growing crowd, and the intensity ramps up in anticipation of Yo Mama's Big Fat Booty Band. Having seen multiple incarnations and lineup shifts over the years, I knew that the Booty Band would deliver. It was a birthday show of sorts for Al Al Ingram, the unofficial Ambassador of Funk for the Friday night proceedings. The Booty Band delivers an excellent, energetic set, offering old standards like "Funk on Friday" with vigor, and newer songs that kept the crowd swaying and howling between tracks. The Booty Band closes with a flourish, and lays the foundation for Dopapod.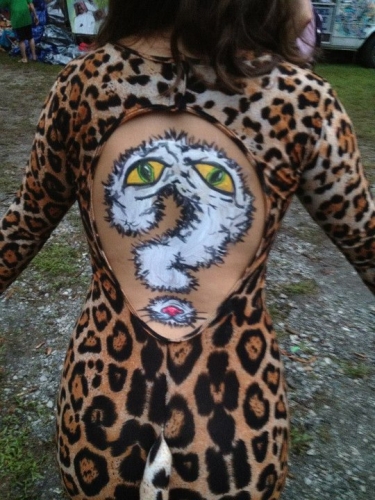 Before the festival had started, I found myself eagerly anticipating Dopapod's prime, late-night set. I had first seen them several years ago back at the "old" Blind Tiger in Greensboro, when they opened for Josh Phillips and the Folk Festival one night. Eli Winderman, the maestro on the keys for Dopapod, gave me a copy of "Radar" that night. In the years since that first exposure, I had played "Radar" all the time, finding myself amazed with the diversity of the tracks presented therein. With a variety of moods and musical expressions, I knew that I wanted to see Dopapod "live" again soon. The Dopapod set at the Big What? was my first opportunity, and they delivered with aplomb and enthusiasm. By the end of their set, I had officially worn myself out, and this proved to be another one of my "favorite" sets for the weekend. I stumbled back to camp as The Family played their "late night" set, crawled into the tent and slept through rain drops. At most festivals, the level of performances exhibited on this fine Friday night would be enough to be "headliner" status. However, I knew that the boys in BIG Something would have something to say about that. I went to bed eager and excited for the next day's musical entertainment.
Saturday starts with a healthy dose of rain, and I find myself hoping the precipitation will filter through and leave us be. Possum Holler had become something of a muddy four wheeler's paradise by the time Saturday music rolled around. The day begins with a set from Tennessee Jed, who featured several guest musicians for his early performance. Al Al Ingram from the Booty Band, Eric Chesson, and others played with Jed Fisher, and this spirit of musical camaraderie became a signature trait of the day. Marcus Horth, co-founder and former member of the Mantras, unveiled his new project,The Monkey Mind. I was glad to see Marcus wandering around Possum Holler. The man is a musical mastermind and genius, and it had been almost a year since I had seen him play. The wait proves worthwhile. I had seen Tiny Boxes only once before the Big What? but I really enjoyed their set. I had been hearing about Bon Lozaga and Gongzilla for years, and bass player Leo Kishore is an old friend of mine from the Barefoot Manner years. Their energetic set proves to be excellent.
I have written about The Native Sway at various times over the last few years, as they are often featured at many of the smaller, more intimate events (Spring Fling, the GetDown, and others) that my friends and I often frequent. There is something very addictive and fun about them, as enormous jams alternately loop and crescendo throughout the woods, much to the delight of the Holler attendees. Tonight proved to be no different, and I found myself wishing for more time for "the Sway." It's not the first time I have felt such a feeling for them, and I'm sure it won't be the last. The Sway offers an excellent blend of precision, chunky jam, and atmospheric guitar, and I always enjoy seeing them play.
The second "BIG" band, Big Daddy Love, took the stage next, and their set proved to be a revelation. I had seen recent reports about a change in lineup for Big Daddy Love, and as with all band personnel changes, I wondered how such a change would affect them. The Love Bus, a loving nickname given to the devoted fans of Big Daddy Love, have been thunderous in their support, leading to increasing numbers of "sold out" shows and a wider traveling radius. I had to wonder how such a change would affect their momentum. The band had garnered the talents of Scott Moss to fill the formidable shoes of Daniel Justin Smith, who had resigned to spend more time with his family. After seeing one performance out at Possum Holler, I can say that the band has hit the ground running. Moss brings a warm voice and excellent sense of showmanship to the band, and his addition seems to be almost pre-destined. Moss' vocals and guitar meshed nicely with the banjo fireworks of Brian Swenk, and their set was extremely well-received. I have always really enjoyed Big Daddy Love, feeling that their "live" show was wonderful, energetic, and inviting. With the addition of Scott Moss, I can say I am even more excited for the future of Big Daddy Love.
This set the stage for Passalacqua, a hip-hop duo from Detroit that I had seen on previous adventures in the Holler. Featuring Blacksmith and Mister, the duo offers excellent rhymes and a sense of presentation that is difficult to evoke for some hip-hop performance artists. This environment showcased a crowd full of passionate music freaks who sometimes know more about music than they do about "common sense." Hip-Hop is a musical form of expression that sometimes lacks in a live setting. But this was not the case with Passalacqua, and their deft, confident rhymes reverberated through the Holler, leading to bobbing heads and a heightened sense of excitement. After all, BIG Something was up next.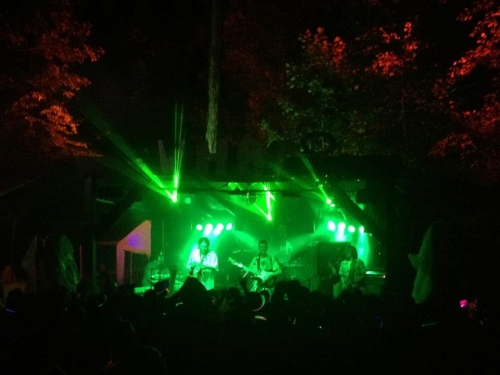 As a 3-year writer at the Home Grown Music Network, I have been in prime position to watch the blossoming of BIG Something from their nascent roots to the "powerhouse" rock and roll band that they are becoming. From my initial exposure to "Stories from the Middle of Nowhere," I saw something interesting happen on a first hand basis. That album has received tons of play in my social arenas over the last two years, and I have watched "strangers" to the band come away with very strong, favorable impressions about their music. Even my "non-jam" friends will often ask, "Who is THIS?" when they hear tracks from that album. I have seen many "strangers" become "fans" in just one short listen, and then that impression is sealed even further once these strangers get to see BIG Something "live." There is something refreshing and new about BIG Something, and this translates to new fans with each new listen. That is a powerful quality that not all bands can claim, and it has been neat to watch this happen to the humble, hard working lads from Burlington and Greensboro, North Carolina.
I have never, historically, been a big "fan" of the saxophone, minus the power of Coltrane's "A Love Supreme," "Giant Steps," or "My Favorite Things." Yet, there is something about Casey Cranford's delivery that just lures me in, and makes me appreciate the range with which he plays the saxophone. Cranford can lay back in the groove, or summon a raging bluster that blows branches off the trees. He can be light and airy, or the very essence of machismo when he plays. This quality, when combined with Jesse Hensley's soaring guitar and Nick MacDaniels' colorful lyrics and vocals, makes for powerful arrangements. With Ben Vinograd, the newest member of the band, on the drum kit, Douglas Marshall on bass, and Josh Kagel playing Mad Scientist on the keys, the recipe has fermented into something powerful in 2012. We would be blessed with several hours of such expression on that Saturday night in Possum Holler.


BIG Something takes the stage and delivers an extremely evocative set, starting with "Illuminated," and offering a startling array of BIG Something classics, and 7 new songs to go along with those. The night features blistering versions "The Curse of Julia Brown," a rare Pinky "trilogy" with "Pinky's Woman," "Pinky's Ride," and "Pinky Goes to Jail" played in succession, and a list of crazy covers running the gamut from Rage Against the Machine's "Calm Like a Bomb" to the Flaming Lips' "What is the Light" to Tupac's "California Love". After concluding their "proper" set with a "My Volcano" that rumbled through the Holler complete with a impressive laser show, they then embarked on aBIG What? "All-Star" Jam. Featuring artists such as Marcus Horth, Bon Lozaga, Leo Kishore, all the members of Big Daddy Love, and others, this proves to be an excellent way to conclude the BIG Something festivities. Once they finish, I sit in my chair seemingly obliterated yet mostly sober. Did we really just witness That? WHAT?
The wonderful dulcet tunes of Mac & Juice conclude the night's festivities, and they play with their typical passion and fire. I first saw Mac and Juice some eight years ago, and it has been a pleasure to see them play over the years. You won't find a nicer set of guys, and although that doesn't mean anything "in the business," it means something to me as a person. They often play as a quartet now, adding the aforementioned Leo Kishore on bass and Seth Gaines on drums, but it was just the two of them to close the festival, and they played with vivacity and fire, despite how late it was. I yell my support as I wander up the hill to bed, nearing dawn, tired and drained, yet ecstatic and joyful at the same time. The BIG What? had been a grande time.
The Sunday departure went well, and we find ourselves on the highway without too much trouble. Jennie, TradeMark, and I reflected on countless memories and musical performances on the drive home, and we start making plans for the next go-round at Possum Holler, whenever that may be. We are already excited. In the day of big music festivals, it is refreshing to find those undiscovered corners of musical exploration in places like Possum Holler. I know that as I get older, and I seem to be getting Old pretty fast now, memories like those created at the BIG What? will galvanize me moving forward. This will be the last music festival of my 30s, as I turn the dreaded 4-0 in just a couple of months. I was not a part of this scene when I turned 30, but through the last 10 years, I have garnered a lot of cool memories and better friends, and this last weekend at Possum Holler proved to be a prime example of why. There really was something special at play at the BIG What?. I look forward to making similar memories next summer when festival season rolls around again.
- J Evan Wade
- photos by Cassie Mentha