The show was just one of a few shows billed with Matt McDonald, former keyboardest of Perpetual Groove. Being a huge fan of both Matt and Seepeoples I was really eager to hear what they would sound like performing together. The place to see them showcase their new sound and light show that night was none other than the Lincoln theatre in downtown Raleigh. Right before the show Seepeoples lead singer and guitarist, Will Bradford, told me that it was pretty scary how well Matt fit in with the band's sound. It's like he was already a part of Seepeoples. I heard that the show in Knoxville, TN. the other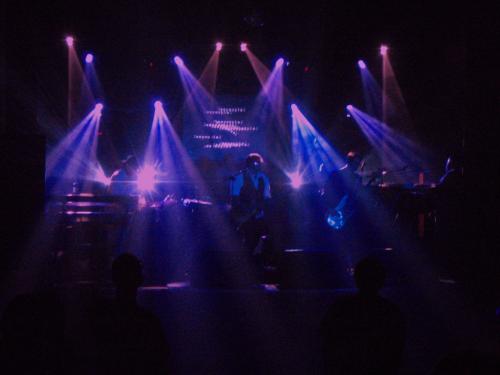 night was off the hook.

    When I met up with Mcdonald before the show he was pretty excited to be performing tonight. Actually, he seemed to be pretty excited about a lot of things. Since leaving Perpetual Groove to pursue his solo interests and spend less time on the road, he was happy to say that he was doing great and he had several projects under way. He has also been working on some solo material and he planned on performing a little bit of it between sets tonight. Knowing that this was going to be the last Seepeoples show in Raleigh for the rest of 2008 I just knew that tonight was going to be something special.
     The band opened the set with the new song,
"What Makes It Go
, which is by far my new favorite Peep song. Peter "The Monster" Keys and McDonald  performed smoothly together on keyboards, each set up on both ends of the stage. It was immediately apparent that McDonald added a much more larger sound to the band rather than standing out as just a casual guest musician. Will was right, it was scary...and the fans loved it!
"
Don't Panic
" was next followed by
"
Oceans of the Abandoned
" and
"
Apocalypse Cow
." And after "
Battle Cry
" and an impressive version of "
Butchers
" in which Dan and Tim were both rockin' it on drums and bass, the band casually left the stage to end their first set. The only person left remaining was Matt McDonald, who without delay, began to perform solo.
    I would describe McDonald's solo set as Electronic/Industrial/Voice Samples and a touch of Dance/House grooves. I thought it was great! Just watching him perform it was clear to me why he wanted to venture out and do his own thing. He definitely has a good thing going here. Dude, get in the studio and put out a freakin' album!
    Will came out on stage with his acoustic guitar and McDonald's solo set transitioned into Radiohead's
"
Karma Police
." Yeah, it "smoothly" shifted from Electronic/Industrial/Voice samples/House to the very mellow Radiohead cover. Midway through the song the rest of the band joined in to totally rock out the rest of the song.
"
Stranded on the Sidewalk
" was next but the true treat of the night, when they really turned up the heat, was when they performed "
Out Here on Our Own
." The energy they generated with each other and the audience was pretty over the top and I thought the set would surely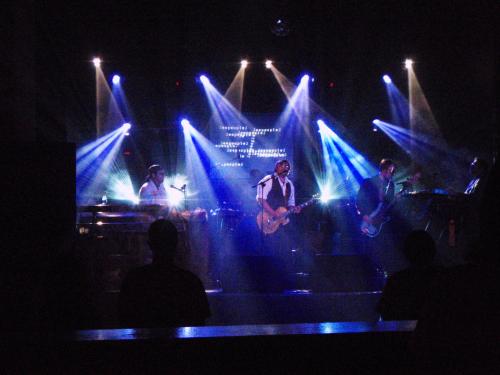 end from there. I was literally drained and covered in sweat. I didn't think my body and brain could take any more. It was not over yet. They followed that with
"
Face the Day
" and closed the show with a very intense "
Holding
." It was by far the best Seepeoples show I've seen in a very long while and the fans felt the same way. With cheers for an encore the band returned on stage and performed
"
Tomorrow Never Knows
."    
   I would compare Seepeoples to bands like The Verve, Kula Shaker, and Radiohead. With politically charged lyrics and solid grooves their sound has the ingredients of indie rock,  psychedelic, experimental, electronic, and pop. This is their last tour for 2008 and they're only doing a few more shows with McDonald. Check them out!!
C. Robie
Download show!
http://www.archive.org/details/sp2008-06-21.flac16
    SeepeopleS have announced their last full tour of 2008.  The band will be playing a few select shows upon concluding their current schedule (all dates listed below), and will be spending the majority of their time off the road finishing their highly anticipated forthcoming, and fourth full-length album, "Apocalypse Cow Vol. 2," the sequel to the critically acclaimed Vol. 1.  The band is also happy to welcome special guest, Matt McDonald, formerly of Perpetual Groove, to the stage for an interesting live collaboration.  McDonald, who recently left Perpetual Groove to spend time with his family and pursue new interests, will be joining SeepeopleS for at least four shows:

June 19th at On The Rocks in Nashville
June 20th at Sassy Anne's in Knoxville,
June 21st at the Lincoln Theatre in Raleigh,
June 26th at the Georgia Theatre in Athens opening for Toubab Krewe,
and August 8th at the Trinumeral Festival in Deerfields, NC with Galactic, Lotus, MIdnite and more.

McDonald, who became friends with SeepeopleS while the bands toured together over the years, will help to complete a veritable keyboard and synthesizer assault (w/ SeepeopleS keyboardist Peter Keys) for the upcoming shows, and fans of either or both bands can expect to hear an arsenal of sounds and some interesting song selections and arrangements. McDonald also has plans to join SeepeopleS front-man Will Bradford in the studio to work on an upcoming unnamed project and release.

-SeePeoples
Upcoming Shows for SeepeopleS
06/19/2008 09:00 PM     Nashville, TN, US     On the Rocks      
06/20/2008 08:00 PM     Knoxville, TN, US     Sassy Ann's      
06/21/2008 08:00 PM     Raleigh, NC, US     The Lincoln Theatre      
06/25/2008 08:00 PM     Columbia, SC, US     Five Points Pub      
06/26/2008 08:00 PM     Athens, GA, US     The Georgia Theatre      
06/27/2008 06:00 PM     Asheville, NC, US     Vortex Fest    
06/28/2008 08:00 PM     Charleston, SC, US     The Pour House    
08/07/2008 09:00 PM     Knoxville, TN, US     World Grotto      
08/08/2008 12:00 PM     Horseshoe, NC, US     Trinumeral Festival at Deerfields    
08/09/2008 08:00 PM     Horseshoe, NC, US     Trinumeral Festival at Deerfields    
08/22/2008 08:00 PM     Ithaca, NY, US     Musefest    
08/23/2008 12:00 PM     Ithaca, NY, US     Musefest    
08/29/2008 01:00 PM     Thornville, OH, US     Legend Valley      
08/30/2008 09:00 PM     Westland, MI, US     Token Lounge    
09/02/2008 08:00 PM     Boston, MA, US     Bill's Bar    
09/03/2008 09:00 PM     Burlington, VT, US     Nectar's      
09/04/2008 08:00 PM     Utica, NY, US     The Electric Company      
09/05/2008 08:00 PM     Ithaca, NY, US     Castaways      
09/06/2008 08:00 PM     Portland, ME, US     The Big Easy      
09/07/2008 12:00 PM     Saratoga Springs, NY, US     HoboFest 2008      
09/10/2008 08:00 PM     Blacksburg, VA, US     The Lantern      
09/13/2008 08:00 PM     Asheville, NC, US     The Emerald Lounge


www.seepeoples.com