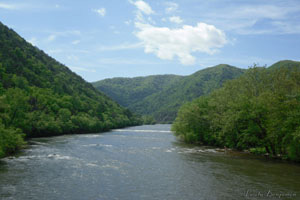 Thursday, April 29th 2010
Nestled on the edge of the Pisgah National Forest, one can only imagine how awe inspiring the setting is for this 13 year old festival. With spring in full force the campground was littered with these amusing little seedlings called helicopters from the maple trees throughout the campground. Hundreds of these things fell from the treetops all weekend which made for some nice mesmerizing visuals.  Getting to camp near the raging French Broad River was also a big plus. I tell ya what, getting to a festival a day early is the way to go, just being able to setup and chill for the day and not have to rush anything was very pleasant.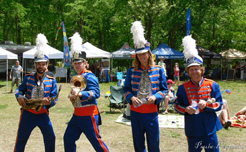 The relaxation didn't last too long though because Sol Driven Train arrived early as well and began to set up to electrify the lucky early bird festival-goers. 4 years Sol Driven has been welcome to FBRF and for 4 years they have come early and blessed the grounds with their soulful fun antics. Sol Driven Train is (Russell Clarke on sax and vocals; Ward Buckheister on trombone, guitar, and vocals; Joel Timmons on guitar and vocals; Rusty Cole on bass; Wes Powers on drums) Starting off with a cool and calm Dead tune, "He's Gone" soon became a nice conglomeration of high energy tunes with songs such as the fun loving Watermelon, The Cave, Greyhound Station and some fun covers like Toto's "Africa" and R. Kelly's "Sweet to Ignition". After this unprecedented set it was time to get some rest for the upcoming weekend.
Friday April 30th 2010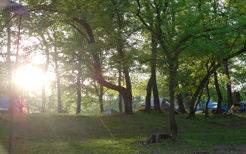 Waking up is hard to do when you are submersed under the treetops with the river's calming sounds, but the smell of bacon got me right out of bed. After a great breakfast it was time to explorer the campground.  As you pulled into the campground to the right were 3 fairly large tents, the first was the kids village, the second was Jenny Juices Song Lounge hosted by Jenny Greer of Jen and the Juice. In collaboration with Jenny was Phil Cheney, a brilliant local artist who expresses himself through so many vivid, vibrant and dazzling colored pieces of art. The next tent was the Flood Stage which I believe was named that because of the countless times it had rained at the festival in previous years. Further down the path was the Main Stage, which is a permanent fixture of the campground. The Mountain Xpress, Asheville's local weekly newspaper were the sponsors of this stage. Aligning the back of the dancing area were the vendors.  Asheville Hoops, Barely Edible, and Up in Smoke to name a few were there in full force. 2pm quickly approached and it was time for the festival to begin. Caroline Pond was the MC for the festival and announced American Aquarium to start things off; coming from

Raleigh, NC this band led by BJ Barham threw it down with a fresh twist of Country Americana with a steel pedal guitar added in the mix. Most songs seemed to be interwoven with different stories about woman from all over as well as some upbeat good ole country feeling rhythms. After being countrified, we ran over to the Flood Stage to check out Turnup Truk, who I was very glad to have gotten to see.  Their positive vibrations set the afternoon mood with a crunchy funky reggae sound.  During the set we heard a nice rendition of Paul Simon's "Diamonds on the Soles of Her Shoes" and an original that put me on the floor laughing, "Legalize Pot Belly Pigs." Not wanting to miss much of what was next we rushed over to the Mtn. Xpress Stage for The Shane Pruitt Band. Shane Pruitt, an Upstate SC hero, shredded like no other with facial expressions that gleamed overwhelming happiness and joy.  The rest of the band was just as good with (Jim Peterman on the Organ and Bill Fletcher on Drums.) This trio set the bar with their impressive southern rock / blues. Next on the agenda was the legendary Larry Keel and the Natural Bridge.  I think Larry just keeps getting better with age like a fine vintage wine with his progressive hard core bluegrass, accompanied by The Natural Bridge who is (Jenny Keel on Bass, Jason Flournoy on Banjo, and Mark Schimick on mandolin.) What was amazing to me was the stare down of concentration while ripping it up between Larry, Mark and his wife Jenny. Joining LKNB during the set was a slew of musicians from Sol Driven Train, Snake Oil Medicine Show, and Town Mountain.  Having all these musicians on stage one can only imagine the energy exploding from their instruments. Soon after, it was time for Sol Driven Train to take the Main Stage. Thursday's set was definitely a warm up for these guys; a lot of the same songs were played again but this time with much more conviction and a ton more people.  I've seen Sol Driven many times before but this time was different. They were on their game and in the zone continually feeding of the large crowd, especially Ward and Russell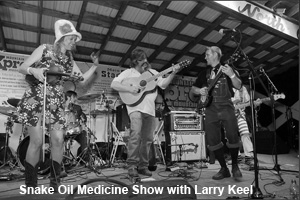 with their horns which almost blew the roof off the place. To end the night Snake Oil Medicine Show (Caroline Pond on Violin, George Pond on Bass, Andy Pond on Banjo) graced the stage with their fun loving antics and great musicianship, one can see why they were the closer.  It seemed more like a Snake Oil Super Jam with so many great musicians accompanying the band. Larry Keel and the Natural Bridge, Sol Driven Train, Mad Tea Party all contributed to this out of this world performance.
Saturday May 1st 2010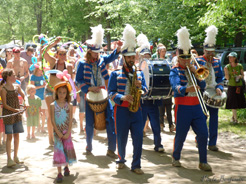 Today was full of activities that were on the schedule such as the 13th annual raft race, a bike race, yoga and a live auction with all kinds of goodies. The afternoon started off all about the kids with Secret Agent 23 Skidoo.  Agent Skidoo has a unique way to tell stories by great hip-hop rhymes better known as kid-hop. Accompanying Agent Skidoo is (Mahira who has the moves, DJ Mr. Strange, his wife Brooke aka Bootysattiva and his daughter Saki aka MC Fireworks) who really stole the show when she started rapping to the beats. Soon after it was time for Sol Driven Trains kid's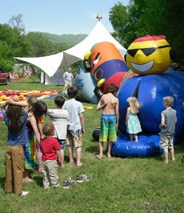 parade and show. Dressed up like a marching band with instruments in hand they led the parade from the Mtn Xpress stage to the Flood stage where they had a nice turn out of kids and parents following their lead.  Singing songs about circles, bears and cats, the kids seemed to lap it up and dance up a storm with their funny balloon hats. Following the kids shows it was time to get down with Brushfire Stankgrass from Asheville.  This eclectic inventive bluegrass band gave an impressive daytime performance.  I have heard the term "trance mountain dub" which can kind of give a description of their sound. I call it raging bluegrass that seamlessly meshed into some good dancing music.  Following Stankgrass were the Trainwrecks. (Jason Bible on Guitar / Harmonica, Eric Dunn on Bass, Markus Kuhlmann on Drums, Stuart Harmening on Banjo / Dobro) Coming from Savannah, GA these guys know what it means to have stage presence with some good ole Americana.  The tasteful licks along with some harmony can take you a long way but when you add some witty personalities that these guys possess it can take you even further. Big Daddy Love, (Daniel Justin Smith on guitar and Vocals, Joseph Recchio on Guitar, Ashley Sutton on Bass, Brian Swenk on Banjo, and Kelly Linville on Drums.) another band from Asheville was next on the Flood Stage. They were probably one of the biggest surprises and highlights for me. This guy Daniel can sing, holly s*&t!  They gave a nice feeling of southern country hospitality and love for the mountains that mean so much to the fans and the region. They teased The Dead's "Other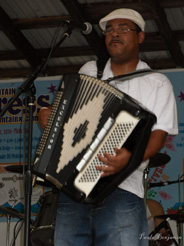 One" which is what did it for me. Another great band I had never heard of soon followed by the name of Lil' Malcolm and the House Rockers (Percy Walker on Guitar / Washboard, Percy Walker Jr. on Drums, Lil' Malcolm Walker on Accordion.)  Another outstanding show and highlights for me, these guys threw down the bayou zydeco.  Coming from Lake Charles, LA they know what zydeco is all about. Tradition and family was the focal point of this amazing set also getting to hear "No Woman no Cry" Zydeco style was a refreshing take on such a great song.  Next up was The Mad Tea Party (Amy Worthen on Ukulele and Jason Krekel on foot percussion / guitar.) Hailing also from Asheville, Mad Tea Party put on one hell of a show.  Seeing to two of them feeding off of the energy of the crowd I can see why they are an Asheville favorite.  Caroline Pond graced the stage for a couple of songs which added a lot of fun to the already spectacular set.  Amy was so exciting to watch, singing about zombies eating brains was hysterical as well as singing about not being a cool girl and never getting high (Ha, yeah right.) Michelle Malon soon followed on the same stage and wow! This girl has the chops; she was like a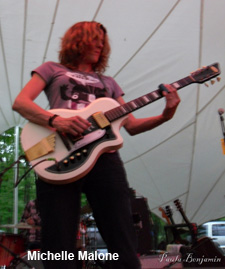 female version of Neil Young with her harmonica and guitar playing.  The soulful lyrics and playing also reminded me a bit of Bonnie Raitt, Janis Joplin and Lucinda Williams all in one person. Her look was pure and her singing impeccable, I highly recommend checking her out when she is around, you will get one hell of a show. The last band that I saw for the night was Zach Deputy.  Before he hit the stage he had a little run in with Josh Phillips in the Jenny Juice's Song Lounge.  That was a real huge treat to see these two perform together.  Both can play one hell of a guitar and the vocals on both set me off with goose bumps.  Debrissa from the bands Laura Reed and Deep Pocket and Josh Phillips Folk Festival came up for a few for some really nice backup vocals as well. A well-played "Redemption Song" was one of the few songs heard in this 30 min set. It was then time for Zach to depart and take the stage for his own show while Josh and Debrissa played a couple of more during Zach's sound check.  Mr. Deputy sure knows how to get the crowd moving right off the bat with his synth drum beats and sweet licks on his guitar.  The one thing that gets me every time about Zach is his voice; coming from such a big man one would not think that his voice would protrude such angelic tones. Once again it sent chills down my spine to hear. His set seemed to go on for longer than expected which was totally fine by everyone there.  Soon after I had to throw in the towel so I regret that I missed seeing James McMurtry & the Heartless Bastards. I know, boo on me.
In all I want to say that FBRF is one of my favorite festivals to attend and I will be back next year.  The things that really stood out for me was the family oriented feeling, the cleanliness and the respect had by everyone there.  I want to compare it to Floyd Fest because these two festivals stand out among any other as the cleanest and most family oriented festivals that I have ever been too. My hats off to the people behind such a memorable festival, Thank You.

- Brad Winecoff
- Photos by Paula Benjamin