Nearly every genre of music is represented at FloydFest, and all that variety is a good thing. Headliners such as Bruce Hornsby and the Noisemakers, Ricky Scaggs and Kentucky Thunder, Jackson Browne, Alison Krauss and Union Station, Michael Franti and Spearhead, The Sam Bush Band, Drive-By Truckers, Matisyahu, Leftover Salmon, SOJA, Sara Watkins, Brandi Carlile, and Dawes were some of the "must-sees". It was a delightful, energy-infused, 5 day roller coaster ride of music that never dipped below fabulous. Truth is, I wasn't disappointed at any point during any performance or activity. I have an especially deep appreciation for the wondrously perpetual hot showers and the well-organized, tremendously visible, green effort put into keeping this festival area beautiful.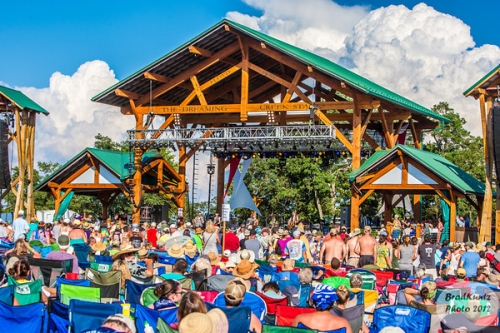 The Under the Radar bands were amazing, especially the winners, Megan Jean and the KFB. Jazzy, bluesy runner-up Lizzy Ross Band was totally deserving also. The workshops, such as morning yoga and Zumba I attended were fun and cleansing. The whole package, including the wonderful, positive crowd and staffers made me completely not mind the long waits for the shuttle bus (the only negative I noticed).  Besides, hitchhiking from the parking spots awarded me connections to several VIPs and evenings hanging with musicians.
Wednesday, I could hear Cabinet playing as I picked a camping spot and set about getting things in order before dark.  My first time FloydFest experience really began after I made my way to the Pink Floyd Garden Stage.   It had been a long drive and I was so ready to groove to The Mantras and then to Big Daddy Love. I saw this band or members of the band performing throughout the weekend more often than any other group and I love them. This grass roots band is down-to-earth and approachable with easy smiles and big laughs. I felt the last surge of energy I had as L-Shape Lot closed out the first night with their country rock sounds that won 2011's Under The Radar grand prize.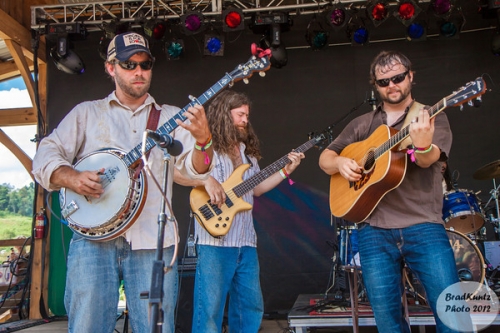 Big Daddy Love
There are two figures that are still most visually sharp for me, Bruce Hornsby and Michael Franti.  Their stage presence, overwhelming positive energy, creativity and rapport with the crowds washed over us and left me with a deep respect for the obvious physical efforts these two men put into being healthy, fit, and ready to give it all they've got. I was carried away with the dynamics of Ricky Scaggs and Bruce Hornsby on the Main Stage, and Bruce swept up the audience with him when he jumped on top of his piano. But hey, it was that kind of festival…complete with flying trapeze acts and the Mardi Gras-style Marchfourth Marching Band.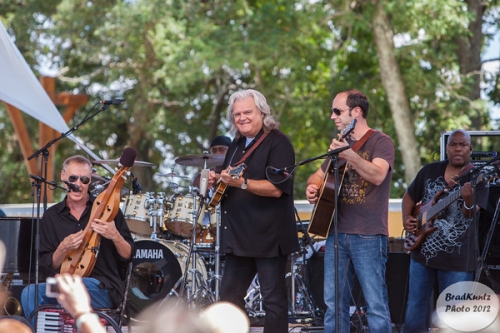 Bruce Hornsby & Rick Skaggs
Thursday morning started leisurely. I made friends with my neighbors while watching the Children's' Universe Stage and the teen area take shape. The music kicked off with a hoe-down when the Americana group Big Daddy Love rocked the Main Stage at 4p.m. Their performance was followed nicely by the former angel of Nickel Creek, Sara Watkins, who has added some Led Zeppelin, Tom Petty, Elvis Costello tones to her contemporary bluegrass sound. Having just released her debut album Sun Midnight Sun, it's interesting to know that Taylor Goldsmith of Dawes and Jackson Browne were guests on that album.
I visited the vast array of food tents and found one dish I will definitely be trying to recreate; the sweet potato, blueberry, walnut "sushi" wrapped in rice and collard greens and dipped in molasses soy sauce. Kudos to my favorites: Solar Cafe, Goatocado, Green Light Cafe, and Buchi Kombucha.   I strolled around while I ate, catching a little of the flying trapeze show, registered for giveaways and picked up lots of free goodies from the promotional tents.  From the visual artists' sections, I admired the wares and made purchases of funky earrings, skirts, and dresses from Coco Loco, Synergy Clothing Inc, Andremi Designs, Arteries by Stina, and 75 Rabbit.
I strolled back to Main Stage to catch the finale of Dawes' set.  The Goldsmith brothers along with bassist Wylie Gelber and keyboardist Tay Strathairn were soaring on songs from their new album Nothing is Wrong.  Main Stage closed for the evening with an awesome performance by Rock and Roll and Songwriter's Hall of Famer Jackson Browne, featuring Dawes and Jonathan Wilson.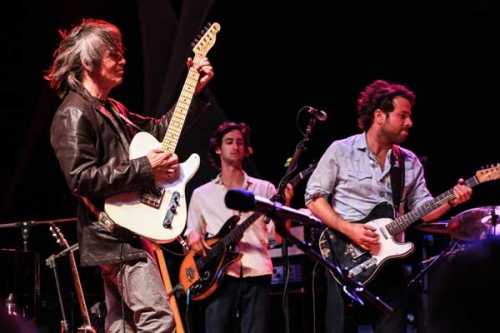 Jackson Brown
I loved the orchestration of this festival.  The Main Stage closed around 11:30p.m.  and the crowd flowed to the other end of the festival for an electric performance by the New Orleans band Galactic, with featured guest Corey Glover from Living Colour on the Streamline Stage at Hill Holler.  The bowl-shaped amphitheater was perfect under the beautiful, star-filled sky.  And, around 1 A.M. the crowd was drawn to the more intimate setting of the Garden Stage for the Drew Emmitt Band.  Emmitt, lead singer and mandolin player for Leftover Salmon, riveted the gyrating crowd with his stories in song of his experiences from over 20 years on the road.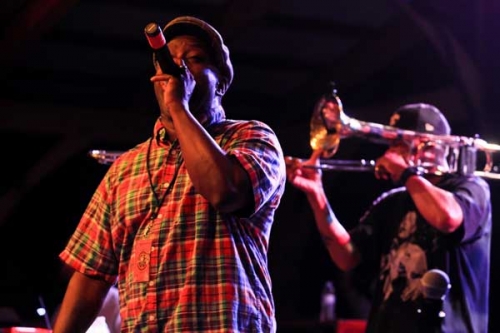 Galactic with Corey Glover
Pausing on the way back to my tent around 3a.m., I enjoyed a few more minutes of hip swinging by the huge bonfire and drum circle. I noted that the colorful hammock village set up close-by was filled in occupancy in the wee hours of the morning.
I felt like the price of any ticket was already worth it two days in. This new day dawned with early yoga followed by the incredibly gorgeous sounds of Jonathan C. Ward's Native American flute on the main stage. I opened my eyes and looked around me at the smaller, early morning crowd who'd gathered.  Pure peace and joy visible on every face. "Way to go!" to the award-winning flutist.
Bluegrass meets the megahits of the 80's with Love Cannon String Band - breaking out songs you'd have never expected to hear from a bluegrass outfit.  I listened to their amazing combos and then headed back to main stage for Anders Osborne.  On the way I stopped off at the Dance Tent to catch a little of Megan Jean and the KFB.  Wowed by the little group, I was lucky enough to be in the tent still when the hard rain came already filled tent got really packed. To quote the winners of the Under the Radar competition 2012, Megan Jean, soaked with the efforts of rising to the call, said she'd never had such an enthusiastic, packed house. And, boy, did she and her small group rise to the occasion.  The whole place was rocking and grooving and I'm positive not a soul even gave an impatient thought to the rain. I couldn't help but grin at the expression on this groups' faces as they seemed to wow even themselves.  They were, well, tickled pink.  I heard fabulous things about blues-rock performer Anders Osborne the rest of the weekend, and I'll have to make a point to see a performance next time.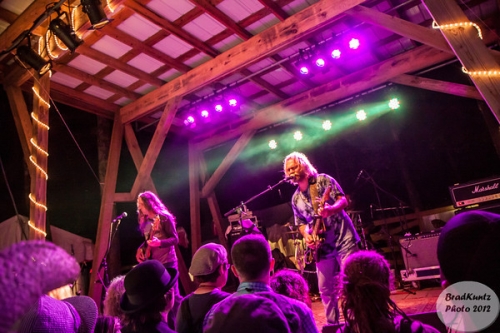 Anders Osborne
A visit to the famous Virginia Folklife Workshop Porch Stage was a great experience with Leftover Salmon entertaining everyone in the intimate back-porch setting.  I couldn't resist after enjoying Drew Emmit's performance the night before.  The group was joined by the incredibly strong vocals of young Lizzy Ross, belting out bluesy beauty.
Toubab Krewe's world fusion feeds my soul! I can't say enough about the fun I had dancing and celebrating diversity. Other World and Latin bands I got to enjoy were The Pedro Martinez Group with its African-Cuban roots; Poe Mack, a Southerner who's gone out and acquired and honed his own world sounds of hip-hop; Ozomatli, also named U.S. Department Cultural Ambassadors recently for their urban Latino blends; Miami-based hip-hip group ArtOfficial; and my favorite fun-time band of the weekend, Locos Por Juana who brought their Cuban Hot-Miami salsa, cumbia, merengue rumba "ritmos" to the mountains of Va.
Though Floydfest was reportedly sold-out, one-day tickets sales were announced the week before and even more people poured into the festival Saturday and Sunday, anxious to see marquee acts like Ricky Scaggs and Alison Krauss and Union Station.  Union Station is a talented band of musicians, each singular with careers in their own right, coming together for a family connection devoted to the sweetest bluegrass sound produced today.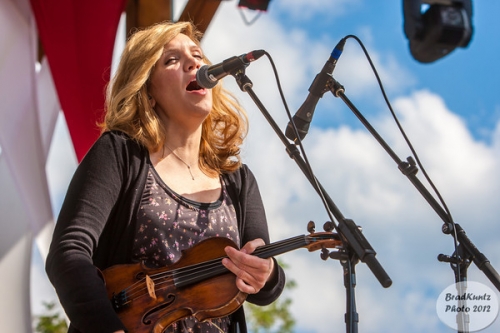 Alison Krauss and Union Station
Sunday dawned bright and I absorbed the sunshine while listening to Jonathan C. Ward's flute again.  It was a perfect peaceful awakening as I got prepared to listen to my hometown boys from Greenville, SC., The Bent Strings. The crowd loved their Bela Fleck-like electric bluegrass sound.   The Steep Canyon Rangers followed, a group I knew to be Steve Martin's backup band. Their new CD "Deep in the Shade" remained on Bluegrass charts for weeks. Smooth harmonies and awesome instrumentals backed strong vocals, drawing a capacity crowd down to the holler at noon.
I got up close at the Porch Stage to listen to Ricky Scaggs tell stories and play to an intimate and attentive audience.  He talked a lot about past Grand Ole Opry experiences between tunes.
Lucky for me, I wasn't leaving till Monday morning and was able to also see Yarn's Sunday Grateful Dead Tribute at the VIP Stage.  I wasn't disappointed.  It was there that I finally got to closley examine the giant two-tiered, mobile, fire-breathing dragon!  I met some of the performers who did acrobatic tricks from a rope in the dragon's mouth.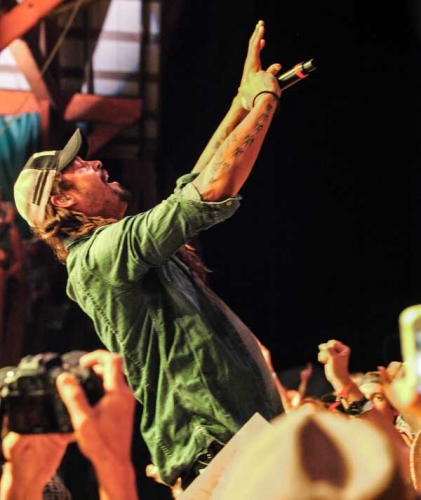 Michael Franti
As Michael Franti sings, "Everyone deserves music, sweet music."  It changes the world and the Floydfest experience was like a reset button for me.
Submitted by Janice Boyles
Photos by: Brad Kuntz & Ryan Snyder