With fans, staff, crew, and performers all becoming more and more acclimated to the event as years go by, there's a tangible sense of comfort and familiarity that belies the sprawling mass of humanity that descends on Manchester each June. Campground areas bear the same moniker as years past, food and craft vendors have familiar spots that have turned into landmarks and the 5 main music stages seem to have found permanent coordinates, making the concertgoing experience even easier for veterans of the fest.

Thursday June 12

Of course the campgrounds were a bit crazy in more ways than one, but I found Centeroo and the concert areas to be quite manageable and mellow. Adding to the comfort level this year was a slightly smaller crowd. With about 15,000 less people than average, moving between stages and getting close to stages was much easier than the last two years. But you would have never known it from the music-hungry crowd that jammed the Troo Music Lounge during the first act I saw - The Big Sleep. This Brooklyn trio elicited plenty of whoops and yelps from the audience with their hard-charging, distortion-heavy style of road rock.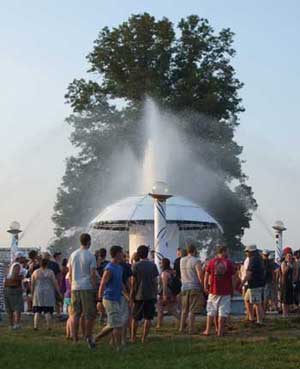 The still-growing festival centered around the third largest stage - This Tent - which boasted a duo of red-hot radio acts in MGMT and Vampire Weekend. The festivities kicked off by a set from Tennessee's own alt-rock heroes Superdrag as the Centeroo fountain spurted to life. The fortunate pairing of MGMT and Vampire Weekend helped both bands get a much-needed influx of new fans and showed that they can deliver the goods on stage. MGMT's spiraling show featured an unexpected measure of jamming and looseness, though they buckled up tight for singalongs like "Time to Pretend," "Electric Feel" and "Kids."

While Battles, squeezed between MGMT and Vampire Weekend, pummeled the crowd with their dramatic, sometimes frightening sounds, I caught a little of Grupo Fantasma's energetic set at This Tent. Their fiery concoction of funk with dub, Latin, and dancehall elements charged the atmosphere within earshot of the stage with giddy electricity.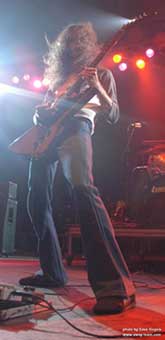 After wandering a bit, I found myself back at This Tent for what would be one of the most memorable and surprising sets of the weekend - The Sword. Figuring that I would never get the chance to see them again, and that I probably wouldn't go to a regular Sword show, I wanted to at least get a sense of their aggressive sound. What I found was a rowdy group of Bonnarooers with a ravenous taste for the band's angular metal riffs and neck-snapping rhythmic stomps, and I joined them, headbanging and raging with glee as the band charged through modern metal masterpieces like "Gods of the Earth," "Black River," and the well-known Guitar-Hero staple "Freya." I had given up on metal, but it seems The Sword is creating a new sound that owes much to the classics while still engaging today's audiences.

Performing possibly the most drastic musical switcheroo in my 4 trips to Manchester, I went directly from the chaos of The Sword back to That Tent for the sunny, preppy pop plinks of Vampire Weekend. Treating the crowd to a couple of new songs, but sticking close to the litany of hits on their self-titled debut album, the band's African-influenced guitar sound and gently percussive rhythms made for a nice mini-headlining set that remained a topic of conversation for the next 3 days. This was my first time seeing them, but if past reviews are to be believed, the band has certainly come a long way in making their live show more engaging.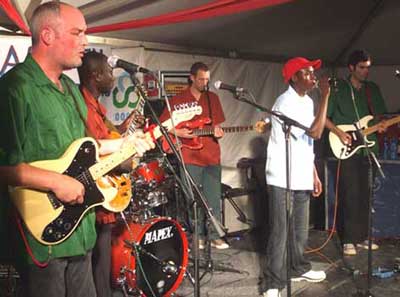 Pleasantly mellow from Vampire Weekend's sultry serenade, I ended my night where I began the day - at the Troo Music Lounge, enjoying the one-of-a-kind Kenyan rock and roll of Extra Golden. With a mixture of Kenyan benga music, psychedelic rock overtones, and funky tropical accents, Extra Golden create one of the most unfathomable sounds on the planet, including the unmistakable new song "Obama." This would be the first of many references I heard to the candidate over the weekend.

Friday June 13

There's a tangible difference between the Thursday night warmups and the atmosphere of a Friday afternoon at Bonnaroo. The masses are showing up, the locals are out and about, artists are arriving, and the music schedule goes over the top. I had a plan, however, as the schedule formed perfectly around Umphrey's McGee's Which Stage performance, !!! at That Tent, and another Umphrey's McGee showcase on the Sonic Stage, which would lead to a most improbable evening of Chris Rock and Metallica on the What Stage.

Umphrey's sounded fine and loud on the 2nd largest stage at the festival, and their opening salvo of "Plunger > Glory > Plunger" was a fine intro to a spectacular set featuring a thought-provoking "Wappy Sprayberry" jam that led into a new-ish song, "The Floor," followed by an appropriately "metallic" instrumental in "Wizard Burial Ground." They brilliantly knocked out the audience with a thundering, seamless, show-capping journey through "Bridgeless," "Miss Tinkle's Overture," and "Higgins," which featured plenty of saxophone madness from guest Jeff Coffin.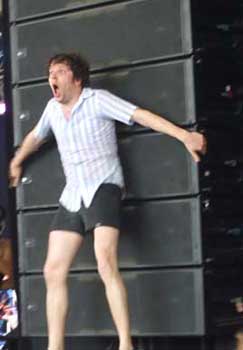 Thoroughly jazzed from the great UM show, I soon found myself in the middle of a buzzing crowd waiting for !!!. The audience's anticipation was justified, as spastic and sassy frontman Nic Offer never fails to get the room raging. Blasting through their hard-hitting dance-rock catalog, the band plugged away with gusto as Offer teased the crowd, humped and licked speakers, sashayed for the video crew, and generally incited mayhem to the tune of thumping tunes like "All My Heroes Are Weirdos," "Heart of Hearts," and the cathartic "Pardon My Freedom." There's never a dull moment during their show, as evidenced by the photo to the left!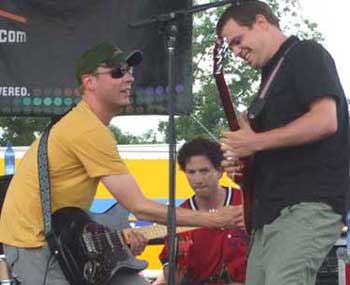 I hadn't seen Umphrey's McGee as much as I would have liked over the past year, so I hurriedly made my way to the tiny Sonic Stage to get another quick fix. Between personable stage banter and problems with the bass, the band delivered a tight and simple 5-song set including "2nd Self," "Search 4," "Mulche's Odyssey," a reworked dance version of the formerly gentle "End of the Road," and the longtime staple "Syncopated Strangers." The set drew more people than I had ever seen in front of the tiny music alcove that houses the Sonic Stage along with the festival CD shop. Umphrey's ruled Friday for this Bonnarooer!

Willie Nelson serenaded me from the Which Stage on my walk from Sonic to the What Stage, where a crowd as large as any I've seen in the main field had gathered for a rare chance to see Chris Rock. Bonnaroo's first headlining comedian, Rock's addition to the festival had been a subject of much interest for weeks and could wind up being extra notable for drawing the largest audience ever for a comedy performance. After being introduced by Lars Ulrich and Kirk Hammett of Metallica, Rock pulled no punches during his 50-minute show, giving the crowd a heavy dose of his famous profanity-laced observations on everything from music to women, sports, drugs, politics, and of course race. There was even a bit of foreshadowing as Rock called Kanye West out: "Kanye got the biggest ego in this mothaf***er all weekend, boy." When you're right, you're right!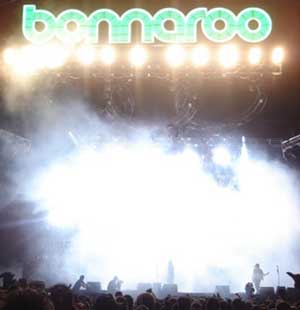 As Rock ended, a surge of adrenaline zapped me - I was finally about to see Metallica, without question THE band of my early teen years and an immeasurable musical influence on my life since then. I was too young and too far away from shows to see them when I was a hardcore fan, and lost interest somewhat after the Black Album, so this concert was 20 years in the making. As their intro music faded into the blistering "Creeping Death" opener, I was ecstatic - finally, I was able to hear these songs at a proper volume! The band did me right, sticking closely to ferocious old favorites like "Master of Puppets," "For Whom the Bell Tolls," "And Justice for All," and many other metal mainstays that I used to mimic on my bass guitar as a teen. Even decades-old punk-influenced tunes like ""Whiplash" and "No Remorse" were performed with as much youthful gusto as the band could muster, aided by the romping stage presence of bassist Robert Trujilio.

The only weak spot in the setlist, "The Memory Remains," suffered from the Bonnaroo audience's lack of familiarity - it seemed that most of the attendees were only familiar with the old stuff and the hits like "The Unforgiven" and "Nothing Else Matters." Accordingly, the band's two biggest hits delivered literal fireworks. "One" began with sounds of a war zone and bombs going off on stage, resulting in huge billows of smoke covering the concert field, followed by fireworks from backstage. "Enter Sandman," which was possibly the best-received song of the evening, benefited from extra explosiveness as fireworks were discharged during the song's bombastic climax. For a band with such a bad reputation among fans of the Bonnaroo ilk, Metallica were consummate professionals in their performance and presentation and were truly excited to be playing in front of a new (and critical) audience. Their induction into the Bonnaroo family was completed later that evening with a spirit ritual known as the "sit-in," in which Kirk Hammett joined My Morning Jacket's late-night extravaganza for a blistering "One Big Holiday."

Saturday June 14

I made my way to the farm on Saturday with the sounds of Ween's "It's Gonna Be a Long Night" echoing through my head. I hadn't heard the song, but the sentiment was appropriate. It was, as he growls on the track, going to be a long night. The Bonnaroo schedulers had turned Saturday into late-night overload because of Kanye West's refusal to play at his originally scheduled time, so now there were potentially hectic pre-dawn sessions of scrambling from stage to stage on the horizon.

I made my way to The Avett Brothers' set for a bit before it was time to stake out a spot for Zappa Plays Zappa. The traveling Tour de Frank had stopped in my home state the night before - but I was in Tennessee! So I definitely wasn't missing another chance to see them up close. Their set went by so quickly, I was shocked to learn that 90 minutes had gone by and I hadn't noticed at all - it was that much fun. Every band member is a joy to watch. Bassist Pete Griffin is a monster of energy, multi-instrumentalist Schiela Gonzalez oozes personality, percussionist Billy Hulting is a mad scientist behind his wall of equipment, Joe Travers simply destroys the drums, and Dweezil Zappa, well, he's got the disarming half-sneer of his dad, and when he catches you with it, your brain stands right at attention. The icing on top of this group's collective presence is Ray White, veteran of Frank's bands and a crucial component in bringing the vocals to life at a Zappa Plays Zappa show.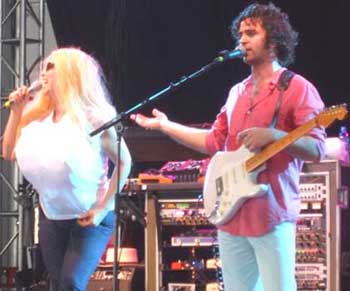 Laying down solo after monstrous solo on his white Stratocaster, Dweezil navigated the band through complex music that managed to entertain every step of the way. Crowd-pleasers like "Joe's Garage," "King Kong," and "City of Tiny Lights" were performed as flawlessly as possible, and the setlist was packed with surprises. Deviating from their planned setlist, the band threw plenty of gems at us, such as "Lucille Has Messed My Mind Up," "and a killer "Outside Now > He Used to Cut the Grass > Packard Goose" combo straight off the Joe's Garage album. Gonzalez even emerged with giant fake breasts and a blonde wig to make "Wet T-Shirt Night" as authentic as possible. As the band worked to a close during "Packard Goose," Dweezil said "Why don't we squeeze in Willie The Pimp...how about right here?" The already satisfied crowd exploded with newfound energy, digging into the songs vicious riff. The band left the stage, and the crowd called out for more, but the crew had already descended on the stage...so Dweezil came back on, asked that we give them a minute to get everything turned back on, and wrapped up the show with a perfect rendition of "Cosmik Debris!"

After such a perfect display of musical firepower, I couldn't believe I had an entire Pearl Jam show and even more hours of music on top of that still to come. Feeling incredibly lucky, I rushed over to Which Stage just in time to see Ben Folds tear through "Zak and Sara," "Kate," and "Rockin' the Suburbs," and then relaxed to the last few minutes of Iron and Wine at This Tent before grabbing a bite and settling down to wait for Pearl Jam.

Eddie Vedder's brief guest appearance during Jack Johnson's set galvanized my thoughts. Metallica and Pearl Jam in the same weekend! Madness! Two of my favorite bands ever on the same stage within 24 hours of each other! I had no idea that later on that night, as I walked away from the stage during one of Eddie's many conversations with the audience, that I would be texting a friend the following message, verbatim:

"Metallica 1 pearl jam 0"

It wasn't that the Pearl Jam show was bad - in fact, it's pretty epic from a setlist standpoint, with "W.M.A." surfacing for the first time in over a decade, the concert debut of the b-side "All Night," and a breakout "All Along the Watchtower" closer. But as a longtime Pearl Jam fan, it's pretty obvious to me when Eddie is on his island and the band is somewhere else, and I thought Bonnaroo was one of those moments. Frequently rambling about the war, gas prices, and politcal subjects in general, Vedder killed the show's momentum several times with speeches that ranged from depressing monologues to attempts at inspiration. Oddly, Vedder sang with as much fire and power as I have ever seen him, but the flow of the 2 and 1/2 hour show was irreparably damaged, despite a laundry list of gems like "Do the Evolution," "Porch," "Crazy Mary," and "Release."

The most spine-tingling moments of the show for me were the haunting "W.M.A." and the surprise "Love Reign O'er Me" early in the show. "Rearviewmirror" and "Why Go" also crackled with energy that could have been sustained with a bit more focus on performing. Bonnaroo's festive setting begged for a high-energy, over-the-top show that just wasn't to be that evening.

Re-focusing and shifting my energy, I quickly bolted to The Other Tent to catch Lupe Fiasco. His refreshingly intelligent hip-hop came across amazingly well with a live band that nailed every song. It was invigorating to have some fun after the heavy Pearl Jam show, and Lupe's bouncing crew made sure that every note was a party. Quickly moving through his best-known songs, Lupe even produced special guests that appeared on his latest album to recreate key moments such as the addictive vocal hooks in "Superstar" and "Hip Hop Saved My Life." Bounding through hits like the jubilant "Kick, Push" and the trippy "Daydreamin'," Lupe proved that you don't need the biggest stage or the grandest productions to kick some serious ass live.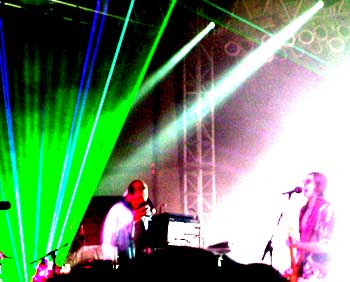 Another zing of anticipation - as soon as Lupe was over, we made haste to This Tent for the made-for-late-night sounds of Ghostland Observatory. Securing a spot very near the stage, we were soon overwhelmed by a thick cloud of smoke and a mind-bending laser show that was like Pixy Stix for the eyes. Thudding bass and squirming samples rang loud and clear beneath frontman Aaron Behrens' psychotically sexed-up vocals and charging guitar. Gelatinous dance-rock songs like "Vibrate" and "Midnight Voyage" combined forces with fast-moving brain-benders like "Move With Your Lover" and "Shoot 'Em Down" to create a rave-like atmosphere of glowstick-laden bodies enveloped by unearthly sound. Behrens' onstage style can only be described as exuberantly confident, and it's near impossible not to dance while you're watching his cosmic movements. I would like to take a moment to say that hindsight is 20/20, but I never should have left Ghostland 30 minutes early to check out Kanye West, who I never even saw and now will never care to see.

Sunday June 15

Good old bone-aching, foot-throbbing Sunday at Bonnaroo. Just about everyone looks like they've had enough, especially the vendors and staff. But inevitably there's music that makes you forget about how worn out you are, and on this Sunday, it was Broken Social Scene.

Bursting with energy despite having driven for 18 hours, the Canadian collective drew a devoted crowd to The Other Tent to witness a gorgeous set along with Bonnaroo's final sunset. For 2 solid hours that began at 6:30, BSS leaders Kevin Drew and Brendan Canning marched their band of multi-instrumentalists and vocalists through indie classics ("6/4 Shoreline," "Anthems for a 17-Year-Old Girl," "Ibi Dreams of Pavement," "Superconnected"), songs from solo ventures (Drew's "Backed Out on the Cause" and "Farewell to the Pressure Kids" along with Canning's "Frightening Lives"), and new material ("Churches Under the Stairs" and an improvised song about Barack Obama). As always, the band was a force of nature on stage, with members switching instruments for almost every song and everyone giving it their all under the fading sky.

Nearly spent, I settled into a comfy chair and blogged from the press area during the end of Death Cab for Cutie's Which Stage set, and I've rarely enjoyed their music as much as I did at that moment. They were the only audible band from that spot at that point, and the last 3 songs of their set proved perfect background accompaniment for resting and reflecting on the weekend, if only for a bit. Looking at the setlist (shout out to Inforoo!), it seems I'm a fan of the song "Transatlanticism" and I didn't even know it.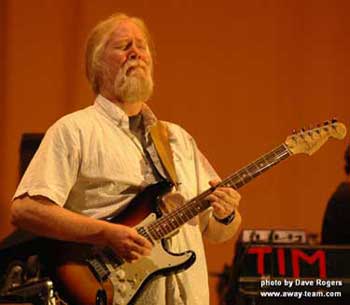 I think that the last headliner of the weekend gets somewhat of a raw deal. They're dealt a rough hand - a spent crowd, increasing surliness from a tired crew, and the atmosphere of a long weekend coming to a close as people flee for the campgrounds and interstates. Conversely, I can't think of a better time to take in some of Widespread Panic's succulent southern rock. It doesn't take a lot of energy to enjoy a Panic show, especially with Jimmy Herring's guitar coming through big and loud, JB sounding great on vocals, and maybe a guest sit-in from some horns to give it that classic Bonnaroo feel. As Panic and the Megablaster horns honked and strutted their way through "Slippin' Into Darkness," I could feel my body doing just that, and I ended my Bonnaroo as I did last year - slowly walking out to the fading sounds of Panic, marveling at all I saw and heard over a lightning-fast 4 days.
While this year's Bonnaroo Music Festival lacked the round-the-clock music quality of the 2006 and 2007 editions, nothing was lost in the overall experience. The event is steadily becoming an International phenomenon and is still the standard-bearer for big time music festivals in the United States. Every year I feel luckier and luckier to have it happening near me.

--Words by Bryan Rodgers
--WSP & The Sword photos by Dave Rogers - http://www.away-team.com
--Metallica photo by Carson O'Shoney
--Zappa, !!!, Ghostland, Umphrey's, fountain, and sunset photos by Bryan Rodgers