Posted by: leeway | May 10th, 2011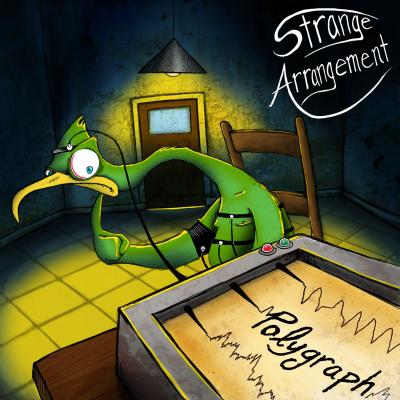 Strange Arrangement, a four piece group from Chicago, Illinois offers an energetic package with the release of "Polygraph."  The roots of Strange Arrangement took hold in 1996 when Joe Hettinga (keys / vocals) and Bob Parlier (drums) were high-school students in Illinois.  The current lineup (add Jim Conry on guitar and Kevin Barry on bass) took shape in 1998 when the four were students at the School for Music Vocation.  After rigorously studying jazz improvisation, the group had little time for Strange Arrangement, and then split in 1998 when all of the members but Hettinga moved to Boulder, Colorado.  Strange Arrangement would lie in this dormant state until 2006, when the four original members had all returned to Chicago.  The group would remain as such until original drummer and founding member Bob Parlier would leave the band at the end of 2010 to pursue his degree in percussion education.  He was replaced by drummer Steve Sinde, a percussion performance major from Columbia University in Chicago. The group offered an initial album called "Side X Side," which led to a tireless touring schedule across the Midwest.  Their recent release of "Polygraph" contains 10 tracks of groove-laden funk, rock and soul signals the next step for the band.  The band will be touring in increasingly wider arcs from their Chicago home as a result of this album. 
"Polygraph" begins with the muscular bounce and swagger of "Bed Bugs," which features blustery guitar and syncopated rhythms that remind of "Junta" or "Lawn Boy" era Phish.  An exploratory jam lends the spotlight to Joe Hettinga, and his sterling work on keys establishes a nice foundation for Jim Conry's guitar, which closes the track with a playful flourish.  "Steam Roller" offers another sample of Conry's and Hettinga's muscular styles, while "The Route" is a fun, energetic number steeped in the tradition of funk and soul.  Conry's displays his skill on guitar throughout the album, and this track offers several tasty glimpses.  The title track busts out of the gates with playful lyrics and features the trademark interplay between keys and guitar that have personified the album to this point.  This track ventures through various moods and textures, and displays some work on keyboard in the 6th minute that is particularly tasty.  This track proves to be particularly varied, with flashes of jazz-fusion, jam, and funk all coming to light in this ambitious, lengthy track.
Keys and guitar establish a nice foundation for "Move On," with crunchy power chords filling out the body of the track.  The seventh track, "Siete," features exploratory guitar, loping bass lines, and Hettinga's trademark keyboards.  The track features jazz fusion sensibilities, with keyboards, guitars, and percussion forming a savory stew in this particular cauldron.  Jim Conry offers choice guitar riffs to embellish this instrumental track.  "The Other Side" strikes a fun, vivacious pose, with Hettinga and Conry shining again on their instruments of choice.  The song coalesces into a spirited jam spiced with melodic keys and muscular guitar.  "No Light" strikes in a more contemplative fashion, where light keys and bass mesh with Hettinga's vocals to form a nicely layered, methodical track.  "Creston" closes the album with another splash of keys and guitar
"Polygraph" will resonate and register with the lover of keys and guitar, while energetic lyrics will prove to be the selling point for others.  The tracks on this album meld divergent styles of music into sonically appealing tapestries, and the results prove to be excellent.  I find several tracks to be extremely likable, while the title track really stands out for me.  This album displays an excellent combination of jam pedigree, pop likability, and a heaping spirit of fun.
- J Evan Wade
Biographical info can be found at http://www.strangement.com