Posted by: pkerr | May 31st, 2019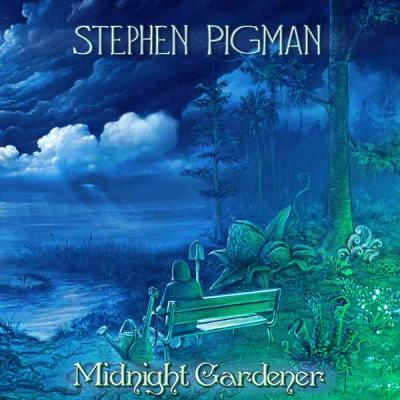 "A rainbow burst from the cloud" sings one-man Americana jamband Stephen Pigman in "I Do", the catchy acoustic leadoff track to his new CD Midnight Gardener. Hailing from St. Augustine, Florida, the loop pedal guru is a master of genre-hopping, toe-tapping music and thoughtful, poignant lyrics. Rock, reggae, funky folk and more combine into a singular sound brewed in his imagination and poured out through the 13 tracks of this offbeat and original album.
"Needed to Know" switches from delicate acoustic fingerpicking to a bottomless electric groove in the flicker of an eye, while the mellow tropical sunshine of "Move" sparkles with inspiring vocals and an anchor of emotion. Pigman is adept at delivering exactly what each song needs, avoiding the temptations of modern multitrack recording to keep adding tracks just to fill up the sound. Content to leave space for the light to shine through, the result is a perfect painting with not a drop out of place.

The huge variety of moods continues with fiery electric guitar onslaughts on "The World; She Needs You" and "Fruition of Persistance", before the addictive minimalist funk of the title track takes over. Acoustic guitar riffs light up "Where Will You and I Be?", leading into the South American swing of "1905." The range of sounds is remarkable, with peaceful ruminations rustled by potent bursts of energy, always keeping your ears on their toes.
A loop pedal can be a powerful tool or a dangerous weapon, depending on the proficiency, taste and ambitions of the performer. It's a fine line between overture and overload. Pigman's kind spirit resonates through the technology, weaving layers of heartfelt vocals, guitars, bass & beatboxing to create a sonic quilt with a rainbow of colors.
The record wraps up with the deep funk of "Mind, Body & Soul," employing the full spectrum of sound with kinetic keyboards, soaring electric guitar and a fiercely popping bassline. Spiritual and soulful, uplifting and sincere, the songs of "Midnight Gardener" blossom into moonlit gems that nourish the soul.
- Paul Kerr