Posted by: leeway | June 5th, 2020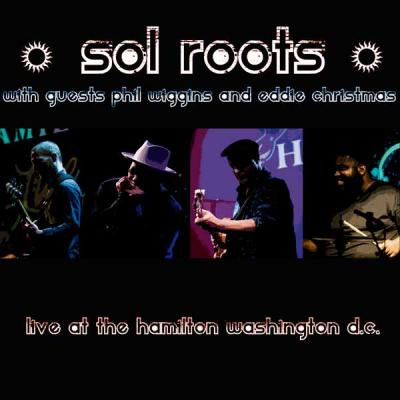 Featuring several tracks from a recent performance in February 2020, these five tracks offer an enticing blend of funk, jam, roots, and blues that prove light-hearted and fun, while also being soulful and sincere. Featuring Sol Roots on guitar and vocals, Phil Wiggins on harmonica, Eddie Christmas on drums, and Andreas Holmstrom on bass, the arrangements here seem particularly energetic and sharp, and the playful interchanges between the band mid jam, especially between Wiggins and Sol, prove satisfying.
The first track on the recording is funky rendition of the Grateful Dead classic, "Sugaree." The track offers a spirited, energetic groove, punctuated by Sol's funky take on the vocals, and energetic harmonica from Phil Wiggins. The rendition seems extra playful and fun, offering a light, buoyant interpretation of a Dead classic. "Goin' Home" proves to be an energetic workout, featuring rollicking, funky flourishes and nice open-ended jams from harmonica, bass, drums. The jam coalesces around playful guitar from Sol.
After letting his ensemble shine for the first couple of tracks, Sol leaps to the fore in "I Bet You," offering soulful vocals, and smoky guitar, howling and urgent. "Roberta" ambles out of the gates methodically, deliberately, but swells with intensity and yearning vocals, offering a spicy ballad, punctuated by the lonesome wail of Phil Wiggins' harmonica, and Sol's own skittering guitar. The recording concludes with the lilting "St. James Infirmary," embellished with harmonica, urgent, bouncy guitar, and warm response from the crowd.
Featuring 30 minutes of fresh, live performance, and underlined with soaring guitar and the joyful cacophony of soaring harmonica, Sol and his crew offer lots to chew on, in this live recording. The tracks offer distinct flavors and influences, strong performances, and a playful sensibility that fuses a sense of "joy" with the "blues." The resulting gumbo proves quite satisfying.
- J. Evan Wade