Posted by: Anonymous | May 16th, 2008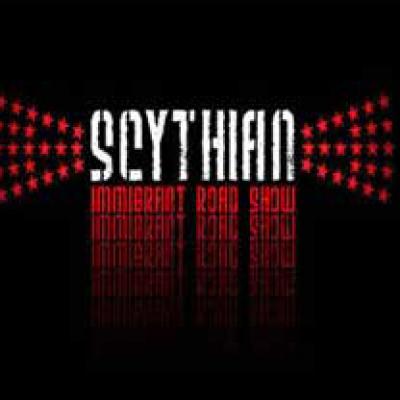 Drawing inspiration from the storytelling songcraft of traditional Irish music, the band - multi-instrumentalist brothers Alexander and Danylo Fedoryka, drummer Michael Ounallah, and bassist Josef Crosby - move their sound into a much more indefinable realm by infusing the traditionalist main course with modern-day flavors. Their third CD, Immigrant Road Show, is a resounding listen that lends raucous rock and roll-style gusto and volume to their acoustically-driven songs.
"Hills of Donegal" is a prime example of this process, as decidedly un-traditional lyrics blend with stirring ancient melodies. On the other side of the coin is "Tuesday Morning," which employs a more straightforward rock rhythm that the band brushes gently with fiddle sauce to give it a slight hint of worldliness. The sinister "Jacobites" is juxtaposed next to the upbeat and cheery "Highway 81," showing nearly the full breadth of Scythian's dynamic ability in the scant space of 7 minutes. The instrumental "Boyko Dream" wanders well off the path of traditionalism with jazzy percussion interludes and frenetic instrumental workmanship, while the aptly named "Final Reel" brings the sublime sound that only songs with "Reel" in the title seem to provide.
All four members prove to be engaging, talented, and inventive performers along the way, with 3/4 of the band contributing vocals along with accordion and a litany of stringed instruments. With the recent trend of success for "traditional fusion" acts such as DeVotchKa, Man Man, and Gogol Bordello, it's no surprise that Scythian is closing in on widespread recognition as well. Having won over audiences at this year's Merlefest with multiple shows, the band are staring down a laundry list of concerts and festivals in 2008 that will surely bring their Immigrant Road Show streaking to the front of the pack. How could one resist their tour website's greeting - "Come and join us for some pints and a jig or two!"
--Bryan Rodgers