Posted by: leeway | April 7th, 2017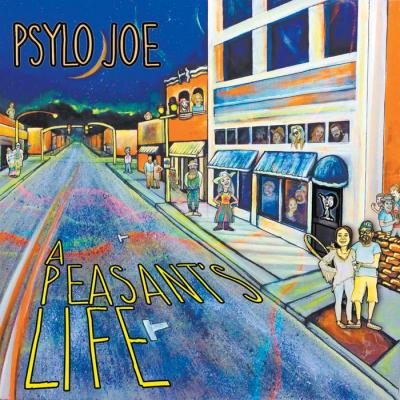 Their debut EP, A Peasant's Life, released in January, is a high energy celebration of their love of jammy grooves and dance-party funk.  "We all have many different influences throughout each member," says lead vocalist and guitarist Bryan Quintard. "That's really what gives us a lot of room to fill many different genres.  I wouldn't say we are one particular genre and that's why we can be considered a 'jam band' because we love to improvise and play many different styles."
Their album starts off with the aptly named "Shotgun," a song that comes at you hard and fast with bassist Matt Smith and drummer Tom Barrington locking in with each other from the first downbeat.  As the song releases into a comfy groove, the saxophone of Hunter Parker takes over with a nice syncopated phrasing that sits impressively in the pocket of the rhythm. 
Usually, the origin of a band's name isn't very interesting, but for these guys, it is. Playing together in various jam situations since 2014, the guys would play parties at Bryan's house that had a silo in the backyard. They took the iconic image of the silo and spelled it with a "psy" to recognize the psyche, and as they say "music moves our mind." They added the Joe as a reminder that everyone is similar in finding our own way, or just another "average Joe."
While they're quick to point out that their main influence is the Grateful Dead, or as Bryan calls them, "the crown of them all," their music has a more direct link to their regional contemporaries Big Something and Pigeons Playing Ping Pong.  "They have a great attitude and crowd-to-band connection that is carried throughout their music and each member of the band," says Bryan of Big Something and Pigeons.  "We strive to connect with our audience/friends/family as much as possible. That's why we love to jam/improvise on just about every song. You feel very connected to the audience and they feel the same exact way, it's very special.  Being able to see bands such as Big Something and Pigeons start from the same place we did and rise to where they are now is a huge influence!"
The second track on A Peasant's Life (named for the great music venue Peasant's Pub which has sadly closed) is "New Sway." Parker's creativity on the sax shines through this tune as he comes in low and cool and slowly builds the burn through the song into Quintard's guitar solo. Quintard's guitar through "New Sway" echos David Gilmour's sense of unique phrasing and musical patience. "This song is about finding your own way," says George Thornton, rhythm guitarist and vocalist. "Finding your own beliefs and deciding to be the best person you can be.  Finally getting yourself out of a rut and pushing through the tough times to make it to the good ones."
"Edna," named for it's E to D jam, brings a more ethereal feel that allows bassist Matt Smith to playfully work up and down the neck. Smith's bass lines are deceptively interesting and have the ability to keep the music consistently groovy and surprising.  Bryan explains, "The song is about taking chances, and never knowing what you might get until you try it. Hence the lyric 'You never know what you might get until your feet get a little wet!'"
Psylo Joe will be on the road for a lot of 2017 as they're growing quickly throughout the southeast music scene. "We plan to expand our touring reach and play more venues outside of our lovely state," says Quintard.  "We will have our 3rd annual Independence Day Run held down at Gaffer's Sports Pub in Ocracoke, NC July 3rd & 4th! For all of our holiday shows we always have a costume party/theme and we have some really fun ideas for this year."
The most striking quality of A Peasant's Life is the band's ability to capture the energy of a live show on the album. They're all very in sync with each other when it comes to both energy and rhythm. Each member is comfortable pushing and pulling on the beat in various places and they all seem to know where the other players will be. It's this type of intuitive playing that defines their own sound and makes them such a great live show to see. 
- Brian Swenk