Posted by: Robie | October 12th, 2010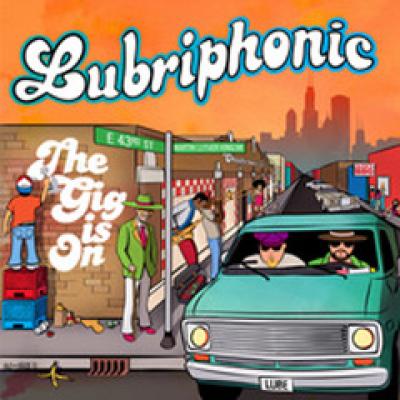 If you share some of the same favorites as me with such artists as The New Mastersounds, Orgone and Sharon Jones & The Dap Kings then you would surely appreciate these group of eight musicians from Chicago, Illinois. You just can't really go wrong with some catchy vocals, hard driving funk and tasty elements of blues, R&B and rock sprinkled in between. You also can't go wrong with some Ivan Neville sitting in on a few tracks either. The 'Gig Is On' marks the bands fourth release and it is by far their best effort.
The CD opens with 'Rhino' as band member Rick King draws you in with a steady drum beat followed by the solid horn section of Ron Haynes, Garrick Patten, Johnny Cotton and Norman Palm. By the time you hear Andrew Toombs on keys and Giles Corey on vocals and guitar you then realize that you're about to be "lubed" and there's absolutely nothing you can do about it. Pennal (PJ) Johnson is playing the bass as if he's about to run you over like a steam locomotive. It's just pure funk adrenalin that reaches out and grabs you by the throat.
With 'Under The Line' The energy slightly shifts to a steady melodic groove. This song is just catchy as hell and Ron Haynes truly shines here on the trumpet. Giles's vocals remind me a lot of John Popper, yet he still manages to maintain a very unique sound of his own throughout the whole entire album.  As the opening track leaves you standing there with your jaw wide open this track is sure to get your butt a swingin'.
The band turns down the tempo with the neo-soul, breezy ballad of 'No Blues', one of the album's songs you can currently hear on the radio. With rigorous tour dates all over the country, these guys managed to garner some massive radio attention, mostly becoming college radio favorites. And since they've been doing shows with WSP and even sitting in with them on stage, you would think that Sirius 'Jam On' would show them a little love.  So far Jam On refuses to play any of their music. If you're an avid 'Jam On' fan tell them it's time to bring on the funk and demand some Lubriphonic! 
Ivan Neville steps in on the Hammond Organ to add a little New Orleans flavor on the track 'Pimp Limp'. Ivan Neville is the son of Aaron Neville and nephew to members of the Neville Brothers. He has contributed keyboards to two Rolling Stones albums, 1986's Dirty Work and 1994's Voodoo Lounge as well as being a member of Keith Richards' solo band the X-Pensive Winos. Apart from appearing on several other artists' records, including Don Henley, Bonnie Raitt, Robbie Robertson, Rufus, Paula Abdul, and Delbert McClinton, he was a member of the Spin Doctors. In 2002, he formed his own current band Dumpstaphunk. I really dig the vibe of this track. It sort of has this 70's funk groove going on but then it just gradually begins to elevate itself onto a whole new level, much becoming the band's own signature brand of funk.

They slow down the tempo again with 'Speed Dial'. This is another track that showcases the band's talent for great songwriting and it is also another radio favorite.  It is easily one of my favorite songs on the album. Neville just blends in completely as if he's always been a permanent fixture with the band. Great stuff. The Band pays homage to Curtis Mayfield with the classic song 'If there's a Hell Below (We're All Gonna Go).  This is also the last track on the album featuring Ivan Neville on the Hammond. 'Coming Together', another favorite of mine, has a smooth R&B feel to it. The horns truly come together towards the end and it is yet another great example of their fine songwriting skills.
There are a lot of funk bands out there but when it comes to catchy hooks and great songwriting there's only a small handful that comes to mind. Lubriphonic is one of those bands. With their latest release 'The Gig Is On' the band makes it very clear that there's a new blend of Funk in town. With 14 solid tracks this is well worth the price of admission.

- C. Robie
Track commentary from Giles Cory
Under The Line - That's the first song we worked on for "The Gig Is On."  In fact, it was in our live set, even as we were recording our previous disc "Soul Solution." It's been a live staple for us for almost 2 years.  I wrote it around a psuedo-James Brown guitar riff I was messing with.  Under The Line is basically about living under the poverty line.  Being a professional musician for my entire life, I've spent some time under the poverty line.  I thought I'd write about it because it's such an abstract and ridiculous notion--poverty line.  Most people in the U.S. don't really even think about it.  Meanwhile, there's a border line that people from other nations literally die crossing in order to live under the poverty line here. Also, a lot of people think they are living under the line.  Not the poverty line, but some other border-- they wanna be in a higher income bracket, or they aren't on the A-list for something, or some other nonsense.  I fall into that myself at times, worrying about all these silly lines we manufacture.
No Blues - If you got a great woman, you have no blues, right?  Pretty simple.  And, more specifically I guess, the song is about the insulation that a full and loving relationship can provide against a cold and dreary world.  People need people. This is also a live staple, and probably will be as long as I'm slingin' tunes.  It's one of my favorite songs (even though I wrote it).
Pimp Limp - I broke my ankle at the beginning of 2009.  I had surgery on it, but I'm still a little gimpy because of it.  I tend to limp sometimes, of which I am self-conscious.  I did a gig last year, filling in for a friend with another band.  On the set break a girl came up to me, and without a trace or irony or mockery, said, "Man, you have an awesome pimp limp." I had to write a song about pimp limps.
Coming Together - That's a true story.  It's a snapshot of one night in the park with my first love.  I think everyone does this-- revisit snapshots of their vaulted past.  When you fall in love the first time, you are absolutely convinced it's also the last.  This was one of those moments.
Pay The Man - "Pay The Man" is just blues.  I wrote it broke, and in debt, and behind on my rent.  When I was in that situation all of my thoughts were about paying the man.  That concept fit with the trudging guitar line and tempo.  It's not necessarily a pleasant song, but I think one to which most can relate.  Blues, rather than "No Blues."
The Gig Is On - When I was starting out, at 18 or 19, I used to play with a band called The Chicago Playboys.  The vocalist/trombonist/band leader Big James used to say that "being a musician is like being in the Mob-- when they call, you gotta go!" That's the truth.  There are no mobsters threatening us to tour, we are compelled to do what we do.
The actual phrase "The Gig Is On" came about when I broke my ankle last year.  Everyone in the band was wondering if the tour we had scheduled was happening.  The reply was, "The Gig Is On."  When they call, you gotta go.