Posted by: leeway | November 5th, 2010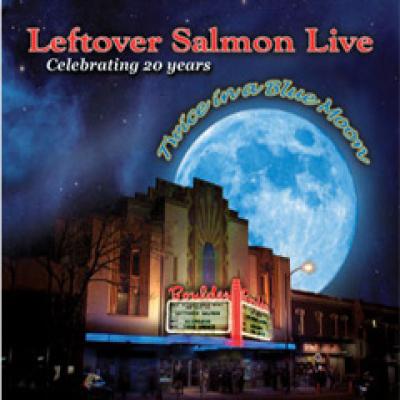 Colorado based jam luminaries, Leftover Salmon, have distinguished themselves with a flavor of Cajun-infused, rollicking hybrid bluegrass.  This package celebrates 20 years playing together, through the highs and lows that come with the not so glorious life on the road, and their eventual development of families.  Leftover Salmon played a two night show in the Boulder Theater during a mythical blue moon (the second such occurrence in 20 years) and this served as the reasoning for the DVD recording.  Since this was their second such "blue moon" show in Boulder in 20 years, the name "Twice In a Blue Moon" came to light.  Featuring a selection of Leftover classics, excellent live video footage, interviews and a striking collection of bonus clips, the DVD is a nice snapshot of one of the seminal bands in "jam grass" history.
The deluxe DVD begins with striking, introductory shots of Boulder, Colorado, where the event was held and filmed.  Drew Emmitt gives a short intro, leading the band into an excellent version of "Just Before the Evening."  From there, Vince Herman picks up the pace with a spirited introduction for and rendition of "Let's Give a Party."  "Midnight Blues" features excellent picking from Herman on his acoustic guitar, and nice turns from Matt Flinner on banjo.  The song features nice interplay, as Bill McKay displays an enthusiastic run on the keys, before yielding to Emmitt's frantic mandolin and engaging vocals.  Vince Herman displays his showman quality and engaging demeanor, as he sings the lyrics of "Tu N'as Pas Aller," and the track features that old "polyethnic Cajun slamgrass" quality that was used to describe them in the early days.  Herman mentions that they are celebrating keyboardist Bill McKay's birthday, prompting McKay's vocals and solid keyboard work for "Railroad Highway."  The track is soulful, and features Emmitt's electric guitar.  The track washes away with playful, alternating flourishes on keys and banjo, and McKay really shines at this point in the performance. 
"Head Bag" is introduced as a song about "them L.A. riots, way back when."  Herman and his band mates launch forward, spotlighting accordion before Emmitt's screaming guitar careens through your eardrums.  The track is restless and rocking, and shows that Leftover Salmon still has "teeth," even after 20 years playing together.  Vince Herman extols the virtues of playing with his band mates, through both "good times" and "bad times," setting the stage for "Just Keep Walkin."  "Troubled Times" features Emmitt's soulful vocals, excellent guitar from Vince Herman, and playful flourishes on keys.  Matt Flinner's rollicking banjo punctuates "Rodeo Geek" and the Leftover classic, "Mama Boulet."  I have always been drawn to the urgency of Drew Emmitt's voice in "River's Rising," and this version doesn't disappoint.  The track is defined by Flinner's excellent work on banjo, Emmitt's wailing guitar, and sterling contributions from Bill McKay.  Shredding banjo, aggressive, steady work on the kit from Jose Martinez, and Emmitt's characteristically flammable guitar work combine nicely in the latter measures of the song.  The song closes with frenzied guitar, keys, and the wash of feedback.  Credits roll over an excellent version of "Iko Iko," featuring guest appearances from members of the Emmitt-Nershi band and Great American Taxi.
This collection of tunes and footage features warm renditions and recordings of many Leftover Salmon classics, and will prove charming and engaging to fans, old and new.  The bonus features on this disc spotlight recordings by the Emmitt Nershi Band and Great American Taxi, as well as interviews with Vince Herman and Drew Emmitt.  This package should be in any Leftover Salmon fan's collection, and I'm glad to have it in mine.
- J. Evan Wade