Posted by: leeway | March 3rd, 2011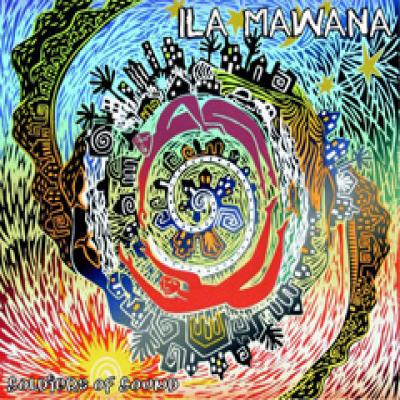 The eight members of iLa Mawana hail from Brighton, Massachusetts and present an exotic, stirring collection of tracks with the release of "Soldiers of Sound."  The twelve tracks presented here feature an excellent combination of social commentary, joyful lyrics, and blustery horns.  The band features the talents of Gianpaolo Blower (vocals), Dave Rosen (guitar), Ryan Hinchey (bass), Jason Moore (Hammond B3, organ), Ryan Nava (percussion) and Sammy Wags (drums).  The group is completed with a robust horn section that showcases Nancy Loedy on tenor saxophone, Trevor Bernatchez on trumpet, and Sara Honeywell on trombone.   With eight to nine musicians contributing to each track, the compositions could be scattered and chaotic.  However, excellent production values ensure that the tracks on "Soldiers of Sound" are nicely layered and warmly produced, resulting in an excellent, joyful collection of songs.
"The Golden Age" splashes out of the gates with a fervent bounce, yearning lyrics, and a sense of sociopolitical awareness.  "Jigyo Keta" displays slinky horns; Nancy Loedy's tenor saxophone shines in the homestretch.  The title track strikes a deep, swanky groove and features excellent vocals from Gianpaolo Blower and back up vocalist, Sarah Chesler.  The horn section provides alluring accentuation to sultry vocals on this track, and throughout the album in general.  The plight of the working man comes to light in "40 Hours" as Blower entreats "Give me back my 4 days, give me back my 40 hours."  This track is peppered with elegant horns and soulful vocals.  "Mortal Motion" utilizes playful harmonies, blustery horns, and excellent rhythm, while "Green Bridge" strikes a contemplative, head bobbing groove. 
A sense of mystery pervades "Voodoo Spell," as Dave Rosen's crystalline guitar is paired against Blower's expressive vocals.  The story of "Journeyman" begins with optimistic flourishes and then details the story of a sublime figure who labors at the fringes of society.  This sort of "Everyman" ("Journeyman" in this instance, implying an artisan, a working man) is a theme that pervades reggae traditions (and oral histories as well) and is nicely presented in this track.  The track closes with urgent horns and a sense of frantic excitement, providing a nice counterpoint for the stirring, soulful beginnings of "Grow My Way," which basks in radiant horns and elegant vocals.  The charming, effervescent "Frankly" comes to light, providing a moment of sparkle.  This track features buoyant horns and excellent bass, leading to its selection for the recent Home Grown 9 sampler.  "Tree Dub" strikes a more meditative stance, while "I Define Me" closes the album wistfully.
The collection of tracks presented for "Soldiers of Sound" prove to be remarkable.  The compositions are robust, warm numbers, while the vocals offer a pleasing mix of political punch and excellent harmonics.   The horn section is particularly excellent, and their contributions are framed robustly throughout the recording.  I have never been a giant fan of the genre, so finding a reggae album that resonates with me is rare, and remarkable.  The twelve tracks presented in this package have that capability, and I have enjoyed the album anew with each repeated listen.
- J Evan Wade