Posted by: leeway | January 5th, 2010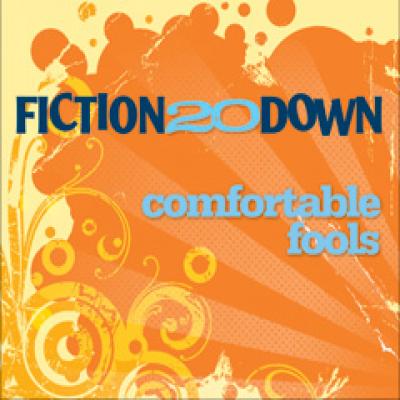 Fiction 20 Down first began playing music in 2007 and have released 3 full-length albums.  In that time frame, they have morphed from an acoustic rock band to a reggae band, to a synthesis of those styles, with elements of hip hop being added to the cauldron as the band embraces its next steps for 2010 and beyond.  Featuring Jordan Lally as guitarist and lead vocalist and songwriter, Ben Metzger on stratospheric guitar, DJ Fritzges on bass, and recent addition, drummer Mike Marx-Gibbons, the band creates well crafted songs that pull from lots of different influences in creating a varied, interesting package.    
"Comfortable Fools" begins with three melodic, pop-infused tracks.  "Wind Me Down" is an energetic track punctuated by strong vocals and lilting guitar.  "Wake Up" has an optimistic, likable spirit while "Top n' Tails" displays a wistful tone, nice guitar work and appealing vocals from Jordan Lally.  "Gossip & Gunplay" has a refined, polished quality and is punctuated by Ben Metzger's signature guitar chops coloring the periphery of the song.  Lally's lyrics and vocals have a very charming quality throughout the album but are particularly evident in this song.  This track segues into "Gossip & Gunplay" (ext.), a 2 minute postlude featuring the silky guitar that distinguishes the best of these songs.  "Oh Why Me? Oh..." is a likable sing-along that invokes the spirit of Sublime as it saunters to its conclusion.
"Cornerstone" is a tender ballad ultimately resulting in a marriage proposal, when a "bachelor's levity" is willingly traded for the "shoulders of a father."  There is an elusive quality at the core of "Rock Bottom Blue" and this lovely track is punctuated with haunting strings and excellent lyrics and vocals.  "Honor Echoes" details the bitter story of a soldier held in captivity for seven years, only to be shot at the precise moment of his liberation.  The irony of the lyrics is nicely framed above a tight, understated jam, featuring another crystalline guitar solo from Metzger.  "Away She Goes" is an interesting, "modern" take on the stories of King Henry VIII and Anne Boleyn, who was beheaded on orders of the King.  The album closes with the ambling, loosely jammed "Comfortable Fools," featuring a nostalgic, campfire anthem quality.
    In reviewing this album, I am very impressed with the lyrical, effervescent quality of several of these tracks.  The lyrics are idealistic and youthful, yet display maturity and a larger perspective on matters of the heart and the world we live in.  At the core of these songs is a likable, infectious spirit, coupled with strong playing and musicianship.  These songs seem to have a wider mainstream "pop" sensibility that would make Fiction 20 Down likable to fans beyond the "jam scene."  However, there is enough crunchy guitar and rhythm to keep things honest and forward moving on the dance floor.  I particularly like "Top n' Tails," the "Gossip & Gunplay" tracks, and "Comfortable Fools" and these songs all seem to be very thematically different.  This speaks to the band's ability to wear different hats, and they do that well on the tracks of this album. 

- By J. Evan Wade