Posted by: leeway | January 14th, 2011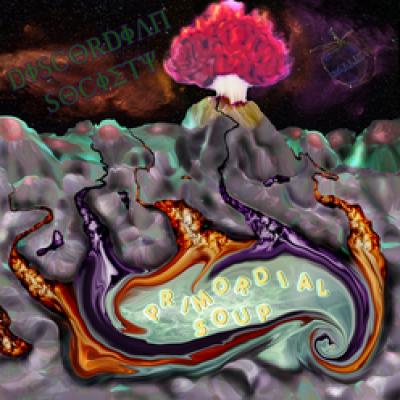 The Discordian Society, which hails from Asheville, North Carolina, presents an intriguing blend of funk, jazz, and rock in this most recent release.  Featuring the talents of Dave "Davz Not Here" Annarelli on bass, Scott Poe on drums, Max Melner on keys, Alfonso Graceffo on guitar, and Paul Juhl on tenor saxophone, the quintet offers unique, daring insights in the tracks of "Primordial Soup."  Fans of Jaco Pastorius, the Weather Report, and Return to Forever will find similar footing in the tracks of this album, yet these tracks are never derivative or stale.  "Jazz Fusion" can be an off-putting musical genre for the uninitiated, but the quintet keeps these tracks grounded with strong guitar, witty lyrics, and a sense of fun.  This results in a musically challenging album, full of mood swings and tasty turns.
"Primordial Soup" begins loosely with "When Amino / Colonel Mustard in the Conservatory with the Candlestick."  This track begins with sampled AM radio broadcasts, swells forward in a cacophony of noise and feedback, before settling into a nice groove.  Max Melner's keys provide fuel for the jam, which segues nicely into "Corner Bag Blues."  This track tightens up the boot straps, with Alfonso Graceffo providing soaring guitar in this energetic paean to the cannabis plant.  "Figments" begins like an opiate dream, and one can hear whispers of Gilmour and Waters in this track.  The track ambles along lightly and sets the stage for "Ideas," an energetic, thumping number.  Melner's trademark keyboards dot the periphery of the track, while Graceffo's guitar takes prominence in the latter measures.  "Sleestak," which refers to fictional monsters from the "Land of the Lost" TV series, features syncopated chord progressions, tight horns, and nice flourishes from Melner and Graceffo.  The track ventures into atonal, expressive waters to close.
"They Make Fun" is an amusing, off-kilter track with vocals that remind of Trey Anastasio and early Phish.  The track coalesces around driving drums and bass, with excellent punctuation from Paul Juhl's tenor saxophone.  "I, We, You" begins in brooding, methodical fashion but ventures through varied moods and expressions.  Blustery, muscular horns combine with keys and guitar to establish a nice foundation for the frenzied conclusion.  The instrumental "S.A.M." begins with sugary, lingering keys and saxophone before it ventures forward on the strength of aggressive drums and bass.  The track ventures through subtle mood swings, and is galvanized with Graceffo's squealing guitar.  "Murky Green" ambles along lightly at first, but the thumping of Dave Annarelli's bass signals a return-to-urgency.  "Quality Control" signals a break from the chaos, with lighter, loping tendencies, while "What's the Name of This Town?" closes the album energetically.  This track spotlights Max Melner's excellent work on keys, and his flourishes on this track (and the album in general) are quite tasty.
In reviewing the sonic, savory blends of "Primordial Soup," I find myself compelled by the band's sense of musical exploration and daring.  The tracks contained herein feature solid work from all members, with saxophone, keys, and guitar sharing the spotlight.  The musical conversations at play in this album feature a medley of influences, with jazz fusion and rock-n-roll establishing a foundation for spirited work on drums and bass.  In presenting these challenging, musically innovative tracks, the tracks of "Primordial Soup" illustrate the Discordian Society's elaborate recipes and cooking skills.              

- J Evan Wade