Posted by: Anonymous | September 23rd, 2008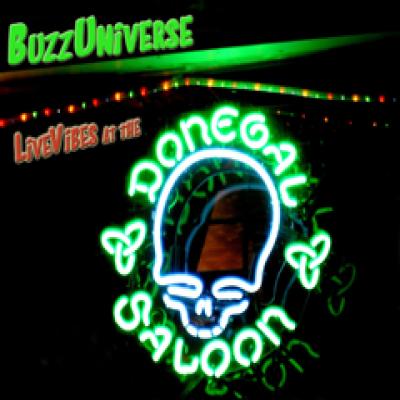 The Kearny, NJ venue, whose Stealie-style logo is featured on the album's cover, played host to a number of Buzz-worthy performances over the winter of 2007-2008, and the comfort of the room helped BuzzUniverse capture their live show and create their third album.
There's not much ground that BuzzUniverse doesn't try to cover here. "This Ol' Cowboy" starts the listener off gently, a sunny synthesis of calypso, country, and California folk that simply glides along with optimistic flute melodies and features a playful sax solo. "Homer's Mountain: Too Much Pressure" sounds like the Clash on Valium, with deep harmonies cascading over a vaguely ska-style rhythm that moves at its own reserved pace. "Feelin' Better" and the lengthy funk-rock excursion "In the Sun" hit closer to the band's overall sound - a caffeinated blend of blues, country, jazz, and percolating hippie-rock that creates a sort of electric roots music filtered through a quirky modern-day lens. This unique style is exemplified in danceable music (and revealing song titles) like "Hydroponic Boogie" and underlined by the band's seeming fascination with island rhythms, showcased in the dark reggae hop of "All Of My Friends" and the shuffling "Lovelight Babylon." In these tunes the listener gets a healthy helping of the band's strongest suit - the jam. Live at the Donegal Saloon really shines when the band is just cruising, checking out each others musical scenery and contributing without overwhelming, which is a frequent occurrence here.
Vocally, the band has an interesting collective delivery, facilitating a fantastic cover of Robbie Robertson's "Evangeline." Individually, the vocal styles range from hopefully worrisome ("All of My Friends") to jubilant ("You and Me"). It's the vocals that push the band's sound toward the edges of alternative or indie rock - while there's nothing threatening about their instrumental creations, there's plenty of rawness and a bit of a menacing quality to some of their vocal work, which helps add the necessary fright to their outstanding cover of "Astronomy Domine." They've even got a bona-fide signature song in the album closing "Up the Mountain," a tune that could lead to massive group singalongs if the band keeps spreading the gospel of their fantastically fun live shows.

--Bryan Rodgers