Posted by: leeway | April 13th, 2015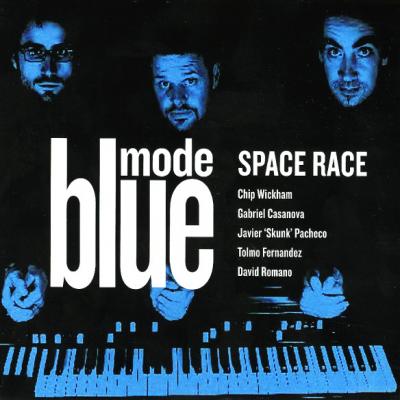 In offering up 11 scintillating tracks of what the band describes as "deep funk, soul jazz, and rare groove," Blue Mode offers an album that sounds decidedly "time stamped." While this album sounds like an album from a different era, it also offers new takes and new approaches to the music forms it celebrates, and the result is a rather thrilling, energetic jaunt. The major players in the lineup of Blue Mode are Chip Wickham on flute and tenor saxophone, Gabriel Casanova oh Hammond B3, clavinet and Wurlitzer piano, with Javi "Skunk" Pachecho on drums. Telmo Fernandez contributes to guitar to several of the tracks, while David Romano offers congas for 2 tracks on the album as well. While Blue Mode incorporates jazz idioms in their music, the album is decidedly more tight-laced, offering high energy, structured passages more than loose improvisation. This is not the music of a sleepy jazz club, but more frantic and syncopated; music headed in an all different directions at once, the music of agenda and rigid, can't-miss deadlines. The album is released by 3 on the B records, which also served for many years as the label and recording home for The New Mastersounds, and a similar influence and genetic "stock" can be gleaned in comparing the two, with both bands as sort of "old school" guardians who have reshaped classic forms of jazz, funk, and blues into a more modern face.
"Push All" dashes out of the starting gate with confidence, utilizing a brash, almost acid-jazz style of syncopation to establish a substantial backdrop for saxophone and organ. These rather frenetic moments are countered with Fernandez' precise guitar, and set the stage nicely for Casanova's exploratory organ. After the rather chaotic introduction, the album's second track "Rice, Beans & Bugaloo" strikes a more contemplative pose and proves to be fertile ground for exploration for Gabriel Casanova on his keys. Clay Wickham's flute proves to be a delectable garnish on this jam, with Fernandez skittering home on guitar. The aptly named title track, "Space Race," offers a diverse tapestry, offering the  a song that sounds like a mix of the Mod Squad intro, but pairing this sort of spy music quality with frantic runs on the flute; if espionage movies happened in outer space, this would be an ideal candidate for the soundtrack. The album offers a rather interesting cover, with Blue Mode offering their take on an American classic, Nirvana's "Smells Like Teen Spirit." Casanova embodies the spirit of Cobain's lyrics and voice with his seasoned turns on flute and keys. While the original anthem squawked and howled, the Blue Mode rendition is precise, well-modulated, but also lovingly tender, offering a well-developed version that seems almost like an "anti-cover."
The disc offers up "Tortilla Chip" next, a lively, explorative track written by Clay Wickham that offers lots of room for Wickham's robust saxophone. The track is embellished by conga flourishes (courtesy of David Romano) and spirited jazz guitar. "Black Mode Blues" fuses the spirit of many genres, with throaty Hammond B3 and guitar swapping spotlight and focus over a confident 12-bar blues beat. Tolmo Fernandez and Casanova shine throughout the album, but the pairing is particularly nice on this track. "Colt's Run" employs a frantic galloping pace, with flute taking first solo, while Casanova employs dizzying runs up and down the keys in the body of the track. Clay Wickham's flute shines next, hitting evanescent notes, offering a striking contrast to the hard driving beats and rhythm driving the song forward. The album closes with "Fast Discharge," which proves to be an excellent vehicle for Casanova's keys, Javi Pacheco's drums, and Wickham's saxophone.
The album "Space Race" succeeds on many levels. In higher minded ways, the tracks on this album celebrate the grand old ways of jazz, blues, and funk while also personalizing these genres with their own frenetic touch. The album celebrates these grand old forms, yet never ceases to innovate and populate these forms with new idioms and new means of representation. The result is quite captivating, yet the true power of this album comes from listening to it, not thinking about it. This album is a whirling dervish, sharp as a knife, well-produced and well-delivered, and will surely be a head-turner (or ear-grabber), but for someone who simply likes to dance, who likes a musical soundtrack to help push them forward to their next appointment, business meeting, or someone who simply wants some audio "gas" to get through the laundry, they too will find many things to chew on in this dazzling recording by Blue Mode.
- J. Evan Wade