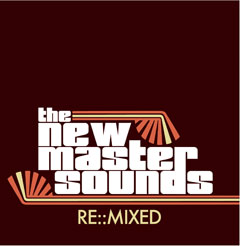 On the heels of their acclaimed 2007 studio album "102%" and tours of Europe celebrating their Italian release "RE::MIXED" (released on Record Kicks 10.15.07) and a great year touring US Jam Clubs! The New Mastersounds are about to appease fans demand to bring their live high-energy funk throw down back to the east! NMS will appear on Tuesday March 11th @ Stella Blue, and @ The Pour House in Raleigh on Weds. March 12th.
Led by guitar virtuoso Eddie Roberts, this telepathically tight quartet features plenty of Hammond grooves by B3 burner Joe Lavers, with phat and heavy bass and drums courtesy of Pete Shand and Simon Allen respectively. New Mastersounds are guaranteed to satisfy followers of funk and soul jazz, with a broad spectrum of pure vintage sounds and original hooks & grooves that just keep getting better and better!
Extremely popular at US music festivals, The New Mastersounds are beginning to sell out the funk-jam band circuit. The band has been stretching out, adding new twists and bops to many of the old favorites, and new dimensions to the interplay and groove development.  The New Mastersounds are now pulling off three hour sets, mixing up infectious funk originals with their own arrangements of the soul-jazz classics, keeping the crowds dancing and attracting sit-ins by members of the Greyboy Allstars, as well as Paige McConnell, Dave Grippo, Karl Denson, Bryan Jordan (KDTU), Stanton Moore (Galactic), George Eckehart and many more.
Fri Feb 22      Sela Bar - Leeds, United Kingdom           
Sat Feb 23     Jazz Cafe - London, UK     
Thu Mar 06     Bamboo Room  - Lake Worth, FL      
Sat Mar 08     Langerado Music Festival - Big Cypress, FL                      
Sun Mar 09    Smiths Olde Bar - Atlanta,GA        
Tue Mar 11    Stella Blue - Asheville, NC
Wed Mar 12   The Pour House Music Hall - Raleigh,NC
Thu Mar 13     8x10    Baltimore,MD           
Fri Mar 14      World Cafe Live - Philadelphia, PA                      
Sat Mar 15     Sullivan Hall - New York City,NY                 
Sat May 24    The Hague Jazz Festival -The Hague, Netherlands