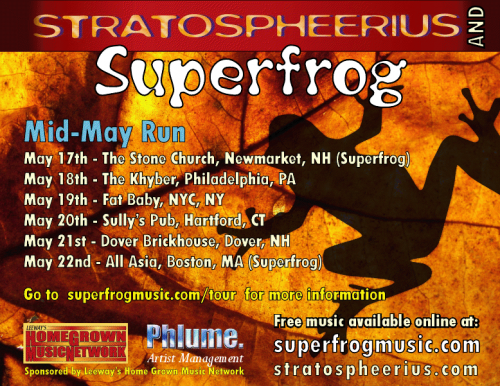 On Monday May 17th, Superfrog will perform a free show at Newmarkewt's Stone Church to kick off their 6 date run. The show will begin at 8PM and run until around 11:30. The band will then pack it up and head over to Philadelphia for their initial performance with Stratospheerius on Tuesday night at The Khyber. The show will begin at 8PM there as well and Stratospheerius will open the show. On Wednesday May 19th both bands will perform at New York City's Fat Baby located on Rivington Street in SoHo with the Ben Tyree Trio for a 3 band blow out performance. The two will then travel up to Hartford Connecticut together to play a full night at Sully's Pub on Thursday May 20th. This is Superfrog's first performance at the Hartford hotspot and they will be opening for Strattospheerius. To close out the four night run the bands share together, Superfrog will headline on Friday, May 21st at the Dover, NH hot spot, The Brickhouse. Stratospheerius will warm up the stage for the Superfrog hometown crowd...for a most likely sold out performance.

To end the week long run with a bang, Superfrog will play a headline spot at Cambridge's All Asia night club. The 6 day series is a first for Superfrog and they hope to gain as much support and momentum for their summer shows as they can. The band will spend the remainder of May and most of June finalizing theigh highly anticipated yet-to-be-named 2nd album. A fall tour schedule is already in the works to support the release and discussions with Danny Bedrosian and Secret Army and Buzz Universe are in the works for similar co-gig runs. For more information on this 6 night spring run visit
www.superfrogmusic.com/tour
for advance ticket information, links to all performance sites, the official co-tour poster and directions.
Upcoming Superfrog Performances:
April 9th - Ballard's, UNH Campus, Durham, NH
April 20th - WHEB 100.3FM "Stoner Olympics", WHEB Studios, Portsmouth, NH
April 22nd - Inn on the Blues, York beach Maine (Earth Day Show)
April 23rd - The Big Easy, Portland Maine (With Shy Green and Nippin' the Nub)
April 24th - Tommy Doyle's; Harvard Square, Boston, MA (With This Blue Heaven)
May 17th -The Stone Church, Newmarket, NH
May 18th - The Khyber, Philadelphia, PA (Stratospheerius opens)
May 19th - Fat Baby, NYC, NY with The Ben Tyree Trio (Superfrog opens)
May 20th - Sully's Pub, Hartford, CT (Superfrog opens)
May 21st - The Dover Brickhouse, Dover, NH (Stratospheerius opens)
May 22nd - All Asia, Cambridge MA with Vanessa French and Rio Bravo (Superfrog Headlines)
May 29th - Carmen Verandah, Bangor, ME
June 5th - The Blue Mermaid, Portsmouth, NH (Acoustic Performance)