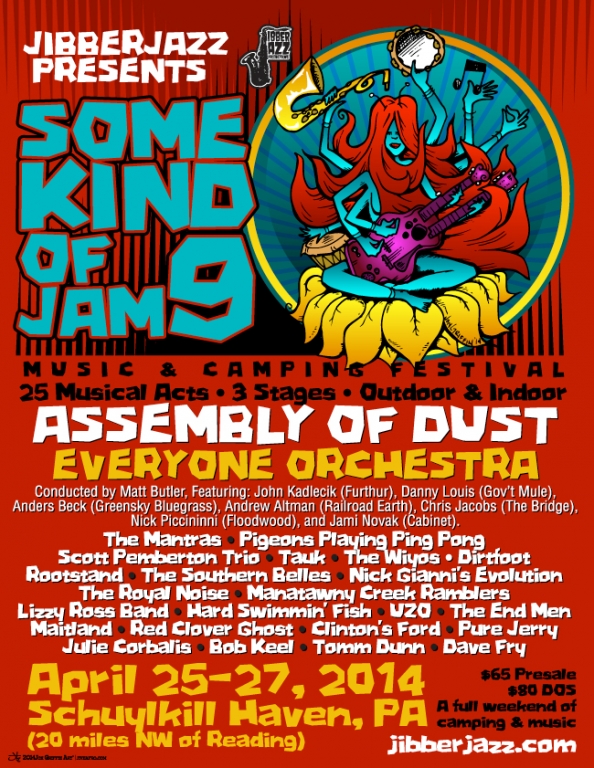 SOME KIND OF JAM 9, presented by Jibberjazz Productions, will take place from April 25-27, 2014, in Schuylkill Haven, PA. This full weekend, music & camping festival will showcase 25 eclectic musical acts, along with multiple stages and numerous activities. 2014 Lineup features: ASSEMBLY OF DUST, EVERYONE ORCHESTRA, The Mantras, Pigeons Playing Ping Pong, Scott Pemberton Trio, Tauk, The Wiyos, Dirtfoot, Rootstand and many more notable acts. $65 presale tickets are on-sale now through www.jibberjazz.com.
 
Festival takes place on beautiful 60-acre rustic fairground, featuring outdoor & indoor stages, plenty of camping space, permanent restrooms & showers, nature trails, trout fishing waters, and electricity access for RV's. A vast array of both food and craft vendors will be on-site for the weekend. Additionally, a full slate of festival activities is scheduled for both adults and children.
 
As always, Jibberjazz will unleash a vast array of musical styles including: Jam, Funk, Folk, Bluegrass, Americana, Rock & Roll, Blues, World, Reggae, and more. Jibberjazz artists are drawn from various pockets of the USA.
 
Additional 2014 Jibberjazz festivals are scheduled for both June and September 2014.
 
SOME KIND OF JAM 9 Lineup:
ASSEMBLY OF DUST
EVERYONE ORCHESTRA
Conducted by Matt Butler, Featuring: John Kadlecik (Furthur), Danny Louis (Gov't Mule), Anders Beck (Greensky Bluegrass), Andrew Altman (Railroad Earth), Chris Jacobs (The Bridge), Nick Piccininni (Floodwood), and Jami Novak (Cabinet).
The Mantras
Pigeons Playing Ping Pong
Scott Pemberton Trio
Tauk
The Wiyos
Dirtfoot
Rootstand
The Southern Belles
Nick Gianni's Evolution
The Royal Noise
Manatawny Creek Ramblers
Lizzy Ross Band
Hard Swimmin' Fish
Uzo
The End Men
Maitland
Red Clover Ghost
Clifton's Ford
Pure Jerry
Julie Corbalis
Bob Keel
Tomm Dunn
Dave Fry