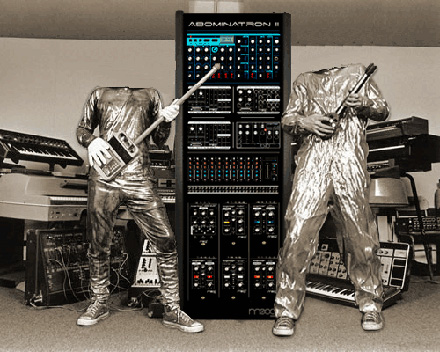 Moogfest - the annual event honoring the remarkable vision of Robert Moog and his amazing musical inventions that changed the course of music - is reinventing itself. This year, moogfest 2010 will move from New York City to Asheville, NC - the place Bob Moog called home for the last 30 years of his life - and will expand to a 3-day, multi-venue event during the weekend of October 29 -31, 2010. During the festival, moogfest 2010 will host artists and audiences from throughout the world in different venues throughout Asheville's beautiful, historic downtown.

 

Moogfest 2010 will celebrate Bob Moog's legacy as a sonic pioneer, which will be the thread that unites the festival's rich array of musical offerings. While the wide range of Moog instruments - the Minimoog Voyager, the Little Phatty, the Etherwave Theremin, Moogerfoogers, and the new Moog Guitar - will play prominent roles throughout the festival's events, the artists performing will certainly not be limited to those who create their work on Moog instruments. Instead, artists will be chosen for their role in creating unique and groundbreaking musical experiences that embody the essence of Bob Moog's visionary and creative spirit.

 

In addition to fantastic concerts by renowned performers of all kinds, moogfest 2010 will also offer opportunities to engage with the artists in panel discussions, question and answer sessions, and workshops. There will also be interactive experiences for the audience to explore their own musical creativity with a variety of Moog instruments. The festival will also offer visual art exhibitions, installations, and film screenings throughout the weekend.
HALLOWEEN WEEKEND - 10/29-10/31 IN ASHEVILLE, NC

MoogFest 2010 Lineup:

 
Friday, October 29

DEVO

MGMT

Big Boi
Girl Talk

Panda Bear

RJD2

El-P

Van Dyke Parks

Nortec Collective Presents: Bostich & Fussible

Saturn Never Sleeps (Featuring King Britt & Rucyl)

The Octopus Project

Kuroma

Clare and The Reasons

Bonobo

 
Saturday, October 30

Massive Attack

Thievery Corporation

Jonsi

Disco Biscuits

Caribou

Four Tet

Matmos

Dam-Funk

School of Seven Bells

Jon Hopkins

Emeralds

Mountain Man

Ikonika

 
Sunday, October 31

Pretty Lights

Hot Chip

Dan Deacon

Mimosa

Two Fresh

DJ Spooky


 

About Moog Music:

 

Asheville is the headquarters of Moog Music, the company Bob Moog formed in 1963.  Moog's push for continual innovation permeates the company's culture to this day.  In 2008, they produced the groundbreaking Moog Guitar and more projects are currently in development.  2010 marks a landmark in the company's history as the 40th anniversary of the MiniMoog, one of the most popular of the Moog synthesizers, which will certainly be a focus of the MoogFest 2010 weekend.