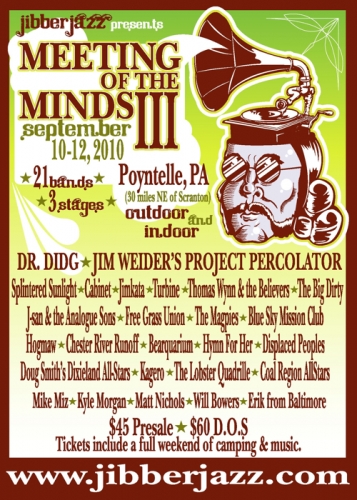 Jibberjazz Presents:
MEETING OF THE MINDS III
September 10-12, 2010
Poyntelle, PA
(20 miles NE of Scranton)
21 Bands
3 Stages
Outdoor and Indoor
A full weekend of camping & music.
New site features: 70 acre lake, cabins, canoes & kayaks, swimming, fishing, and more
$45 Presale Tickets
Jibberjazz.com

Artists:

DR. DIDG
JIM WEIDER'S PROJECT PERCOLATOR
Splintered Sunlight
Cabinet
Jimkata
Turbine
Thomas Wynn & the Believers
The Big Dirty
J-san & the Analogue Sons
Free Grass Union
The Magpies
Blue Sky Mission Club
Hogmaw
Chester River Runoff
Bearquarium
Hymn For Her
Displaced Peoples
Doug Smith's Dixieland All-Stars
Kagero
The Lobster Quadrille
Coal Region AllStars
Mike Miz
Kyle Morgan
Matt Nichols
Will Bowers
Erik from Baltimore
Jibberjazz.com

MEETING OF THE MINDS III will take place on a 500-acre, private campground tucked away in the northeastern corner of PA. This secluded piece of Pennsylvania paradise features: a pristine 70 acre lake complete with canoes and kayaks for use, rentable rustic cabins & bunkhouses, PLENTY of room for camping, Outdoor & Indoor stages, swimming, hiking trails, fishing waters, tennis & basketball courts, and much, much more. This is the absolute perfect venue and location for a Jibberjazz music festival! As always, a wide variety of musical styles will be featured including: Jam, Funk, Folk, Bluegrass, Blues, Rock & Roll, Reggae, Americana and more.
MEETING OF THE MINDS III will be a full weekend music & camping festival featuring 21 bands, 3 stages, late-night indoor jams, numerous solo-artists, kids activities, light shows, fire performances, food & craft vendors, swimming, fishing, canoeing and more.
Presale tickets will be just $45 and include a full weekend of camping & music. In addition, many cabins and bunkhouses are available for weekend rental.
Jibberjazz.com
DIRECT TICKET LINK:
http://www.jambasetickets.com/events/100447