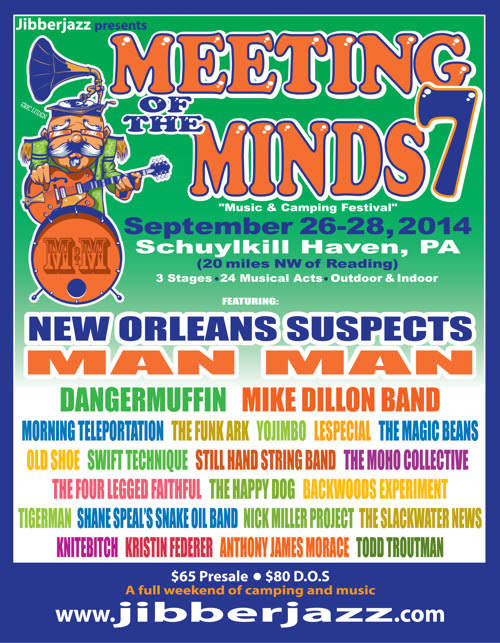 Jibberjazz Presents
MEETING OF THE MINDS 7
"Music & Camping Festival"
September 26-28, 2014
Schuylkill Haven, Pennsylvania
20 miles Northwest of Reading
24 Musical Acts on 3 Stages
Outdoor & Indoor
$65 Presale * $80 Day Of Show
Tickets include a full weekend of camping and music
jibberjazz.com
FEATURING:
NEW ORLEANS SUSPECTS
MAN MAN
DANGERMUFFIN
MIKE DILLON BAND
MORNING TELEPORTATION
THE FUNK ARK
YOJIMBO
LESPECIAL
THE MAGIC BEANS
SWIFT TECHNIQUE
TIGERMAN WOAH
KNITEBITCH
OLD SHOE
THE FOUR LEGGED FAITHFUL
THE SLACKWATER NEWS
SHANE SPEAL'S SNAKE OIL BAND
THE MOHO COLLECTIVE
THE HAPPY DOG
STILL HAND STRING BAND
BACKWOODS EXPERIMENT
NICK MILLER PROJECT
ANTHONY JAMES MORACE
KRISTIN FEDERER
TODD TROUTMAN
$65 Presale * $80 Day of Show
A full weekend of camping & music
jibberjazz.com
MEETING OF THE MINDS 7: A full weekend music & camping festival, featuring 24 musical acts, 3 stages, solo artists, food & craft vendors, late-night indoor jams, kids activities, light shows, fire performances, parades, yoga, workshops and much more.
MUSIC: Jibberjazz will showcase a variety of musical styles including Jam, Folk, Funk, Bluegrass, Blues, Rock & Roll, Reggae, Americana, World, Prog, Jazz, etc. Artists drawn from all corners of the USA!
VENUE:
2270 Fair Road, Schuylkill Haven, PA 17972
A beautiful 60-acre rustic fairground, featuring outdoor & indoor stages, plenty of camping space, permanent restrooms & showers, nature trails, trout fishing waters, and electricity access for RV's.
TICKETS: Presale tickets are $65 and include a full weekend of camping & music. Children 12 and under are free. This event is B.Y.O.B. for those of age with valid ID.
Since 2005, Jibberjazz festivals have drummed up a buzz in the underground by showcasing a truly diverse musical-lineup that blends heavy-hitting out of market bands, national acts, and up-and-coming regional talent. These festivals have developed a dedicated fan base in the region and continue to grow in intensity and attendance, season after season. That trend continues through 2014 and beyond, as we continue to produce 3 music & camping festivals per season. Creative line-ups, killer music, and good people are what Jibberjazz is all about. Now let's get to wild dancing!
More 2014 Jibberjazz Festivals:
June 27-29 - Madsummer Meltdown #5 - Schuylkill Haven, PA
WINTER DATES TO BE ANNOUNCED SOON
jibberjazz.com