JIBBERJAZZ LAUNCHES ANOTHER MADSUMMER MELTDOWN!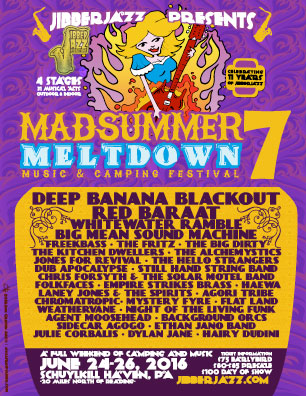 This full weekend, music and camping festival will showcase 31 eclectic musical acts across four stages, along with numerous workshops and scheduled activities. 2016 lineup features: DEEP BANANA BLACKOUT, RED BARAAT, Whitewater Ramble, Big Mean Sound Machine, Freekbass, The Fritz, The Big Dirty, The Kitchen Dwellers, The Alchemystics, Jones for Revival, The Hello Strangers, Dub Apocalypse, and many more notable acts. $80 presale tickets, which includes weekend camping, are on-sale now through www.jibberjazz.com.
 
The festival takes place on a beautiful 60-acre rustic fairground, featuring outdoor and indoor stages, plenty of camping space, permanent restrooms and showers, nature trails, trout fishing waters, and electricity access for RV's. A plethora of both food and craft vendors will be on-site for the weekend. Additionally, a full slate of festival activities is scheduled for both adults and children.
 
As always, Jibberjazz will unleash a vast array of musical styles including: Jam, Funk, Folk, Bluegrass, Americana, Rock & Roll, Blues, World, Reggae, and more. Jibberjazz artists are drawn from various pockets of the USA.
 
Additional Jibberjazz festivals are scheduled for both April and September 2016.

 
MADSUMMER MELTDOWN 7 Lineup:
 
DEEP BANANA BLACKOUT
RED BARAAT
WHITEWATER RAMBLE
BIG MEAN SOUND MACHINE
FREEKBASS
THE FRITZ
THE BIG DIRTY
THE KITCHEN DWELLERS
THE ALCHEMYSTICS
JONES FOR REVIVAL
THE HELLO STRANGERS
DUB APOCALYPSE
CHRIS FORSYTH & THE SOLAR MOTEL BAND
STILL HAND STRING BAND
EMPIRE STRIKES BRASS
LANEY JONES & THE SPIRITS
AGORI TRIBE
CHROMATROPIC
MYSTERY FYRE
FLAT LAND
FOLKFACES
HAEWA
NIGHT OF THE LIVING FUNK
AGENT MOOSEHEAD
BACKGROUND ORCS
SIDECAR AGOGO
ETHAN JANO BAND
WEATHERVANE
JULIE CORBALIS
DYLAN JANE
HAIRY DUDINI