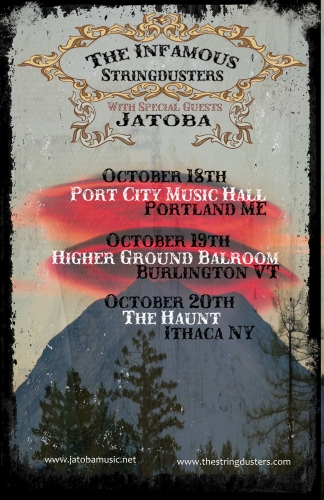 Thursday, October 18th, 2012 - Port City Music Hall    18+
Jatoba w/ The Infamous Stringdusters - 7:00 Soors, 8:00 Show
504 Congress Street- Portland ME
Price: $14 Advance, $17 Door, $24 VIP
Friday, October 19th, 2012 - Higher Ground    All Ages
Jatoba w/ The Infamous Stringdusters - 8:00 PM Doors
1214 Williston Road - Burlington VT
Price: $15
Saturday, October 20th, 2012 - The Haunt     16+
Jatoba w/ The Infamous Stringdusters - 8:00 Doors, 9:00 Show
702 Willow Ave. - Ithaca NY
Price: $13 Advance, $15 Door

Music patrons of all ages and backgrounds can find something to love about Jatoba. In four short years the Vermont-based trio has cultivated a unique and instantly identifiable brand of music, incorporating styles and genres from all corners of the sonic spectrum, and indeed the globe. In what they have dubbed as "groove-grass", the three members employ quick bluegrass tempos driven by thumping, rockabilly-like bass lines, and accentuated with soaring three-part vocal harmonies. On top of this, they add effect-driven guitar solos, heavy rhythmic improvisation, beat-boxing, and even the occasional sitar interlude.
Since first popping up on the public radar in 2008, Jatoba has accumulated a broad and deeply devoted fan base, both at home and around the Northeast, and has been a powerful force behind the revitalization of the previously lacking local music market. "This is not a 'what you see is what you get' group of guys. From their name, to their sound, to their bare feet on stage (weather permitting), and their quirky persona, Jatoba is making noise for the Southern Vermont music scene." (Brian Joy, Editor Cider Magazine) With live performances that feature ample improvisatory jams, seamless flow, and effective crowd interaction, the band's loyal following seldom stops dancing.
Their debut album, Death, Fire & Picnic Tables, released in 2011, is a shining example of this eclecticism, and effortlessly showcases their song-writing talents, technical dexterity,and relentless energy.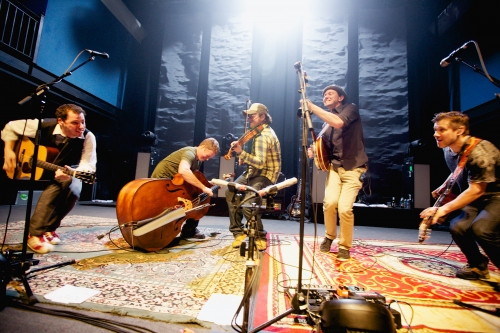 (Photo by Tom Daly)
The Infamous Stringdusters first emerged in 2007 with the acclaimed album Fork in the Road on Sugar Hill Records. The band's current line-up features Andy Hall (Dobro), Andy Falco (guitar), Chris Pandolfi (banjo), Jeremy Garrett (fiddle), and Travis Book (upright bass). The band has become known for a complex, distinctive, and groove-friendly sound along with a bluegrass theme. Falco is the newest permanent member, filling the role vacated by guitarist Chris Eldridge (son of Ben Eldridge and later a touring partner with Chris Thile). Jesse Cobb (mandolin) announced his departure Oct 5, 2011; Dominick Leslie was announced as the mandolin player for the tour that followed but the band has not replaced Cobb and is now touring and recording as a five-piece ensemble.
The Infamous Stringdusters won three awards at the International Bluegrass Music Association Awards Ceremony in October 2007: Emerging Artist of the Year, Album of the Year for Fork in the Road (in a tie with J.D. Crowe & the New South's album Lefty's Old Guitar), and Song of the Year for the album's title cut. The band was also nominated for 2011 Entertainer of the Year by the International Bluegrass Music Association. Their "Magic No. 9" (from Things That Fly) was nominated for a 2011 Grammy award for "Best Country Instrumental".