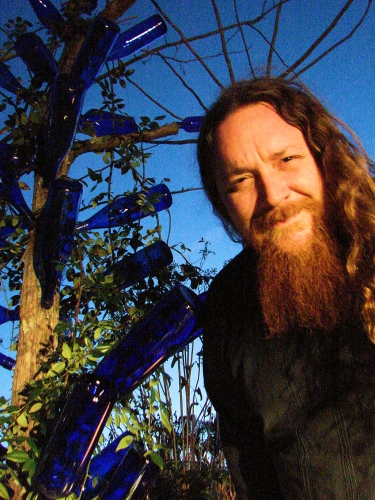 Raised in the Blue Ridge Mountains, Graham Whorley packed up his guitar, his dog, Leeroy, and a trash bag full of clothes 15 years ago to make his way onto Folly Beach, SC and into the Charleston music scene. Since then, Graham Whorley has quickly become a household name, drawing comparisons to Keller Williams, Warren Haynes, and Tim Reynolds for his tireless, family-man work ethic, jaw-dropping finger stylings on the guitar and genial Southern charm. 
Whether performing solo, or with his three-piece band, The Graham Whorley Band (Will Ames on bass, Karl Anderson on drums,) Graham Whorley is constantly finding new ways to deliver world music that defies categorization under the blanket of rock, jazz, classical, and funk guitar built on seamless layers of harmonies and driven tribal beats. All of it, created live on stage. 
Graham's insightful and thought provoking songwriting touches on universal themes of life, love, and those hard-knock lessons learned along the way, something we all can relate to. Equally comfortable unplugged as with his array of pedals, beat machines, and sound effects. Whorley seems to effortlessly connect with his listeners and leaves a deep and lasting impression, leaving fans waiting for more.
The Graham Whorley Band is currently gathering their gear and is primed for their 2012, "Permission to Think" tour to promote Whorley's new album throughout the Southeast with scheduled tour dates in North Carolina, Georgia, South Carolina, and Florida. Graham Whorley and his band have shared the stage over the last several years with Tim Reynolds, Michael Glabicki of Rusted Root, New Riders of The Purple Sage, Lee Oskar of WAR, Members of The Dirty Dozen Brass Band, Colonel Bruce Hampton, Brock Butler, Delbert McClinton, and most recently Whorley opened and closed the evening for Keller Williams at The Charleston Pour House.
"If you follow the music scene, then it is almost impossible not to have heard of Graham Whorley at some point. The Virginia transplant performs more than 250 shows a year, either with a band or as a solo acoustic artist, and his guitar virtuosity is well-known even outside the confines of the Lowcountry." - Devon Grant of The Post & Courier
"A master with a loop pedal, he's able to blend percussive acoustic rhythms with building, exploratory leads, creating a fusion that's difficult to sit still to" - Stratton Lawrence of The Charleston City Paper
"Whorley creates an impressive range of string, percussion, and vocal affects. At his most ambitious, his layering guitar and vocal parts sound like a full trio at work." - T. Ballard Lesemann of The Charleston City Paper
"Wherever he goes, he has a following," - The Georgetown Times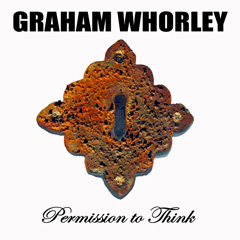 With the December 2011 release of Graham Whorley's sixth independently produced album, Permission to Think, and a new thirty minute documentary of the same name, produced by MPA Productions, now streaming for fans on YouTube, Graham Whorley is poised to make an indelible mark on the national scene and expand his Lowcountry roots. The new 14-track album features custom artwork from world renowned graffiti artist, Ishmael. Permission to Think challenges us to consider ways that break down walls, perceptions, and illusions that stop us from reaching our true potential. Throughout, Whorley speaks from experience and carries us along for an unforgettable musical ride ranging from the soul searching title track, "Permission to Think" to the experimental and lively, "UFO." Whorley spent the last two years crafting the album in Virginia with longtime friend and engineer, Roger Reynolds on the mixing board, who recently joined Whorley to set up shop in Charleston. Graham took on the daunting prospect of composing all of the music, writing all the lyrics and playing all of the instruments on this new project while his three-piece band, The Graham Whorley Band, underwent a transformation due to touring conflicts with former GWB members. The result of Whorley's hard work is a fresh, enticing notion of universal themes and timeless songs that beg to be heard again and again.
Tour Dates
TUESDAY, JANUARY 24TH, 2012
Brickhouse Kitchen
James Island, Sc
WEDNESDAY, JANUARY 25TH, 2012
The Vendue Rooftop
Charleston, SC
THURSDAY, JANUARY 26TH, 2012
Juanita Greenburgs
Mt. Pleasant, SC
FRIDAY, JANUARY 27TH, 2012
Poe's Tavern
Sullivan's Island, SC
SATURDAY, JANUARY 28TH, 2012
Private Event
SUNDAY, JANUARY 29TH, 2012
Coast
Charleston, SC
SUNDAY, JANUARY 29TH, 2012
Unity Church of Charleston
Charleston, SC
TUESDAY, JANUARY 31ST, 2012
Brickhouse Kitchen
James Island, SC
WEDNESDAY, FEBRUARY 1ST, 2012
The Vendue Rooftop
Charleston, SC
THURSDAY, FEBRUARY 2ND, 2012
Juanita Greenburgs
Mt. Pleasant, SC
FRIDAY, FEBRUARY 3RD, 2012
King Street Grill
James Island, SC
SATURDAY, FEBRUARY 4TH, 2012
Midtown Bar FULL BAND
Charleston, SC
SUNDAY, FEBRUARY 5TH, 2012
Coast
Charleston, SC
WEDNESDAY, FEBRUARY 8TH, 2012
The Vendue Rooftop
Charleston, SC
THURSDAY, FEBRUARY 9TH, 2012
Juanita Greenburgs
Mt. Pleasant, SC
SUNDAY, FEBRUARY 12TH, 2012
Coast
Charleston, SC
WEDNESDAY, FEBRUARY 15TH, 2012
The Vendue Rooftop
Charleston, SC
THURSDAY, FEBRUARY 16TH, 2012
Juanita Greenburgs
Mt. Pleasant, SC
SUNDAY, FEBRUARY 19TH, 2012
Coast
Charleston, SC
WEDNESDAY, FEBRUARY 22ND, 2012
The Vendue Rooftop
Charleston, SC
THURSDAY, FEBRUARY 23RD, 2012
Juanita Greenburgs
Mt. Pleasant, SC
SATURDAY, FEBRUARY 25TH, 2012
Middleton Place
Charleston, SC
SUNDAY, FEBRUARY 26TH, 2012
Coast
Charleston, SC
WEDNESDAY, FEBRUARY 29TH, 2012
The Vendue Rooftop
Charleston, SC
SATURDAY, MARCH 10TH, 2012
Private event
SATURDAY, MARCH 17TH, 2012
Outer Banks Brewing Station
Kill Devil Hills, NC
WEDNESDAY, APRIL 4TH, 2012
Fiery Ron's Hometeam BBQ
Sullivans Island, SC
SATURDAY, APRIL 14TH, 2012
Private Event
FRIDAY, APRIL 20TH, 2012
Fiery Ron's Hometeam BBQ
Charleston, SC
SATURDAY, APRIL 21ST, 2012
Private Event
FRIDAY, APRIL 27TH, 2012
Private Event
SATURDAY, MAY 5TH, 2012
Juanita Greenburgs
Mt. Pleasant, SC
FRIDAY, MAY 18TH, 2012
Fiery Ron's Hometeam BBQ
Sullivans Island, SC
Graham Whorley's "Permission To Think" (The Documentary)