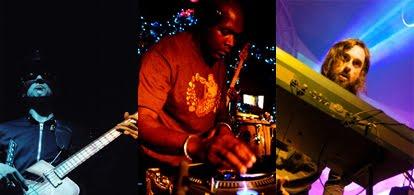 The group's debut will be on 4/20 in Kansas City,MO at Crosstown Station, for the start of a week of initial shows,ending on Saturday,April 24 in Cincinnati,OH at the Play By Play Cafe:
Tuesday, April 20 : Crosstown Station -/ Kansas City, MO

Wednesday,April 21 : 2720 Cherokee -/ St.Louis, MO


Thursday, April 22 : Headliners - / Louisville, KY


Friday, April 23 : V Club - /Huntington,WV



Saturday, April 24 : Play By Play -/ Cincinnati,OH
HGMN: Where did you guys first meet?
 
Freekbass: Logic and I met in person for the first time at the Church of Universal Love and Music in Acme,PA. We were both playing shows there that night for the FunkFest they were having. Logic asked me to come up during his set to jam with him and Steve.  Mike Gordon had brought up the idea of all 3 of us doing a project together a couple of months before that,  so we were on that 2 degrees tip for a bit before that.
Steve and I actually met a few years ago at a Particle show in Louisville. Buckethead was opening for Particle on that tour, and Bootsy Collins invited me to come down with him to the show to see Bucket. Before Particle's set, Steve and I rapped for a quick minute.
 
HGMN: Have you guys ever played together before?
 
Freekbass: No , this was the first time. Not to sound over the top, but it felt like we had been playing together for years. Very natural and not forced at all.
 
HGMN: Who came up with the band name?
 
Freekbass: As you know we had a reach-out through Twitter for people to give us ideas for a name. We got so many great ideas. A lot of the ones we really liked were already being used by other bands. We also thought about just going with the 'LMF' (Logic,Molitz,Freekbass) tag, but we wanted to keep this group open enough name-wise, where we could add or subtract members in the future if we wanted.
 
So, when we were down to our last couple of days to nail it down, we got an email from this bass player guy named Bootsy, who sent over a bunch of very cool names. Headtronics was one of them, and it just seemed to be the one that stuck and fit the vibe of what we were doing .
 
HGMN: Do you guys plan on doing any studio work together?
 
Freekbass: For sure, and we are going to record all of the shows on this first initial swing, so hope to be able to release some live stuff very soon. Every show should be very different. 99.9% of the show will be improv.
 
HGMN: How would you describe your sound?
 
Freekbass: Wow, we are so new not sure if we have one yet...funktronica maybe ?  ;)
 
HGMN: What are your future plans for this project?
 
Freekbass: On top of this small tour we are doing in April, we plan on releasing a full length CD, and continue to tour. We hope to do a lot of festival and club dates this upcoming summer.