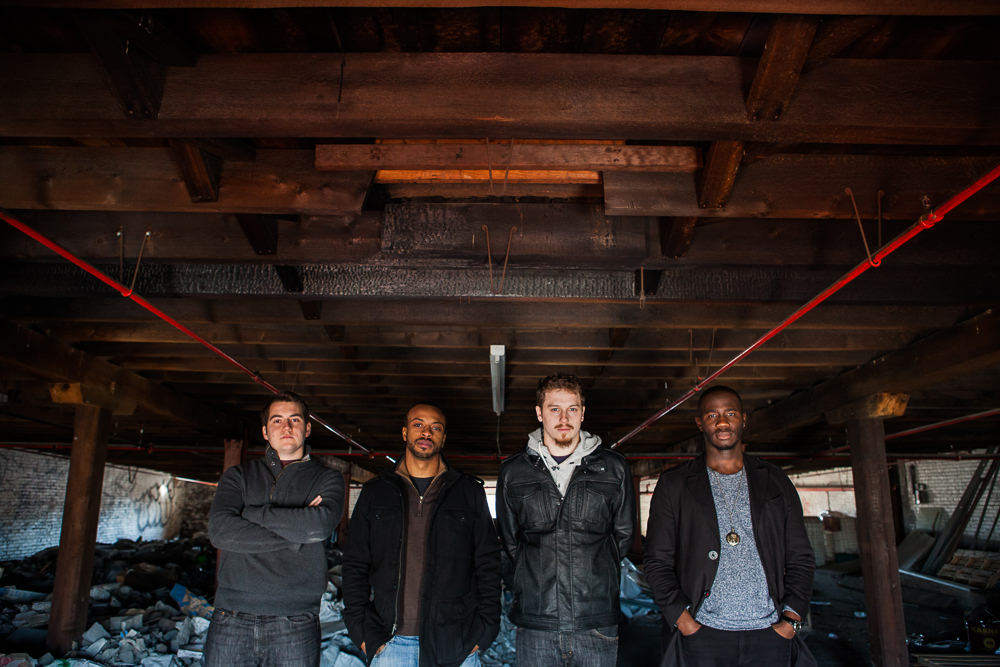 Matt Jalbert (Guitar)
Charlie Dolan (Bass)
Alric "A.C." Carter (Keyboards/Organ)
Isaac Teel (Drums)
Interview by Chris Robie
HGMN: How did you guys meet?
Matt: Charlie, A.C. and myself, we grew up in Long Island. So we've known each other for a long time. We used to always play music. It was something we did for fun and then it just kind of grew into something more.
HGMN: When was this?
Matt: Middle school…
Charlie: 2000
Matt: We were like twelve or thirteen.
Charlie: 7th grade. Our first show was our middle school talent show.
Matt: We used to do those talent shows every year.
HGMN: So was it all four of you at that point?
Charlie: No. I met Isaac in college and our drummer at that time left.
HGMN: What were you guys called back then?
Matt: I don't know…we went through some different names…
Charlie: We've been Tauk since the 9th grade.
HGMN: Where did the band name come from?
Charlie: It comes from a town that's at the end of Long Island called Montauk. We had a singer at the time and he had a senior project. We basically had to raise some money.  It was for kids who didn't have a place to go after school or the summer; it was a program for them. So we put on a concert with the name and we've been stuck with it ever since.
HGMN: How would you describe your music back then?
Matt: More covers. We had originals too.
Charlie: We started jamming on Dave Matthews and Phish tunes, Jimi Hendrix and the Who…
HGMN:  So when did you decide that you were going to take this "Tauk" band seriously?
A.C.: We did this four song demo, like one original and a couple covers. I was like, man, this sounds pretty good. This was the tenth grade and by that time we had this really good connection.
Matt: That's when we started to play more originals and then other shows besides the talent shows. We started getting gigs at random spots in Rhode Island and then making our way into New York City, places like The Bitter End. That was our first home spot in the city, The Bitter End. It was always fun. We would have kids from high school that would make the trip to the city. And that's when it started picking up a little bit.
HGMN: Was this when you decided you wanted to do this band thing professionally?
A.C.:  Coming back from college because we all went to different schools.  We would comeback during Thanksgiving, during Christmas and we would always comeback and practice. We would show each other what we've learned.
HGMN: Did you meet Isaac around this time?
A.C.: About, we've met but…
Isaac: We were just playing basketball games together then.
A.C.: In my apartment.
Isaac: Like four on four (laughs).
A.C.: But we first started to make this thing professional after our first tour, after we graduated. We did a whole national run and we had a couple changes in the roster…
Isaac: This was all prior to me.
A.C.: We made a couple changes in the roster. We made some tough decisions. This is what we want to do and this is what we have to do to get there. We kind of put the horse blinders on and we've really been focused, directed and driven. We were really hungry to make this happen. When Isaac came on board, Isaac is a great, fantastic drummer, he had done stuff independently as well so there was this common understanding that we were getting to a point where we're not just doing this for shits and giggles. We wanted to make an impact and we wanted to say something. We all had something to say as individuals but also more importantly as a collective. So it was at that point we were like let's grind in and sink our teeth into this and go for it.
Charlie: When we first started to feel some success and that we were really moving forward was two and a half years ago when we did the EP. Our drummer left and then Isaac joined the band and we just kind of jump started everything. We really felt like we were developing a sound. We had already gone through the tour. We got an idea of what it means to actually do it and what it means to put something in to it and what you can get back from it. We had a few learning experiences. Now it really feels like we're moving forward with it.  We figured out what it is that we need to do. We're still figuring it out but it's starting to work.
HGMN: I first saw you guys play when you opened for Orgone in Raleigh. I'm not going to lie; I was there to see Orgone. I was wearing my Orgone T-shirt. I was all excited to see them on the East Coast.  I had heard your CD and it was a bonus you were also on the bill. But after you guys finished playing I had forgotten all about Orgone. I was blown away by your live set. What I enjoyed most about your performance was that you could focus on each individual and what they were doing and be totally in awe. I mean, with some bands there will be a great guitar player or whatever and the rest of the musicians are sort of mediocre. You can focus on the guitar player and his amazing prowess and that would sort of carry you through the show. With you guys you are all amazingly talented as musicians and what you do on stage and it just makes the experience so much better to watch and listen to. And each member is doing something totally different musically yet it all syncs together quite well.
Matt: That's the most important thing to us. I think we push each other as individuals to get better at our instruments and at the same time when it comes to writing a song or playing a show it's not about the individual, it's about the song. What can I do to serve this song and to make it better? Everyone has a piece of that groove. It takes everyone to make it come together. Everyone is kind of doing something different and we know what each is doing. When we go back and listen to stuff it's not me worrying about the guitar part, it's me worrying about every part. It really is about everyone doing their own thing.
HGMN: Is there like a particular person who, like does the bassist write a bass line and do you guys take it from there? Or is there a particular songwriter in the group?
Charlie: Usually someone will bring in an idea or A. C. will be like, "I have this cool sound…"
Isaac: Or it just happens. Those are my favorite parts when we're at rehearsal and there's no real agenda. We just set up and play. Wow! Did we just play that? That was sick!
Matt: The last song on this new album, it's called "Collateral". That just spawned out of… A.C. was playing, it was like at a rehearsal and he was alone in there… And that turned into one part and then I had a part that I had written a while ago that I thought would work. So we threw that in there. And then there's the whole middle section where the whole band was there and then we all came up with it together.
Charlie: We were jamming together and then we would say, what parts of that jam do we like, that we can bring into the song? Sometimes things are totally made up on the spot and sometimes someone comes in and has everything written out down to every part.
Issac: Even when that happens I feel like everybody still puts their flavor on it and it just becomes this thing that everybody loves.
A.C.: That's one of my favorite parts of about how we compose or write as a group. I can write a bass part out or a guitar part, with my understanding of what it feels like on a bass versus what it feels like on a guitar. It's not on the level of what the bass player has or the guitarist or the drummer has. There's this inherent trust that happens in the composition of writing that I trust and know that you will take care of this part and help bring this part to life.
Charlie: One of the interesting ways some of the songwriting came about, we did have a singer and when our singer left the band we decided that we still needed to keep practicing and playing music. So we were trying out singers and we would write melodies for a singer. Somebody's got to play the melody. That's kind of how our song writing process came about. It's very melody driven songwriting.
HGMN: It's interesting to hear that because one of the things that I've noticed is that your music is very melodic rather than just groove driven.
Charlie: Melody is one of the most important things. It's what people connect to.
A.C.: It's like the closest thing to the human voice. People respond so differently to the human voice than they do anything else. To emulate what that would do, that's something we want to keep, keep themes in our music.
Issac: I kind of find myself singing to the melodies on a lot of the songs while I'm playing just because it feels so good. It's those notes, those melodies that associate different kinds of experiences. That's what I like about it.
HGMN: How would you describe your music?
A.C.: We've argued about it a lot lately (laughs).
HGMN: What do you guys argue about?
A.C: Well, just what words to use, like sexy or dancey, funky. We're like, aww man, fuck that word. It's too heady.
Matt: We just don't know what to call it.
HGMN: It's very dancey.
Isaac: That's what I was saying.
HGMN: And it's very bouncy.
A.C.: How would you describe it?
HGMN: It's bouncy rock fusion.
Isaac: I'm down.
Charlie: I think we're on to something here.
A.C.: When we're on the road we try to figure out how to appeal to people who haven't heard us before? How do you promote the band in a way that's accurate?  You always get questions like, for example we got this interview question, "So if your band was the baby of two other bands who would your parents be?" My answer to that would be I'm adopted. It's just really hard to answer those questions accurately because you don't want to pigeonhole yourself in the market. Then it would be hard to get out of it. Some people are afraid of the word "progressive". People might think it's all about these weird time signatures.  We can't rock to this.
Charlie: We do have a little bit of that "math rock" element but it's definitely also melodic and soulful, which is not always implied in the progressive genre. So we just talk about it for hours and never come to a decision.
(Laughter)
A.C.: I like bouncy, though.
HGMN: Do you guys have any common influences or is it very diverse?
Matt: There's definitely some common ground.
HGMN: What about when it comes to songwriting and how you approach a song?
Isaac: Definitely rock. That's one of them.  I really love hip-hop and gospel music.
Charlie: We all love Stevie Wonder.
Isaac: We all like Jimi.
Charlie: And Isaac has never heard of Phish until like a year ago. In high school we were all about Phish.
Matt: Sometimes I'll be listening to something a lot for a while and then I will kind of want to write a song that has that same feel. So maybe I'm listening to a lot of Zappa and sometimes I'll want to write a song that's epic and has a lot of notes and a lot of sections. Then maybe I'll be listening to something like the Beatles and I'll want to write something short, concise, melodies and that sort of thing.  But then you would have that influence and you would bring it to the band and then it's not what you thought it was originally.  Then all of a sudden it has a hip-hop feel or has something else to it.
Charlie: A sound can change the whole vibe of a song. If you use a certain kind of synth or if you use a piano  it's going to change what the vibe of the song is. With this new album in particular we get to try different things. Like when we're playing live we have our set instruments but when you are in the studio you can break out a grand piano, you can use a melotron, a lot of the keyboard stuff in particular or you can just try new effects. That can change a lot about the songwriting.
Matt: It's sort of new territory for us. A couple years ago it was all about song structure, what scales you're going to use and all that stuff.  That's all still important but now we're becoming more and more aware of what instruments you're using and how those all fit together.
Charlie: Arrangement.
HGMN: How would you compare the new album to Homunculus?
A.C.: I would say that we took our favorite parts from Homunculus and expanded on them and added a few new flavors.
Charlie: Different beats and different music influences.
Isaac: I think this new Talk album is more…
Charlie: It's more "bouncy".
Isaac: It's definitely for all the dancers who love Tauk.
Charlie: It has a little more of us jamming a little bit. All the songs are longer which is kind of interesting.
A.C.: One of my favorite things about Homunculus was our focus on the composition.  With Collisions, my favorite thing about it is that there's more risk taking on this album. We experiment more and we put ourselves out there more. I think people can relate to that. For someone who has never heard us before this is what we're all about, in these ten songs. 
##
Upcoming Tour Dates
July 23 Wednesday 2014 Baltimore MD 8x10 w/ The Fritz & Freedom Enterprise
July 24 Thursday 2014 Charlotte NC White Water Center
July 25-26 Friday & Saturday 2014 Floyd VA Floyd Fest
July 30 Wednesday 2014 Baltimore MD 8x10 w/ Big Something & Soohan
July 31 Thursday 2014 Wilminton DE World Cafe Live supporting Big Something
Aug 1 Friday 2014 Philadelphia PA The Grape Room supporting Big Something
Aug 2 Saturday 2014 Washington DC DC Hamilton w/ Big Something
Aug 7 Thursday 2014 Plains PA River Street Jazz Cafe
Aug 8 Friday 2014 Bedford PA Wills Mountain Fest
Aug 9 Saturday 2014 Luray VA Doah Fest
Aug 12 Tuesday 2014 Richmond VA The Broadberry w/ DJ Williams Projekt
Aug 13 Wednesday 2014 Roanoke VA Martin's
Aug 14 Thursday 2014 Abingdon VA Abingdon Music Experience
Aug 21 Thursday 2014 Bartow WV Camp Barefoot
Aug 22 Friday 2014 Southhampton NY Taps
Aug 23 Saturday 2014 Norwich CT Strange Brew Pub
Aug 28 Thursday 2014 Knoxville TN The International
Aug 29 Friday 2014 Ferguson NC MANTRABASH
Aug 30 Saturday 2014 Charleston SC
The Charleston Pour House supporting ZOOGMA
Aug 31 Sunday 2014 Wilmington NC The Whiskey
Sept 5 Friday 2014 Arrington VA LOCKN'
Sept 6 Saturday 2014 Hancock NY Catskill Chill Music Festival
Sept 9 Tuesday 2014 Portland ME State Theatre supporting New Mastersounds
Sept 10 Wednesday 2014 Boston MA Brighton Music Hall supporting New Mastersounds
Sept 12 Friday 2014 Rock Camp WV Pink Moon Festival
Sept 18 Thursday 2014 Teaneck NJ Mexicali Live
Sept 19 Friday 2014 Northampton MA Iron Horse
Sept 20 Saturday 2014 Burlington VT Nectar's
Oct 17 Friday 2014 Ozark AR Harvest Festival
Oct 23 Thursday 2014 Austin TX Parish supporting Orgone & Mingo Fishtrap
Oct 24 Friday 2014 Apache Pass TX Art Outside
Nov 13 Thursday 2014 Live Oak FL Bear Creek Music Festival
Nov 14 Friday 2014 Live Oak FL Bear Creek Music Festival
Nov 15 Saturday 2014 Live Oak FL Bear Creek Music Festival
Nov 16 Sunday 2014 Live Oak FL Bear Creek Music Festival
Nov 22 Saturday 2014 Atlanta GA Terminal West supporting Papadosio
Nov 28 Friday 2014 Cleveland OH House of Blues supporting Papadosio
Nov 29 Saturday 2014 Cincinnati OH Bogart's supporting Papadosio
Discography
Pull Factors EP
Homunculus CD (2013)
Collisions CD (2014)
WEBSITE   FACEBOOK   TWITTER   VIDEO