SEPT. 24-27 @ The Sneedville Yacht Club Ranch
Sneedville, TN  120 Miles from Asheville, 70 Miles from Knoxville

TIX ARE AVAILABLE NOW AT www.bootybandland.com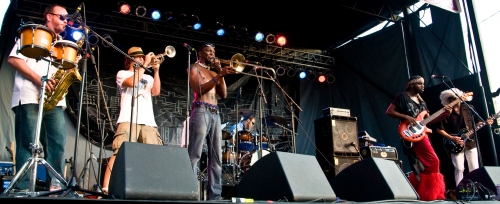 Featuring 2 nights of Yo Mama's Big Fat Booty Band, a special performance of the Big Ol' Nasty Getdown (featuring members of the Booty Band), 2 nights of Donna the Buffalo, Sipe, Sears and Fountain, Gent Treadly and Steven Molitz (of Particle), the Mantras, Sci Fi and many many more!

The Southeast US's favorite funk band, Yo Mama's Big Fat Booty Band, are pleased to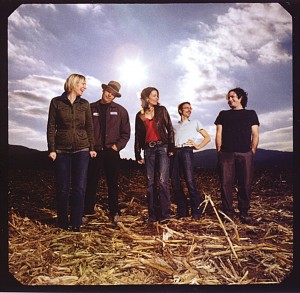 announce that they will be hosting their first full festival, September 24-27 at the Sneedville Yacht Club Ranch in Sneedville, TN (120 Miles from Asheville, NC and 70 miles from Knoxville, TN).  The festival features a fantastic line up of improvisational monsters as well as two nights of performances from the two main headliners, the Booty Band, and Donna the Buffalo.

The Booty Band came up with an idea to provide an affordable and interactive, yet top-quality event to showcase some of the Southeast's most excellent emerging artists, as well as some world-class greats, all in the name of dance, groove and party, the bacchanalian elements that are the Booty Band.  The event takes place in the breathtaking surroundings that are the mountains of Eastern Tennessee on the 135 acre Sneedville Yacht Club Ranch, located on Clinch River. Aside from an impressive musical line up of bands and DJs as well family friendly funky theme camps and a Saturday night effigy burning, attendees can also enjoy a wide array of outdoor activities including camping, canoeing, kayaking and mountain biking.
The four day weekend includes music on three stages, as well as the indoor/outdoor Badonkavillion, which provides a covered location for the morning yoga sessions, the High Noon Patriots, a high noon discussion session, a 12 step community support session, as well as a variety of musical workshops hosted by members of the Booty Band (Al Al on bass) and top musicians Jeff Sipe (drums) and Lefty Williams (guitar).  The Badonkavillion will also house the early AM DJ sessions.
Yo Mama's Big Fat Booty Band has always been known as a muli-faceted live act and is often joined on stage by trapeze artists and fire dancers as well as visual artists.  Their festival aims to stay true to this philosophy by providing a wide variety recreational activities that include fire performers, drum circles, theme camps, disk golf, the Bootygras Masquerade (bring your costume and boogy!), and a small regional film festival consisting of short films produced by various independent filmmakers and artists. 
Quite simply, there is fun for all ages and folks at the first annual Booty Band Land.  The full line up of musical artists is posted below.  For more information on the festival, directions, or to purchase tickets to this event, please visit the official festival website at
www.bootybandland.com
Bands:
Yo Mama's Big Fat Booty Band
Donna the Buffalo
Big Ol' Nasty Getdown
Sipe, Sears, and Fountain
Gent Treadly & Stephen Molitz (Particle, Lesh and Friends)
Danny Bedrosian's Secret Army
Electrofunkadelica
The Soular System
The Mantras
Sci-Fi
Mad Tea Party
Ga Na Si Ta
Asheville Horns
Lefty Williams Band
Jen & the Juice
Hot Politics
Jonathan Scales Fourchestra
Dot Line Projekt
Eymarel
Agobi Project
Stereofidelics
Wezooga
BPL
Tennessee Jed
Al Al's Hour and Bass Workshop
Bums Lie
Matt Williams and the Ocean
The Honeycutters
Blue Haired Ladies
Moon Tower
Cliff Swanson
Susannah Masarie
Boom One Sound
DJ Black Adam
DJ Berzerk
DJ 557
the Human Floor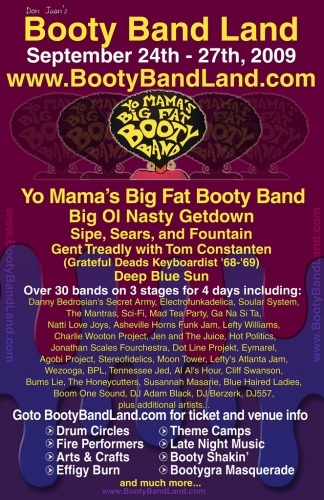 *FOR PRESS
contact: Will Bradford
Johnny Hustle Publicity
857.488.0280
willbradford3@gmail.com
Please correspond if you would like to attain Press Passes to this event,
or if you would like to set up an interview with any of the Booty Band artists or
festival organizers.