The festival hounds abound in Middle America will be happy to hunker down for a hoot and a holler in the lower pockets of Minnesota for an amazing three days of world-class music and scenery at the 5th annual 10,000 Lakes Festival. The festival dubbed 10KLF touts a hard hitting, diverse and boogie friendly line-up, encompassing 60+ acts swinging from jam to funk to electronic crunk and the gamut in between. The 600-acre Soo Pass Ranch is nestled comfortably within a sprawling heavenly slice of the most pristine landscape and wildlife in the Western Hemisphere featuring drinkable, crystal clear lakes spotted by narrow strips of scenic "land bridges" and lush forests. One can expect an occasional bald eagle, fox or other rare critter sighting in that neck of the woods so bring binoculars and plenty of heavy-duty mosquito spray.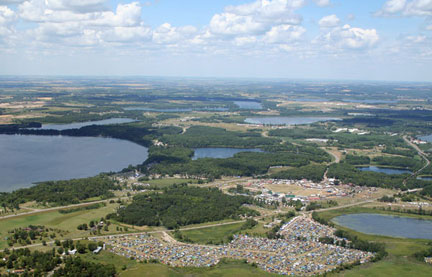 The musical sprockets on the Ranch are geared for grinding with the New Mastersounds, Deep Banana Blackout, Lotus, EOTO, JJ Grey and Mofro and George Clinton and Parliament Funkadelic bringing the full frontal funk attack. The Mothership is scheduled to touch down at too few festival dates this year so don't miss a chance to put the party in your pants when the boogie beams down. Other music highlights on the roster will please the most demanding percussive palette with the crowd-pleasing Flaming Lips, Medeski, Martin, Scofield & Wood, Dub Trio and Slightly Stoopid. Never fear dreaded Dead heads, Phil Lesh and Friends, Mickey Hart Band and the always-stellar, Dark Star Orchestra will be driving that train all weekend long not stopping until the other side of Terrapin Station.
10KLF offers a slew of features for the whole family including child-oriented activities, day workshops, shopping from artisan and other choice merchandise vendors as well as serving up a myriad of international cuisine from around the festival circuit. Both Lake Sallie and the Blue Ox/Viking campgrounds feature Entertainment Tents for live music and amazing acoustic performances throughout the day.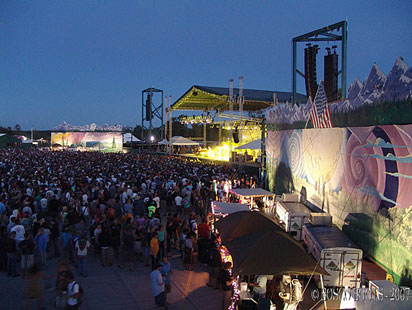 The organizers of 10KLF paint a much larger picture of community consciousness by teaming up with various charities such as the Rex Foundation, Rock the Earth, Head Count, and the Consciousness Alliance among others. 10KLF also supports the arts, local schools and student musicians by providing much needed musical instruments for the Detroit Lakes Public School Jazz Band. A portion of every festival ticket purchased is donated and split equally among each respective charity. In addition to charity support, 10KLF actively promotes a cleaner, better planet by reducing landfill waste generated by the festival through the audience friendly We B Green recycling program.
For a amazing dose of music and nature, load up with your posse, pack your swimming trunks and dust off your boogie shoes for a raucous road trip to Detroit Lakes. Don't sweat the long haul because the sweetest fruit is often the hardest to reach.
For the complete event roster, more info or to purchase tickets visit: www.10klf.com
- Words by Brian Zickafoose
- Photos courtesy of 10KLF