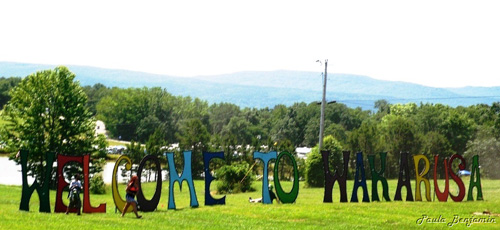 This year the 7th annual Wakarusa Music Festival was held at the magical Mulberry Mountain near Ozark, Arkansas. 
      Coming from the Carolina's, it took about 14 hours of driving to get to Ozark.  Along the way I have to throw in that we stopped in Memphis, TN for some of the best BBQ in the world. If you like BBQ then Corky's in Memphis is a must stop for anyone.
Thursday June 3rd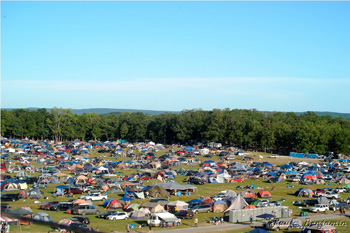 We arrived to the grounds pretty early and already the fields were filled with campers. The check in was as expected a very smooth transition.  Thank goodness we were able to camp within the trees because it was going to be one of the hottest weekends of the year, 98° was the high for the weekend to come. The festival promoters were ready for the heat with water stations available for drinking and showering set up throughout the venue. They also made recycling a major importance which was good to see because we all know how much trash in accumulated at these larger size festivals. Looking down on the festival grounds from where our camp site was about 500 acres of open land. To the right was where the tens of thousands of campers were set up; to the left were 2 tents, (The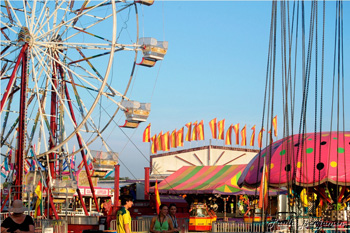 Outpost Tent, and the Revival Tent) with a nice size carnival in between the two tents.  The carnival had everything a regular carnival would have.  A big Farris Wheel, a super slide, games to win stuffed animals, a fun house, the scat 2 (like the gravatron) as well as little kids rides. Along with the rides came the carnival vendors with everything from funnel cake to cotton candy. The most poplar was of course the Farris Wheel where you could get up to 7 story's high to see the view of the enormous festival grounds. Past the Revival Village were a ton of vendors that had pretty much everything you could ask for, clothing, rocks, food, art, glass, as well as the big wigs, Coke Zero, Camel and Jack Link's beef jerky.  I'm not much into corporate but it was nice to have the option to get free cigarettes,
coke and beef jerky any time you wanted. Past the vendors was the Main Stage area, walking into the field to the right was a fenced off area for a silent disco. For those of you that don't know what a silent disco is it's a place where you can let it all hang out with a set of wireless headphones on your head playing some good music from live DJ's.  It was so hilarious seeing people dance to music you could not hear. The other stages within the venue were the backwoods stage which was nestled within the VIP campground and the satellite stage which was on the far right side of the general camping area.  
     Thursday's music was full of so many diverse genres, starting at 9am till 4am Friday morning. How many bands can you fit into 19 hours on 5 stages you ask? 48 bands and that was just the first day. I am going to give the highlights of the day or else this review would end up being a nice size book.  The day brought out some new talent that I was really excited to check out. Mountain Sprout was the first of those bands to take the Main Stage.  These hillbillies from Arkansas were full of high energetic stage presence. By the looks of these guys you would have thought they drove their pickup truck with a gun rack in the back to the festival. The band lives like 10 minutes from Mulberry Mountain in Eureka Springs so they were the home town favorites this weekend for sure, playing the opening slot on the Main Stage and then the closing slot on Sunday on the Backwoods Stage.  MS gave one hell of a bluegrass performance with front man (Grayson VanSickle on banjo and vocals, Adam Waggs on Guitar, Daniel Redmond on Standup Bass, and Blayne Thiebaud on fiddle.) Their musicianship was phenomenal and the storytelling and joking around humor within their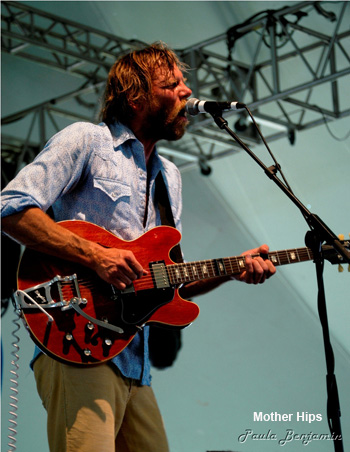 lyrics made it so fun to watch and stomp your feet to. Next on the must see list were The Mother Hips, hailing from San Francisco, CA, they've been around for nearly 20 years with 7 albums and have made a mark in the indie music scene with their smooth vocals accompanied by their raw heavy sound. The Mother Hips are (Tim Bluhm on Guitar and Vocals, Greg Loiacono on Guitar and Vocals, Paul Hoaglin on Bass, and John Hofer on Drums.) I had heard of The Hips back in the 90's but really didn't pay much attention to them but I think I should have.  Their set was gritty and dirty with some downright sweet vocals by Tim Bluhm. By listening to them you could hear a hint of raw California-Americana sounds, very catchy indeed.  Seeming to only tour out west, fans on the east coast will have to settle with their latest album, Pacific Dust which got rave reviews. Going full throttle with upward momentum I am sure they will be visiting the east coast soon.  After such an intense set it was time for Ivan Neville's Dumstaphunk followed by 7 Walkers featuring (Papa Mali, legendary Dead drummer Bill Kreutzmann and Tea Leaf Green's Bassist Reed Mathis.) Dumstaphunk delivered the funk for the festival while the 7 Walkers delivered real authentic bluesy Dead. Both bands are covered in more depth in previous Home Grown Music festival reviews.   The early evening brought out Robert Randolph and his Family Band who took the Main Stage and Railroad Earth who played in the Revival Tent. While Great American Taxi, Todd Snider, Truckstop Honeymoon, Oakhurst, Hayes Carll, Earl Greyhound, and Pimps of Joytime were playing on the other stages. Robert Randolph and his Family Band just ripped it up. Being brought up in the House of God Church, Robert expresses himself in his music by the great gospel melodies he plays through his amazing Steel Petal. The band seamlessly combined Roberts's gospel roots with blues and rock giving the crowd an ear full of goodness. Having little time to spare we filled our belly's and headed back to the Main Stage for the
Headliner – The Disco Biscuits. The Disco Biscuits got right down to it playing an electrifying trance fusion set. (Mirrors, The Bridge, Caterpillar> Spacebirdmatingcall> Cyclone> Above The Waves, Rockafella> Little Shimmy In A Conga Line> I-Man> Little Shimmy In A Conga Line > Feel Good Inc.) For me the set started out a little weak but it picked up steam during Caterpillar and continued to rage into a melting Spacebird followed by one of my favorite instrumentals Cyclone. I-Man sandwiched in Little Shimmy was quite amazing as well. The late night sets were upon us and it was a tossup between Lotus and The Machine's laser light show. We decided that Lotus had been seen plenty of times and it was time to get some late night eye candy! And eye candy is just what we got.  The Revival Tent was alive with lasers and mobs of fans wanting to hear The Machine take on the psychedelic masters Pink Floyd. (Shine On You Crazy Diamond > Speak To Me >Breathe >Time > Set the Controls For the Heart Of the Sun > Sorrow > Happiest Days Of Our Lives >Brick 2 >The Gnome > Let There Be More Light > Money > Pigs On the Wing > Pigs > Echoes >Shine On You Crazy Diamond > Wish You Were Here.) Those of you that are Pink Floyd fans know how amazing this set was and to add the most amazing light show to it was icing on the cake.
Friday June 4th
      Wakarusa sure does get started early and end late, I think Boombox was one of the last bands to play ending their show at around 4am and music started up again at 9am.  Now that's full on!  Today the schedule had 49 bands playing on 5 stages with around 6 bands playing for the second time.  We started our day at high noon with Zoogma in the Revival Tent who I knew was going to be good after seeing them at the Keel Family Function earlier this year. Yes they delivered! Fitting nicely into the same genre as Lotus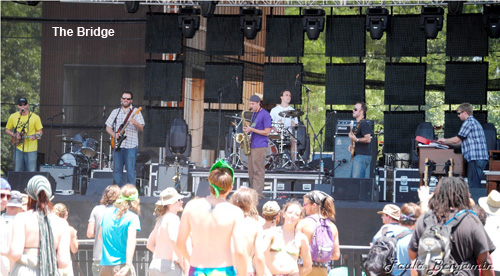 they are another band that will be taking the live electronica scene by storm.  My favorite is the little ghost busters theme they pull off which adds an enjoyable twist to the well-known movie theme. After getting our daily fix of electronica the rest of the day brought out some amazing acts like The Bridge, Yo Mama's Big Fat Booty Band, JJ Grey & Mofro, Railroad Earth and ALO. First on the Main Stage was The Bridge, who was full of energy on this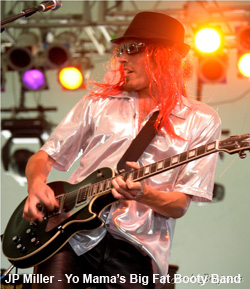 very hot afternoon with their ability to capture your soul by their unique juicy flavorful sound of Bluegrass, Country, and Americana. Being so hot the shade was calling my name so it was time for some booty shaking.  Yo Mama's Big Fat Booty Band came on strong in the Revival Tent. The Booty Band is so much fun to watch being so full of charisma and shinning personalities.  In the band are (Al Al Ingram on Bass, JP Miller on Guitar, Derik Johnson on Trombone, Greg Hollowell on Sax, Mary Frances on Keys and Lee Allen on Drums.) Dressed to boot! Al Al was wearing a pair of bat wings along with a cheetah headband and JP was sporting a fancy orange bling bling wig with a sparkling silver shirt. Party music at its best The Booty Band gave the green light for fans that it was Wakarusa and it was time to PARTY! Later that day I got a chance to see ALO (Animal Liberation Orchestra) led by front man  Zach Gill this band grabbed my soul and forced me to dance my ass off. (Man Of The World > Walls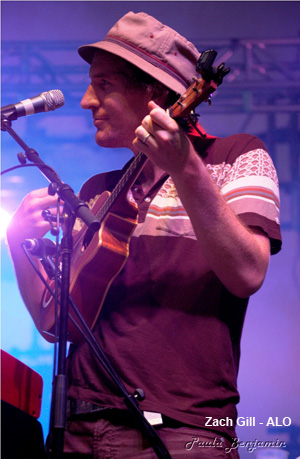 Of Jericho > Plastic Bubble > Big Appetite > I Love Music > Suspended > Try > Possibly Drown > The Champ > Wasting Time > Shapeshifter > Girl I Want To Lay You Down > Yes We Can Can > BBQ.) Getting up in the face of the crowd during BBQ Zach threw down a fantastic tease of "Eye of the Tiger." Another highlight was the much loved "Girl I Want to Lay You Down."  Umphrey's McGee and Sound Tribe Sector Nine took the Headlining spots on Friday night. The Umphrey's set was terrific and the light show was mind blowing. (1348, 2x2, Mantis Ghetts> Hurt Bird Bath> Uncle Wally, Divisions> Dr. Feel Good> Divisions> Blue Echo> Divisions, Der Bluten Kat> Time> Der Bluten Kat, Booth Love, Andy's Last Beer > JaJunk.) This was probably one of the best sets of Umphrey's I have heard in a long time. I love the way they can take a song you've heard before and change it up just enough, making them the improv kings of the scene.  It just keeps getting better and better as the years go on for these guys. Now the Sound Tribe show was another good show but with technical difficulties with the guitar and the sound in the beginning being very soft it didn't quite pick up enough steam to blow me away like they have in the past.  After they got everything sorted out it seemed to pick up a little but compared to what we just heard from Umphrey's it just didn't do it for me.  The late night brought out Bassnectar and Tea Leaf Green.  The Bassnectar show was so packed and so hot we didn't end up staying for too long, just enough time to get some bass in my face.  The place was pumpin with an overly crowded Revival Tent; it was insane in the membrane.  After Bassnectar, Tea Leaf Green ended up playing till like 4:30am. Whew!
Saturday, June 5th
      Today was going to be awesome with another 49 bands playing on 5 stages. To start off the day we headed down to see That One Guy. Mike Silverman better known as T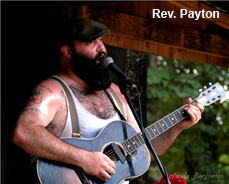 hat One Guy was off the chain.  I have never seen anything like it.  His instrument was a 7 foot tall aluminum u-shaped pipe called "The Magic Pipe" with all kind of gadgets on it from swiveling pipes, metal gears, bass strings and electronic buttons that mimicked a drum kit. It forms the shape of a harp, but is played like a futuristic gutbucket. This one man electronica band is a must see.  Next we set off to finally see The Backwoods Stage and Rev. Peyton's Big Damn Band. Country Blues at its best Rev. Peyton knows just how to make you get down and dirty with his Big Damn Band.  Another fun act to watch, this band had flaming washboards, bottle neck slides and 5 gallon buckets.  How do you play a flaming washboard? Just ask his wife "Washboard" Breezy Peyton. What about making a 5 gallon bucket sound good? Well his cousin Aaron "Cuz" Persinger sure can fill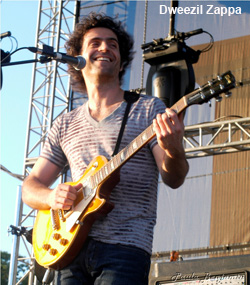 that bucket with more than pickles. Soon After we made our way to the Main Stage for The Black Keys. This Akron, Ohio based duo slam dunked their beautifully sinister music into the ears of the crowd. Transcending generations, they've embraced the best of old and new – throwing us a sound that most folks can easily relate, and dance too. We were fortunate to get to see a couple of others join them on Bass and Keys which really gave a full bodied taste of a complete band.  Dweezil Zappa was another must see today. Zappa plays Zappa was on the money.  Studying Frank's complex compositions and transitions paid off because it couldn't have sounded any better. I was very happy to hear one of my favorite Zappa tunes "Peaches en Regalia" played to a "T." The headlining spot tonight goes to Widespread Panic who gave a filthy set (Henry Parsons Died > Tall Boy > Junior > Holden Oversoul > North > Dirty Side Down > I'm Not Alone > Cotton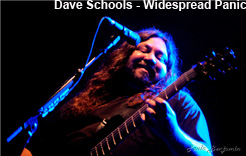 Was King > Flicker > Jam > St. Louis > Surprise Valley > Drums > Surprise Valley > Protein Drink > Sewing Machine > Saint Ex > Sewing Machine > Traveling Light > Rock > Give > Up All Night > Pleas > Mr. Soul.) And what could be better than closing the night out with Umphrey's McGeeand this killer set(Bridgeless > Partyin' Peeps, In the Kitchen > Bridgeless, Come Closer, Miss Tinkle's Overture > Steppin' Razor > Miss Tinkle's Overture, Much Obliched > In the Kitchen > Cemetery Walk.) 
 
Sunday June 6th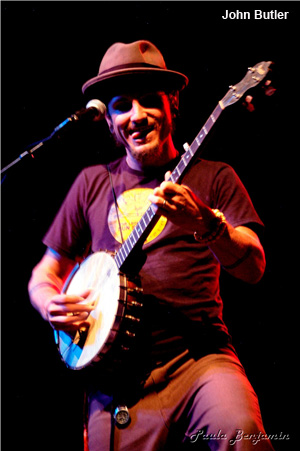 Today was another day of music with 38 Bands on 4 stages. The Main Stage had closed up shop so the remaining stages took precedence.  During the day it was all about Reggae in the Revival Tent with Giant Panda Gorilla Dub Squad and Mishka, while the Backwoods stage had the second dose of That One Guy, Rev. Peyton's Big Damn Band and many more. Closing out the night, John Butler Trio moved the souls of everyone left, he seemed to pour his heart into every song he played.  John doesn't make it over here nearly enough being from Australia so it was a big treat to finally get to see him live. The show was direct and to the point, playing a lot of this most popular hits from his triple platinum record Grand National like "Better Than", "Good Excuse", and "Used to Get High." He really didn't stray away for his original compositions on the album which made it very polished.
      After being in such a diverse melting pot of superior music for 5 days, I want to praise the Promoters for putting on such a forward thinking festival where fun was had by everyone I laid eyes on.  It was well worth the drive but I think I'll fly next time. 
- Brad Winecoff
- Photos by Paula Benjamin