I think the opening band for them was Cattle Decapitation... So after a thoroughly enjoyable coffeehouse show by Kristy Kruger we went to Martin's Lounge to see The Electric Mudd. Martin's is a dive and I mean that in the most loving way possible. It's been a fixture in one location or another on State St in Jackson, MS since 1953. It has as good a beer selection as you can find in Jackson and as an eclectic crowd as you will want to meet. It's an all day bar and a regular stop of mine any time I venture back to the land where my parents live and host to some of the best live music offered in town. The likes of The Codetalkers & Jerry Joseph have graced the stage. I had forgotten how good it was to hear a good band in a small joint in Jackson, Mississippi. As it turns out The Electric Mudd are a good blues band and more.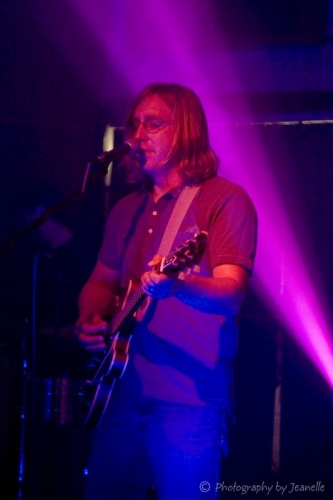 The name, The Electric Mudd, comes from a Muddy Waters album and they come from Cleveland, MS deep in the heart of the delta. These guys don't wish they were from the birthplace of the blues they are true sons of the blues. Now some folks might have paid too much attention in Earth Science class and think the Mississippi Delta is the mouth of the Mississippi River where silt washing downstream builds new marshland. Nope, that my friends is the Mississippi River Delta. The Delta is the alluvial plain in northwest Mississippi between the big river and the Yazoo River that "begins in the lobby of the Peabody Hotel in Memphis and ends on Catfish Row in Vicksburg. It is known for cotton plantations, catfish farms and the birthplace of just about every bluesman ever born. B.B. King,  Muddy Waters, Charlie Patton, Elmore James, Robert Johnson, Son House, Mississippi John Hurt, John Lee Hooker, Big Bill Broonzy plus countless others all called the delta home. At least until they could catch the train to Chicago. It is flat as a pancake and the home of Highway 61. There is a reason the blues were born there. And why the blues still lives there.
We got there early, secured a place at the bar and listened to the sound check. Oh yeah, this was going to be fun. They took the stage around 10 and the joint quickly filled. One of the funnier sentences I have ever heard uttered was "We're waiting for the after GWAR crowd to roll in." The band, as I saw it, consisted of David Burchfield (guitar & vocals), Jason Boyles (drums), Trenton "Pooda" Ayers (bass) and Caleb Boyles (guitar). Percussionist Jack McWilliams missed the show due to family and Levan Lortkipanidze (harmonica & keyboards) is on a hiatus. They also have a self contained straight blues side project called "Blues Apparatus" that has an every other Sunday gig at the legendary Club Ebony in Indianola.  "Delta Swamp Boogie" is what they call their blend of electric blues and jam inspired southern rock.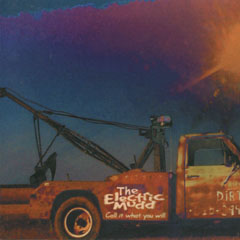 David and Jason have been playing together for about 11 years as best they could remember and it shows. A very synched duo that led the way for their somewhat (significantly?) younger band mates in this abbreviated lineup. Broyles attacks his drum set with confidence. It isn't wild abandon or a ferocious pummeling, more that he's done this before, knows he has the licks and isn't taking any lip off a drum. Confidence might be the one thing lacking in brother Caleb's guitar work. His rhythm playing ability is fully developed and he shows the promise of being able to pull off searing leads. As the show went on he settled in but remained out of the spotlight, literally and figuratively, even during his solo spots. When he gains just a bit more confidence in his ability and spends just a bit more time setting up his leads before racing up the neck they are going to posses a potent dual guitar attack. Showing a remarkable amount of patience for a player that appears so young, Ayers played a strong willed bass. He held down the middle and let the guitars freely solo as they chose. Originally from Holly Springs, MS he comes from a long line of blues players. His father played for 30 years with Jr Kimbrough of hill country blues renown. I didn't card the guys so I really don't know how young they really are and it's not a big deal. Except it is. It is really encouraging to see younger musicians embracing their blues roots and then seeing how they can transform those roots into their own sound. The real power of the band comes from Burchfield's guitar and voice. Wielding a beautiful Gibson ES-335 thru a Carvin tube amp he generates a clear, warm tone that perfectly counters the gruffness in his voice. His slide work is fluid and mature. He isn't a guitarist that is going to amaze you with speed or flash. Rather, he takes the time to find the right notes to play and delivers them at just the right moment. The vocals have a classic blues timbre that makes you think of cigarettes, hard drinking and late nights. That the blues are so integral to his sound shouldn't come as a surprise, he does teach blues at the B.B. King Blues Museum in Indianola.
But let's not too carried away, while the basis for Delta Swamp Boogie is the blues this is a hard rocking band. Their set that night was split between electric covers of blues classics and jam based originals. That they opened with an original "Don't Say", which was universally agreed upon. After that the exact order of the set list became a thing of conjecture. An after show attempt over a shared glass of tequila didn't really set the order straight but it did produce a list of the majority of the songs played. The covers were a primer lesson in modern electric blues. "Born Under a Bad Sign" which has been covered by everyone from Albert King and Cream to Larry Coryell, Rita Coolidge and MC5 made great use of Burchfields deliberate guitar style. "Crawlin' King Snake" the John Lee Hooker track was most recognizable in it's Doors incarnation but a prouder declaration than Morrison's menacing take. Willie Dixon's "Back Door Man" received a similar Doors treatment. "Sitting on Top of the World", covered by a cast of millions in every genre imaginable was written by Walter Vinson & Lonnie Chatmon the guitarist and fiddler that formed the core of Jackson's own Mississippi Sheiks who's original recording dates back to 1930. This was probably the most stripped down unadorned songs of the night. "Rollin and Tumblin" the Muddy Waters classic careened along like a runaway '39 Mercury loaded down with moonshine. My favorite of these was Howlin Wolf's "Killin' Floor". It was the real showcase for David's vocals and had the most concise solos of the night.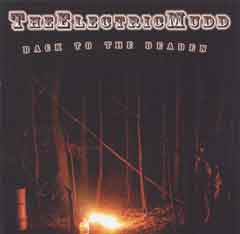 When they weren't reinterpreting the blues they were performing songs from their two releases 2003's "Call It What You Will" and 2007's "Back To The Deaden" as well as at least one song written the day before. A listen to "Deaden" will make a Panic fan feel right at home. It isn't a tribute band sound but it is an influenced sound. The setup of the band and Burchfield's voice is a natural combination to my ear. The comparison to WSP was not nearly as evident at the show. "Call It What You Will" from the album of the same name was a good country romp. "Double Quick Chicken" off of the same album was some slow easy jamming with a break that morphed into heavy lazy spacing before it spun back up. Sometimes the jam spun up so fast they seemed to lose control of it momentarily before regaining their grip on it. Also from the '03 release, "John Higgins" had a nice choppy shuffle intro into a rambling funk groove with swirling guitars, "Rainbow Child" was a low growling riff with a neat ascending hook that built into some frenetic psychedelic guitar and "Swamp Jelly" was an instrumental with an infectious pop tinged hook. They played a song called "Good Jive". Poking around the interweb I found the answer to the question "What are the dance steps for the Good Jive?" "Chicken walk, side kick, chasse, back kick" sums it up just about right.
The new song they did didn't even have a name yet. It may or may not survive as "New Reggae Jam". Regardless of the name it bounced along with them hitting the breaks crisply and didn't sound like a newborn at all. "Bike Song" from the "Deaden" album was a scorcher with some effects laden guitars. "To The Butterfly Queen" another "Deaden" cut was a sprawling number with a bone crushingly heavy chorus. These boys aren't afraid to turn a jam loose and see where it goes and aren't real concerned about how long it takes to get there. "Black Soul Woman", also from "Deaden" was the big show closer complete with a well-constructed drum solo and a popping bass solo.
This night, with this abbreviated lineup, the traditional blues numbers were the most successful. The originals all suffered somewhat from the missing instrumentation. Everyone was forced to try and fill more space then they were usually accountable for. If this was the dynamic going forward I have very little doubt they would work the arrangements out to more naturally fit the lineup. As it is, during the show there was a nagging feeling that something was missing. Listening to the albums you immediately realize what it was. The more overtly Panic influenced songs are the ones that got the crowd the most hot and bothered and they got worked up into a pretty good lather a few times. The real highlights of the evening were provided when the band would find it's groove and David Burchfield let his slide guitar flow along like a big muddy river. If you get a chance to see "Blues Apparatus" at Club Ebony, the abridged lineup I saw or especially the full-blown band jump on it. I am really looking forward to seeing what kind of sound they put out when they have a big Hammond B3 laying down puddles of music, everyone else free to play within themselves and some percussion adding the spice. If I could get that along with some fried catfish and a cold beer I'd be set. Wait a minute, Martin's has cold beer... "Can I see a menu please?"
- By Jeff McClellan